Easter Egg Cheesecake
Easy, cheesecake filled Easter eggs that are super fun but easy to make, and are topped with your fave Easter treats!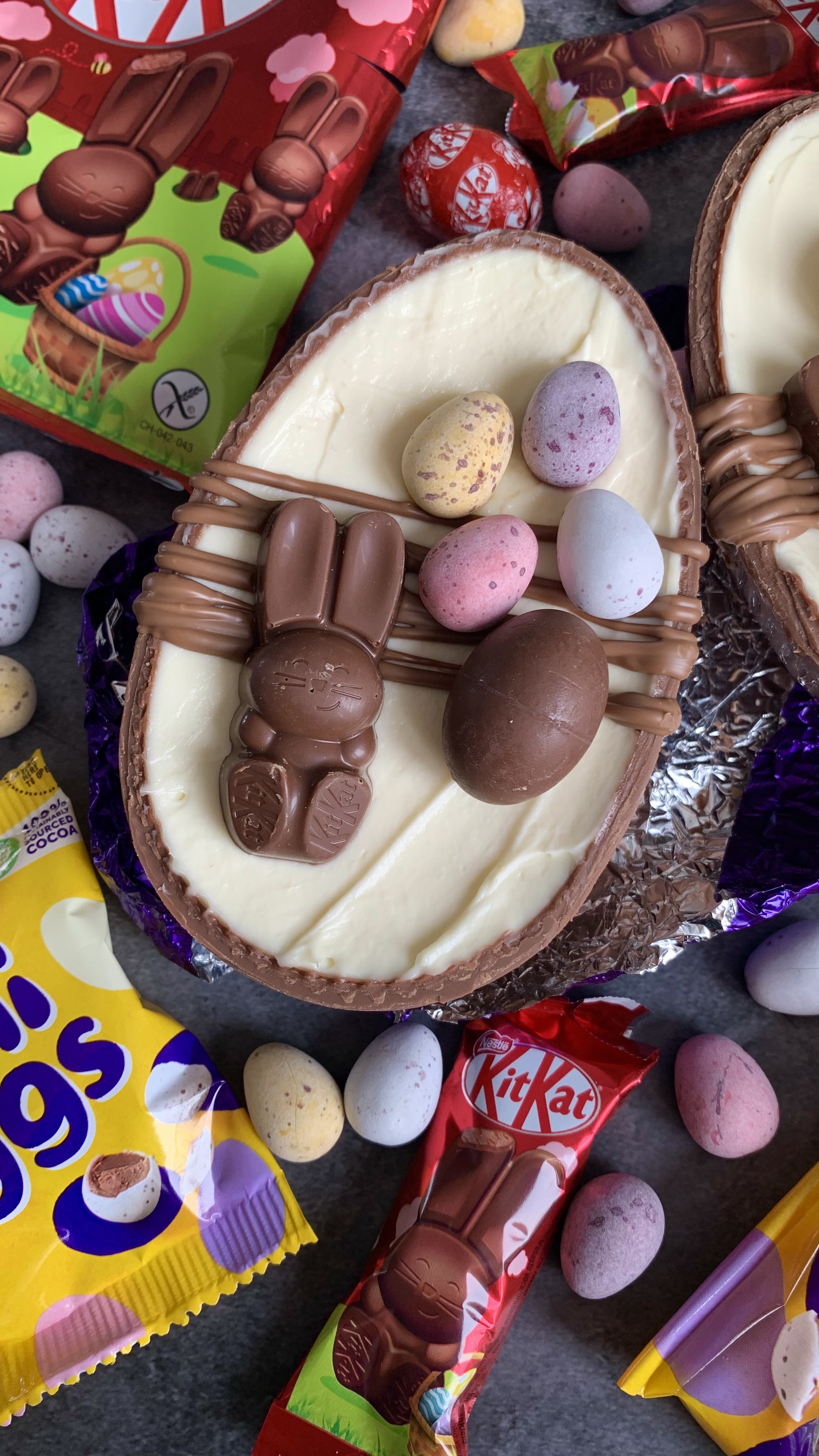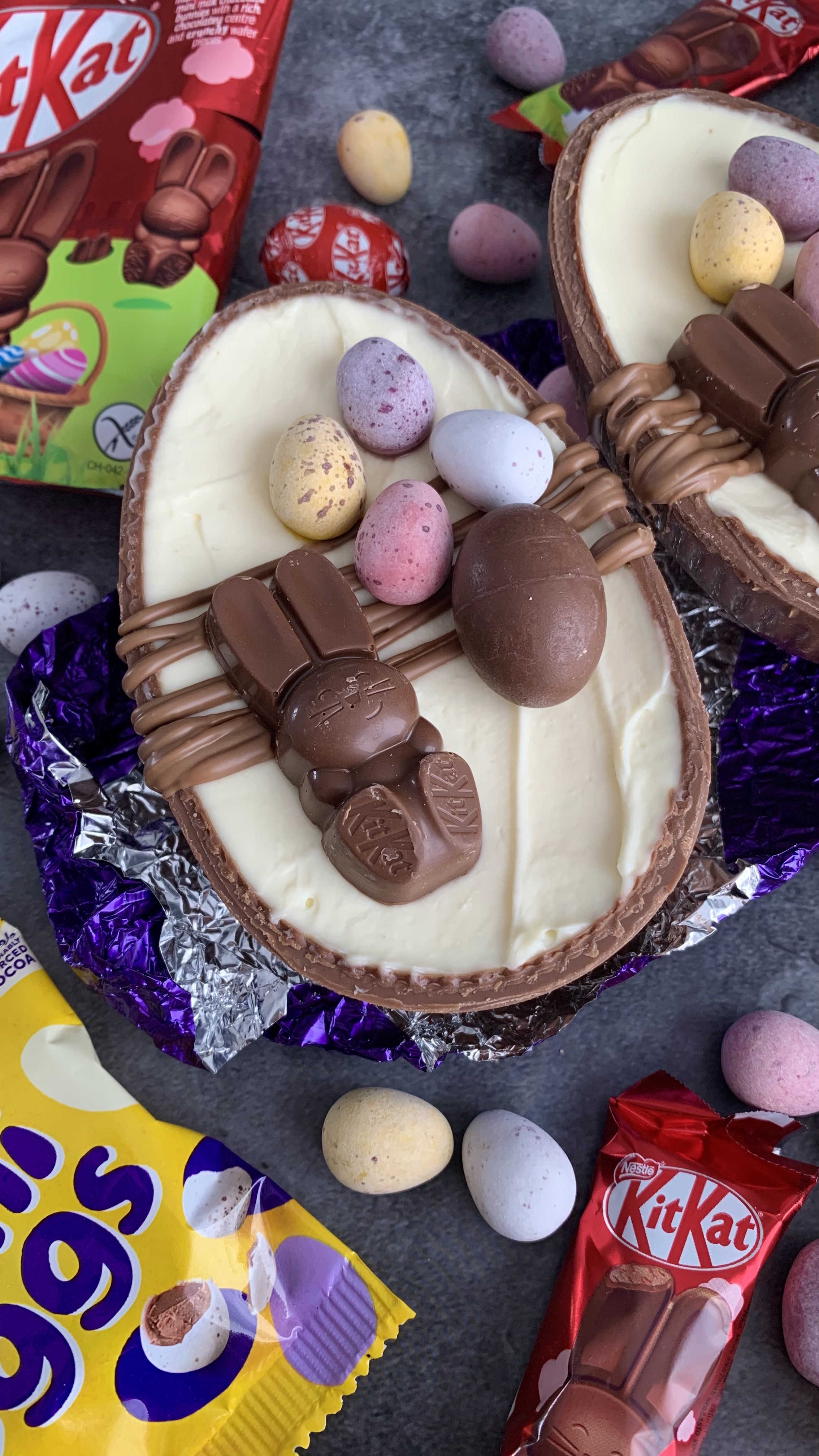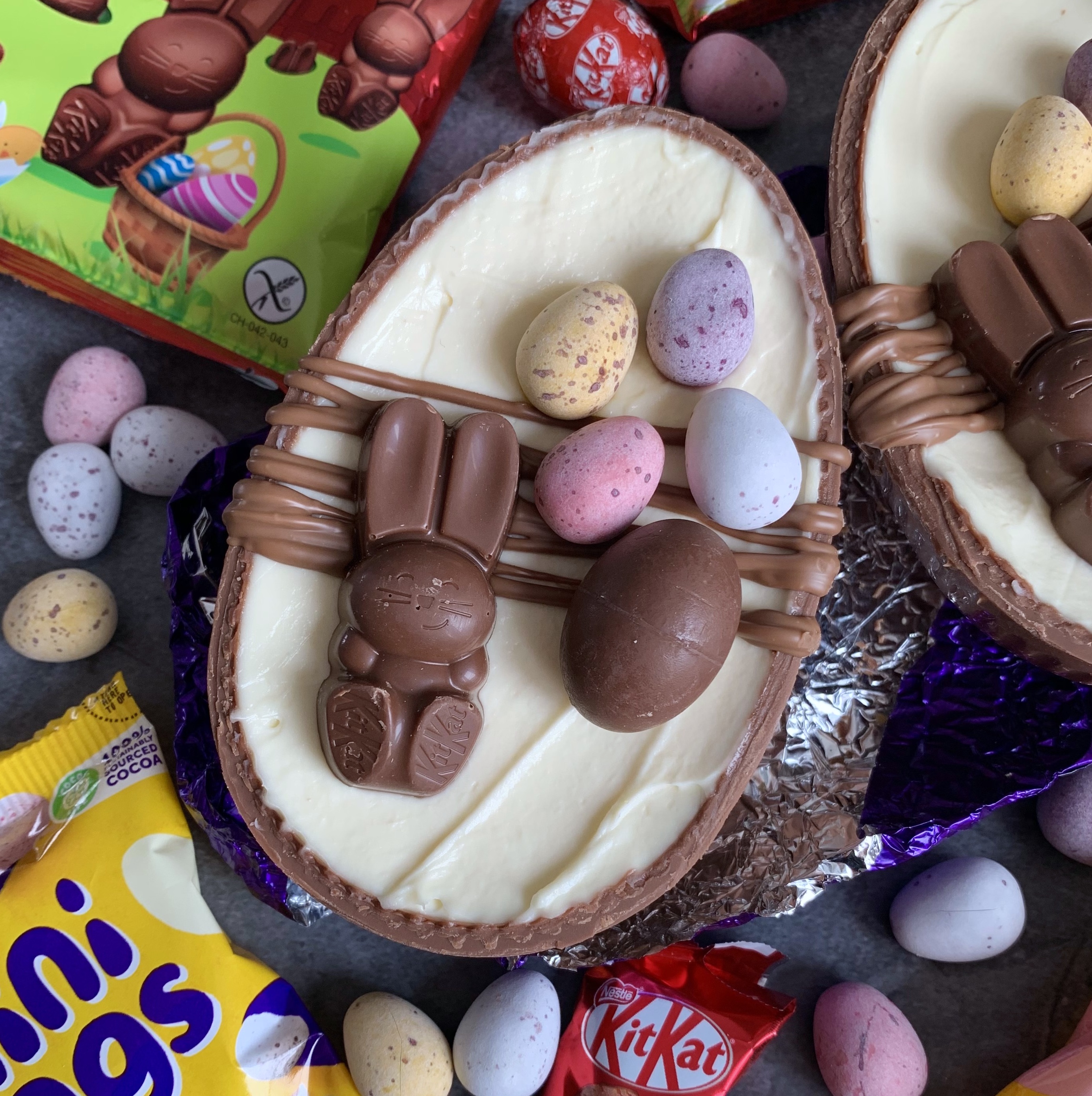 Easter Egg Cheesecake
Difficulty
Time 15 minutes (plus 1 hour chilling)
Servings 2 easter egg halves - 2 portions!
Ingredients

1 medium easter egg (these are the £1 ones)
50g Digestive Biscuits
20g Unsalted Butter (Melted)
150g Full-Fat Soft Cream Cheese, room temperature
75ml Double Cream
25g Icing Sugar
1 teaspoon Vanilla Extract (Optional)
Decorations for each easter egg half: I used 20g of melted milk chocolate, a Kit Kat bunny, 4 Cadbury Mini Eggs, and a Kit Kat Mini Egg... but use a mix of your favourites!

Method

Use a warmed knife (using either a bowl of hot water, or run it under a hot tap, and then dry using a clean tea towel or kitchen towel) to carefully cut the easter egg in half along the seam. Be patient and work slowly; you may need to re-warm the knife a couple of times.
Make the biscuit base: Microwave the butter in 5 second bursts in a microwave proof bowl or jug until fully melted, then set aside. Crush the digestive biscuits to a fine crumb using a food processor or by placing the biscuits in a sandwich/freezer bag and bashing with a rolling pin or whatever you have at hand! Add the crushed biscuits in to the melted butter and stir until fully combined. Spoon the mixture in to the two easter egg halves evenly and then gently press down a little. Put the easter egg halves in the fridge to chill while you prepare the cheesecake filling!
Make the cheesecake filling: Add the cream cheese, double cream, and vanilla extract (if you're using it) to a bowl and stir until thickened, smooth, and the ingredients are evenly distributed. Fold in the icing sugar. Take the easter egg halves out of the fridge, spoon in the cheesecake filling evenly, and then smooth out (I like to use an offset spatula, but a spoon or knife works well too!). Put the easter egg cheesecake halves in to the fridge to chill for an hour, or until you're ready to serve. (I recommend decorating immediately before serving as any melted chocolate will set very hard in the fridge, and some toppings may discolour / become less pretty due to the moisture of the cheesecake!)
Decorate: If adding a chocolate drizzle: melt the chocolate in 5 second bursts in the microwave (or using a bain marie - a bowl over a pan of boiling water) until smooth, ensuring you stir well between bursts to prevent the chocolate from burning. When you're ready to serve take the easter egg cheesecake halves out of the fridge, decorate as desired, and serve. I like to eat my filling with a spoon and save the egg shell to chomp on last - enjoy!

Notes

- Store your undecorated Easter Egg Cheesecake in the fridge in an air tight container, where it will last for 1-2 days!
- This recipe uses the easter eggs which typically cost £1 and supermarkets market as being 'medium' (although I always think of them as being small!). The recipe can easily be doubled, tripled, quadrupled etc as required. Just take each of the ingredient quantities and times that number by the number of medium eggs you're using (e.g 50g Digestive Biscuits x 2 = 100g, for 2 medium eggs)! Please be aware that if you use this recipe for larger eggs your filling won't reach the top unless you scale up the ingredients!
- I've used digestive biscuits but any biscuit would work here - shortbread, biscoff biscuits, or gingernuts would be nice!
- No-bake cheesecake recipes require full fat cream cheese to allow them to set enough to slice neatly. However, as these cheesecakes are eaten with a spoon the usual level of firmness isn't required, meaning low fat cream cheese could be used if preferred, your cheesecake mix just wont set as firmly!

Recommended Equipment and Ingredients*

*I earn a small amount of money if you buy the products after clicking the links. You will not be charged extra for this. Thank you for your support!