Mini Egg Cookie Bars
Deliciously soft and chewy Mini Egg Cookie Bars!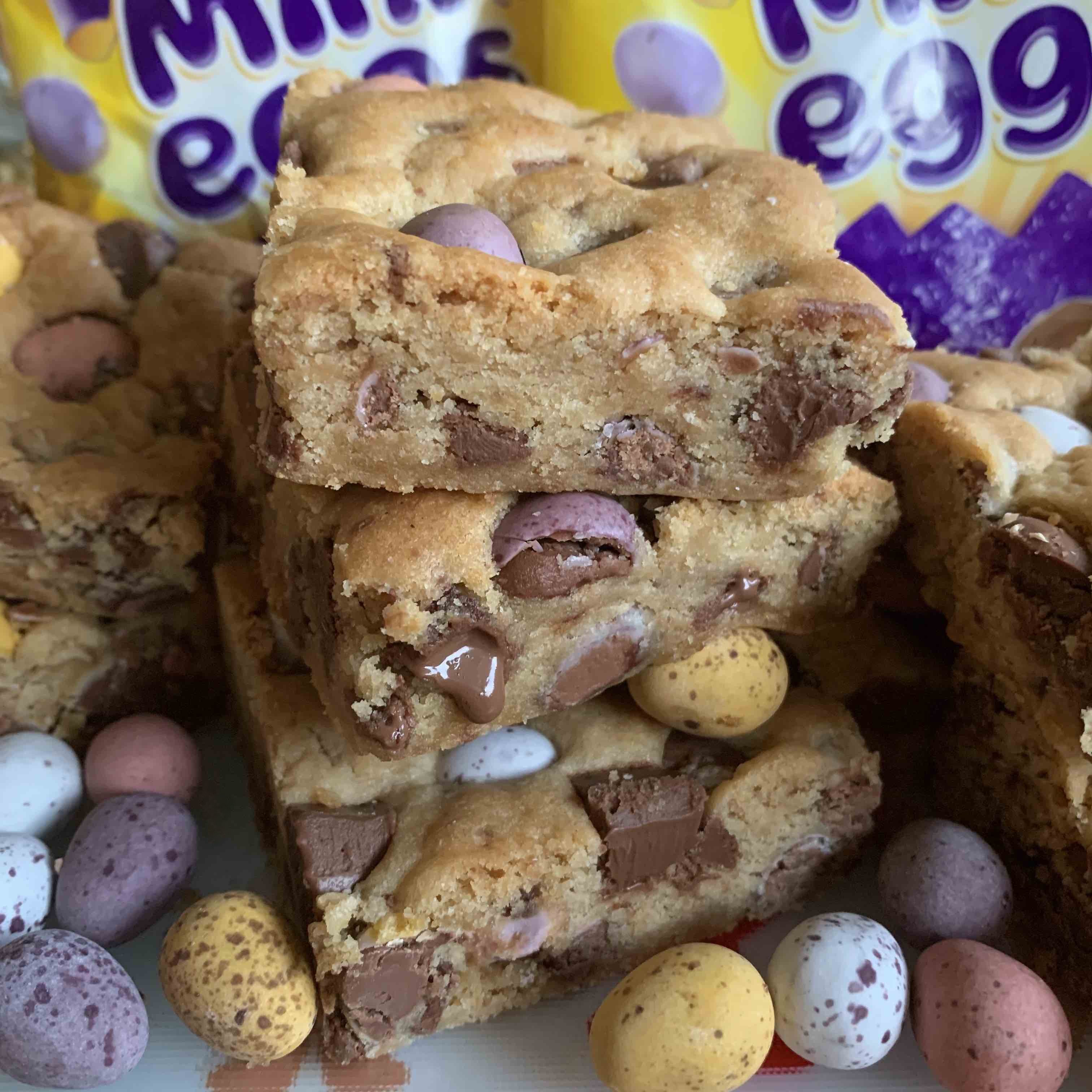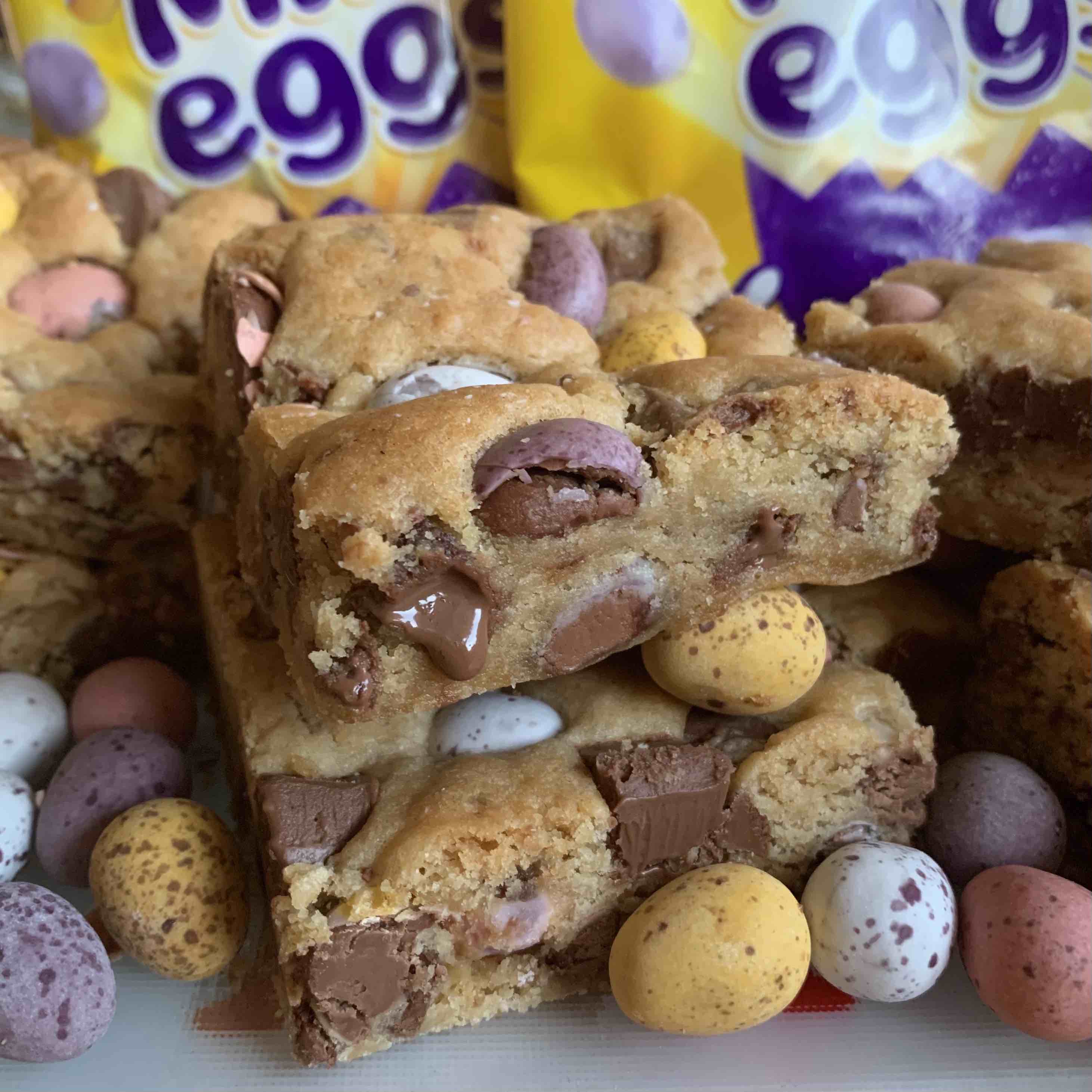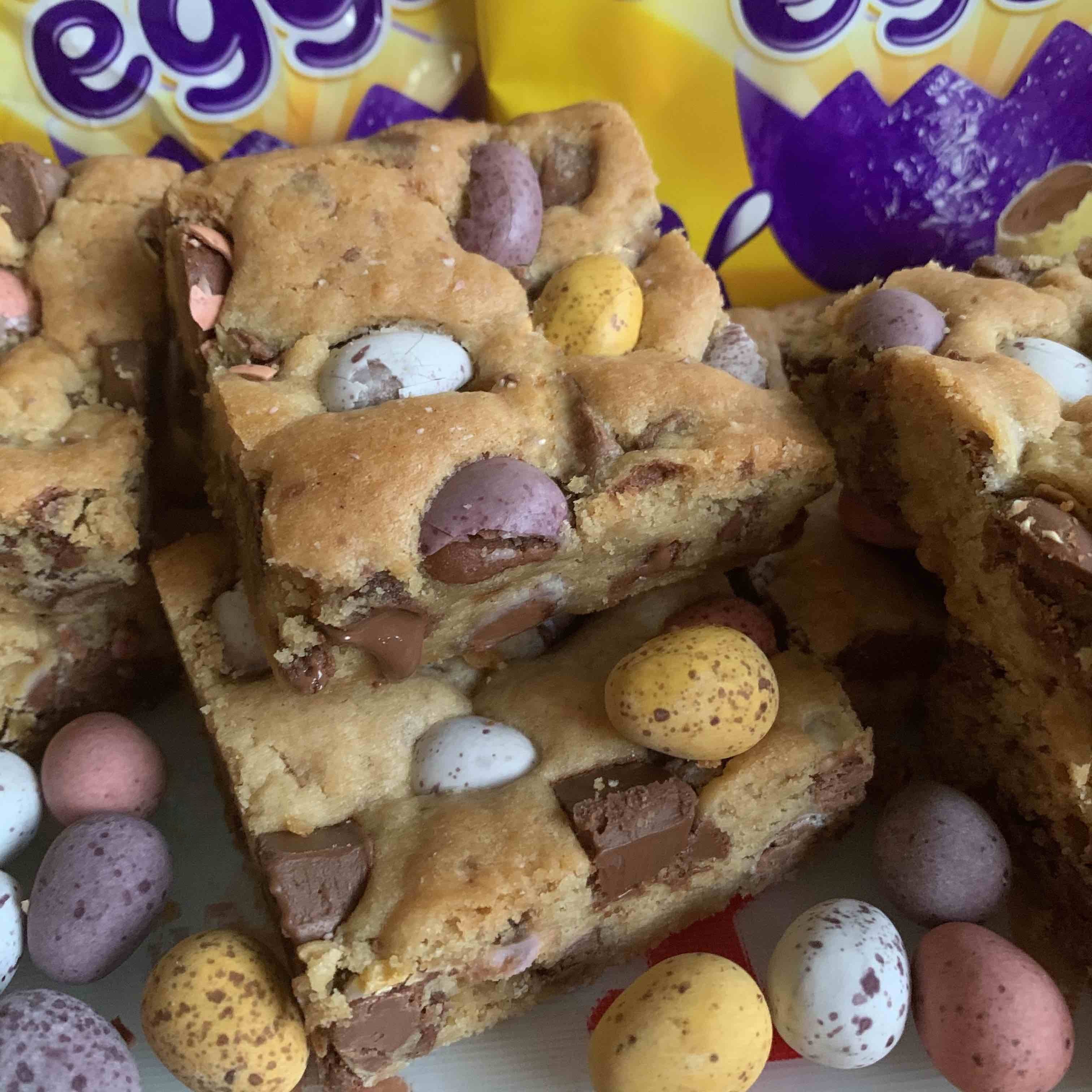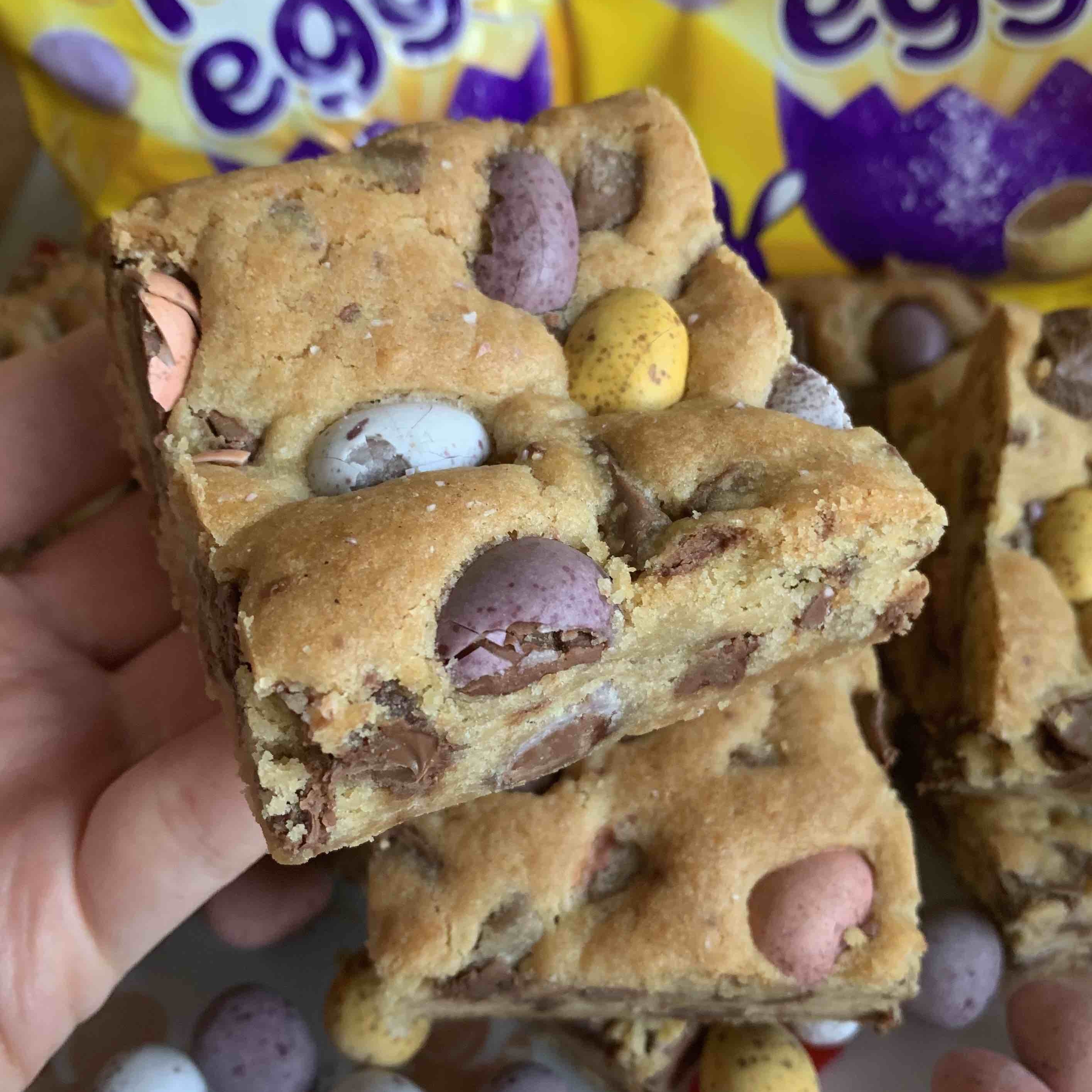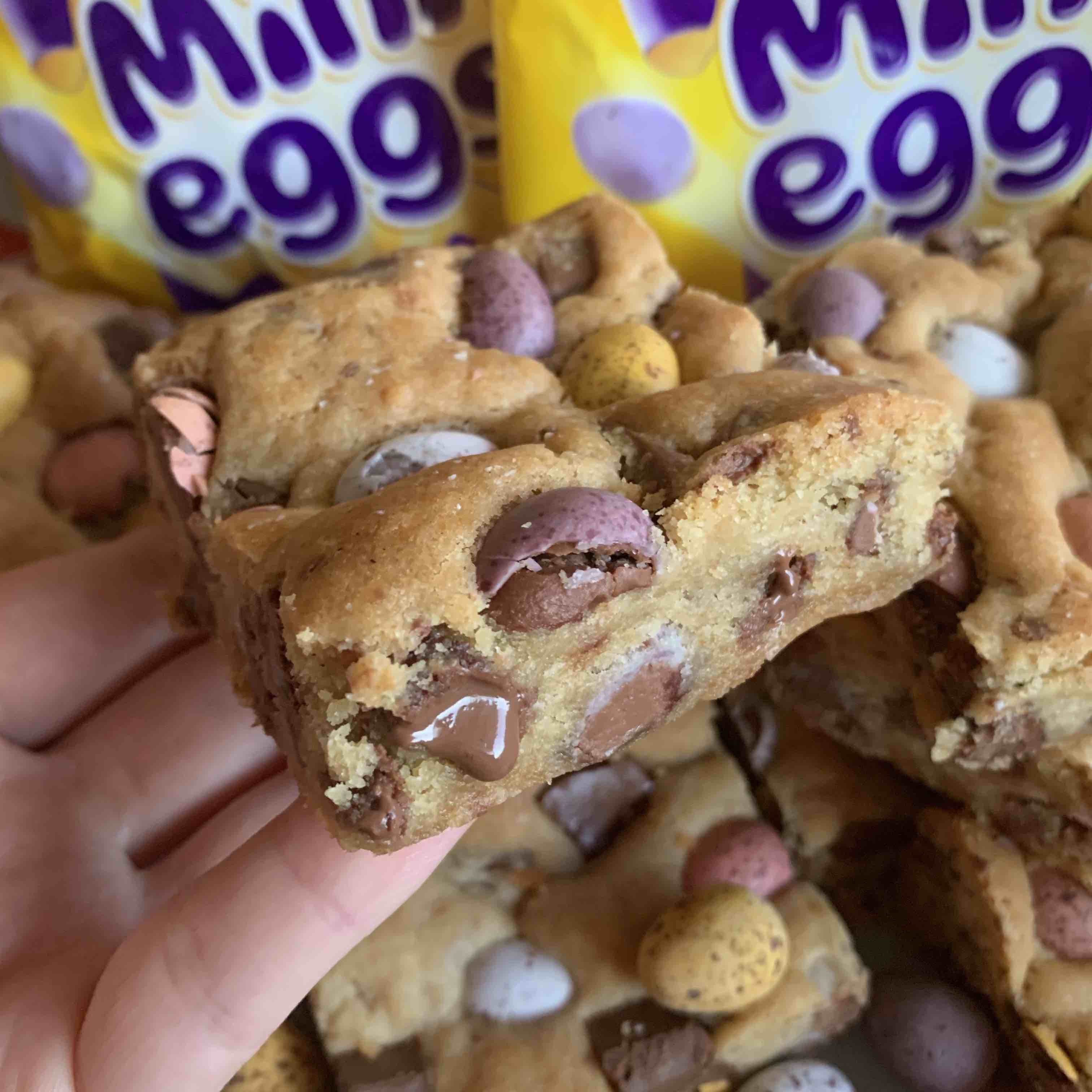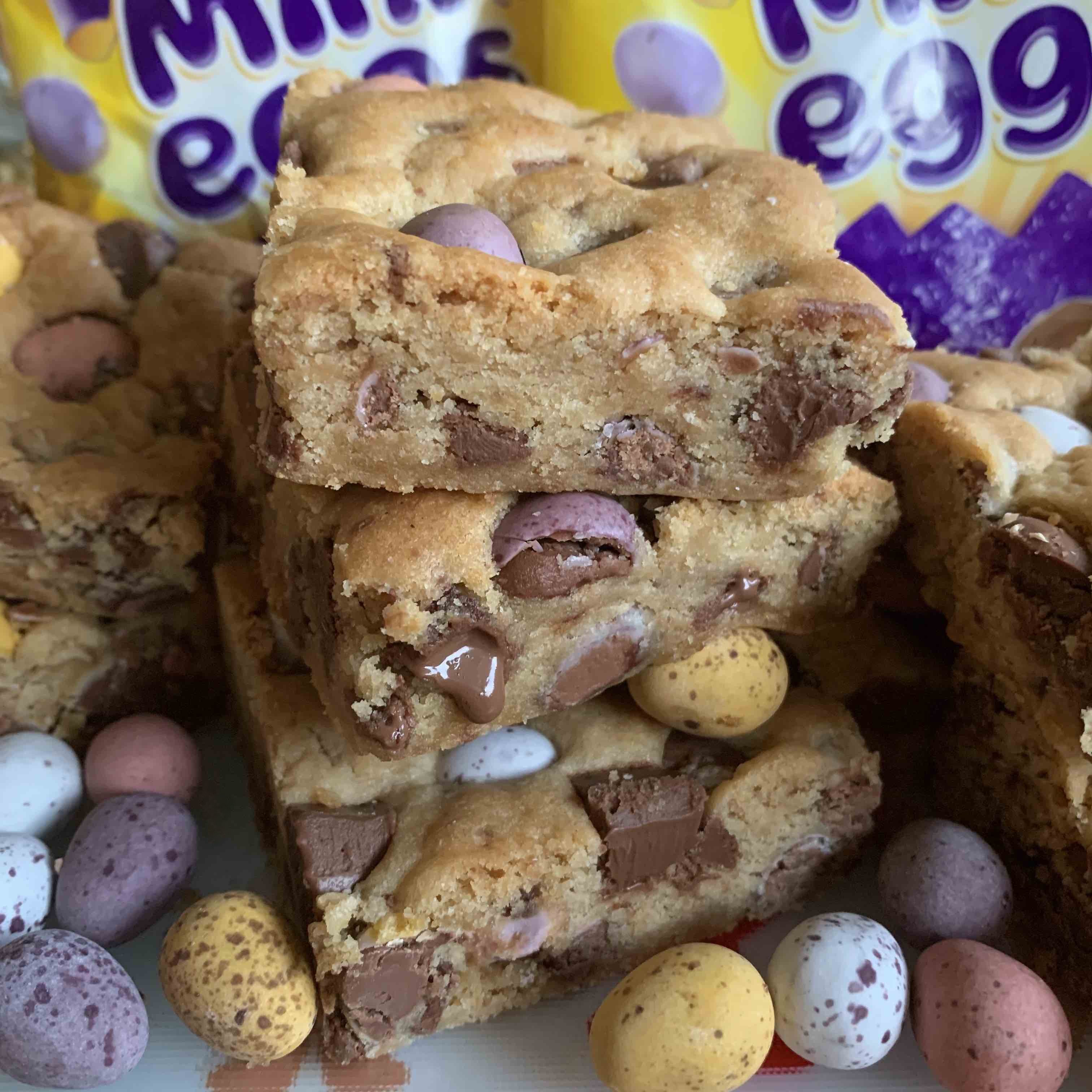 Mini Egg Cookie Bars
Difficulty
Time 1.5 hours (including cooling time)
Servings 9 large pieces (or 12 / 16 smaller pieces)
Equipment

Rolling Pin / Pestle and Mortar (to crush Mini Eggs)
Sharp Knife (to cut the Chocolate Bar, if not using Chocolate Chips)
Spoon
Large Bowl
8"x8" Tin
Parchment Paper
Cooling Rack

Ingredients

135g Softened Unsalted Butter (or Baking Spread)
110g Soft Light Brown Sugar
275g Self-Raising Flour
2 tablespoons Cornflour
2 tablespoons Golden Syrup
2-3 tablespoons Milk (I used Semi-Skimmed)
100g Milk Chocolate Chips or Milk Chocolate Bar
200g Mini Eggs

Method

Pre-heat your oven to 180C (350F) standard / 160C (320F) fan. Grease and line an 8"x8" inch baking tin with parchment paper. If you're using a milk chocolate bar rather than milk chocolate chips - cut your chocolate in to chunks. Crush your mini eggs.
Cream the butter and sugar together until light and fluffy.
Stir in the golden syrup, flour, cornflour, and crushed mini eggs and milk chocolate (save some milk chocolate and mini eggs for decoration).
Add 2-3 tablespoon of milk as required to loosen the mixture (you should have a firm sticky cookie dough).
Press the cookie dough in to the lined baking tin and scatter on and press down the remaining mini eggs and milk chocolate as decoration.
Bake for 25 minutes or until lightly golden and the surface of the cookie bar looks set/loses its shine. - The longer you bake the less gooey the cookie will be, so time according to your preference.
Leave to cool in the tin for 30 minutes, then remove and place on a cooling rack until fully cooled. Slice and enjoy!

Notes

- These cookies are best eaten fresh on the day they're made, however they will keep well for 3-4 days in an airtight container at room temperature.
- Add the milk a little at a time, as a little goes a long way; the mixture should be loose but firm.
- For double chocolate cookie bars: use 225g of self-raising flour and 45g of cocoa powder and increase the butter to 150g. You may also find that you need to add an extra tablespoon of milk to loosen the mixture.
- I've used milk chocolate, but dark or white chocolate would also be nice!

Recommended Equipment and Ingredients*

*I earn a small amount of money if you buy the products after clicking the links. You will not be charged extra for this. Thank you for your support!