Mini Egg Blondies
Easy, yummy blondies packed with Mini Eggs and white chocolate chunks!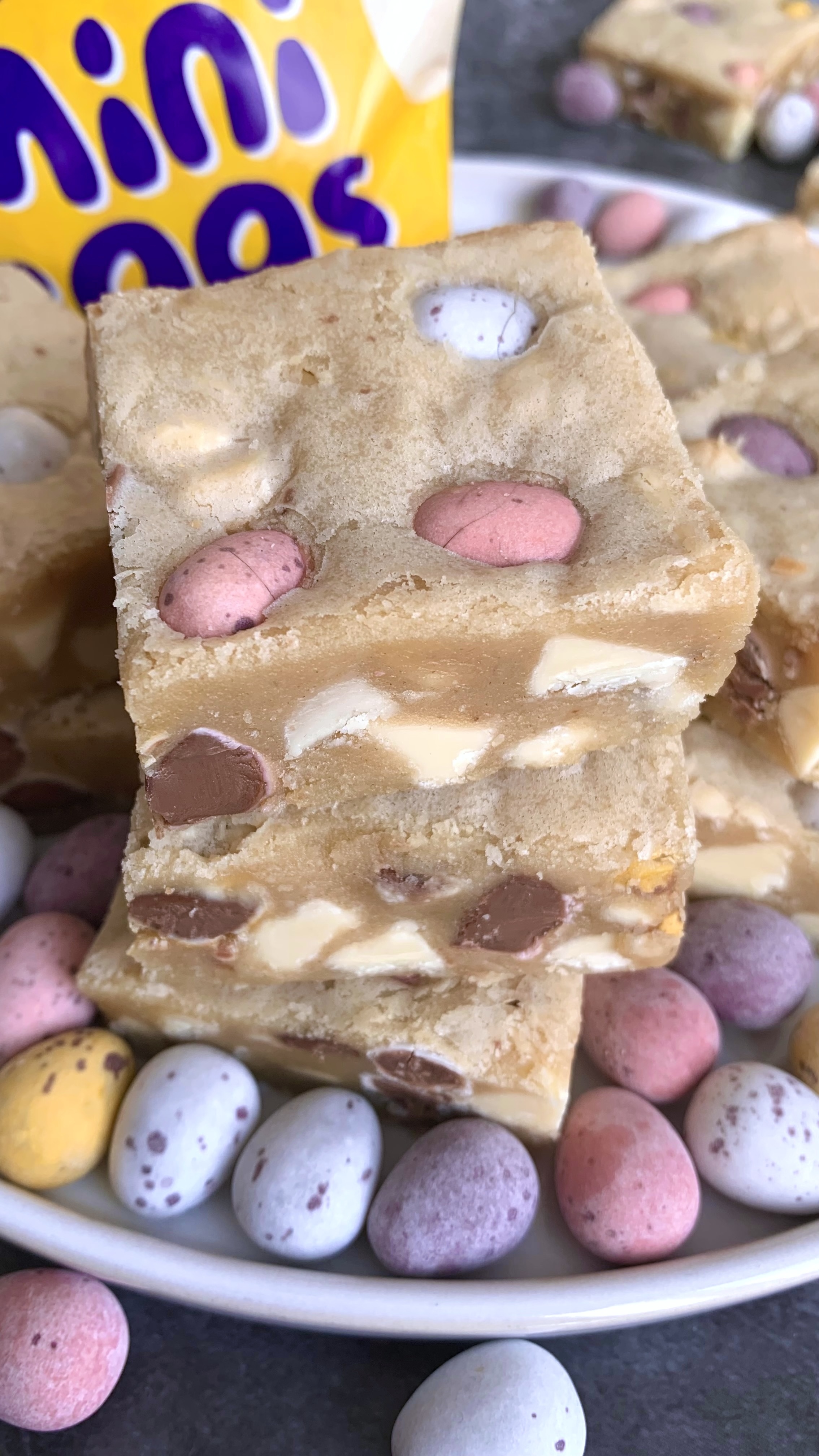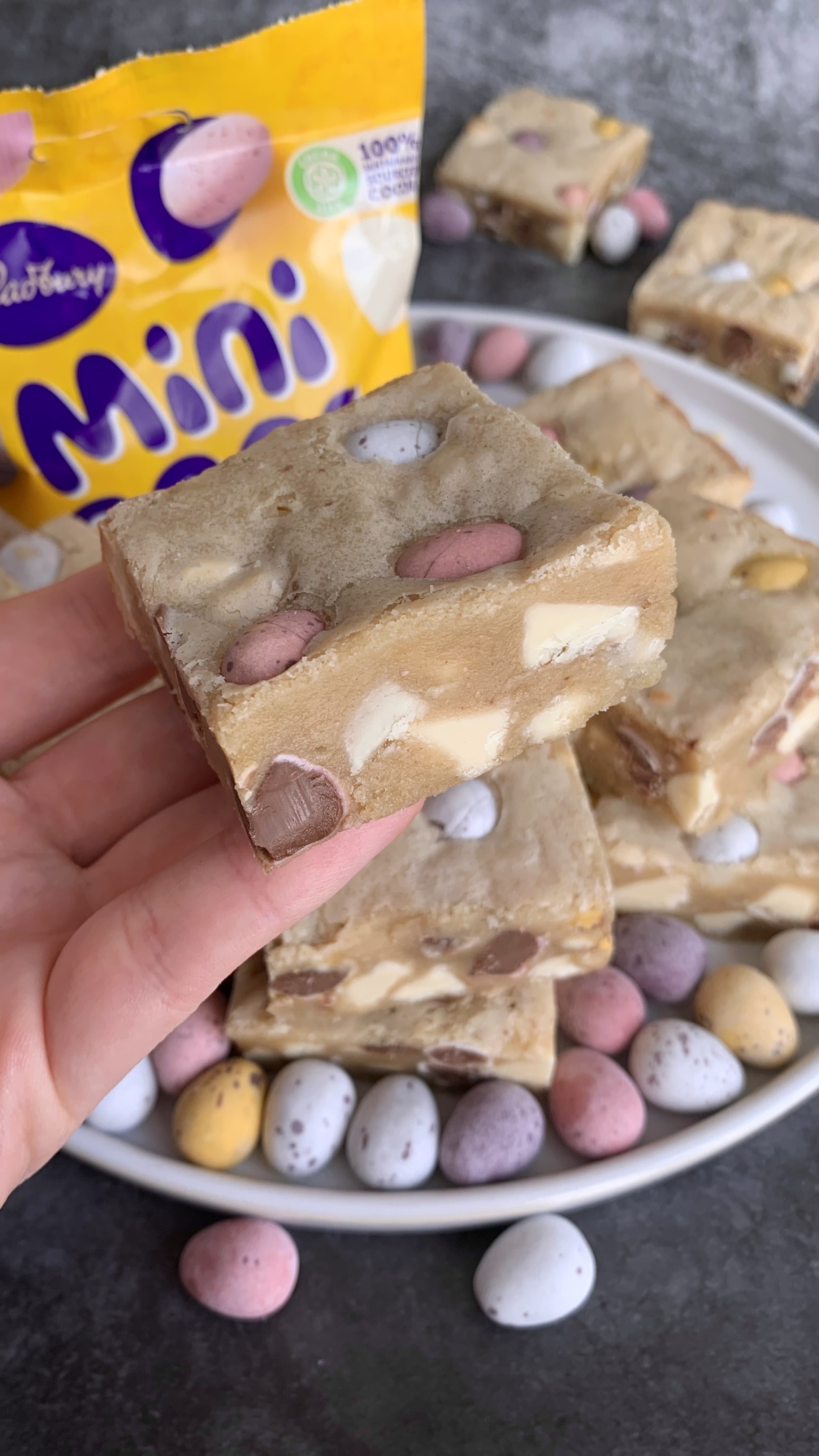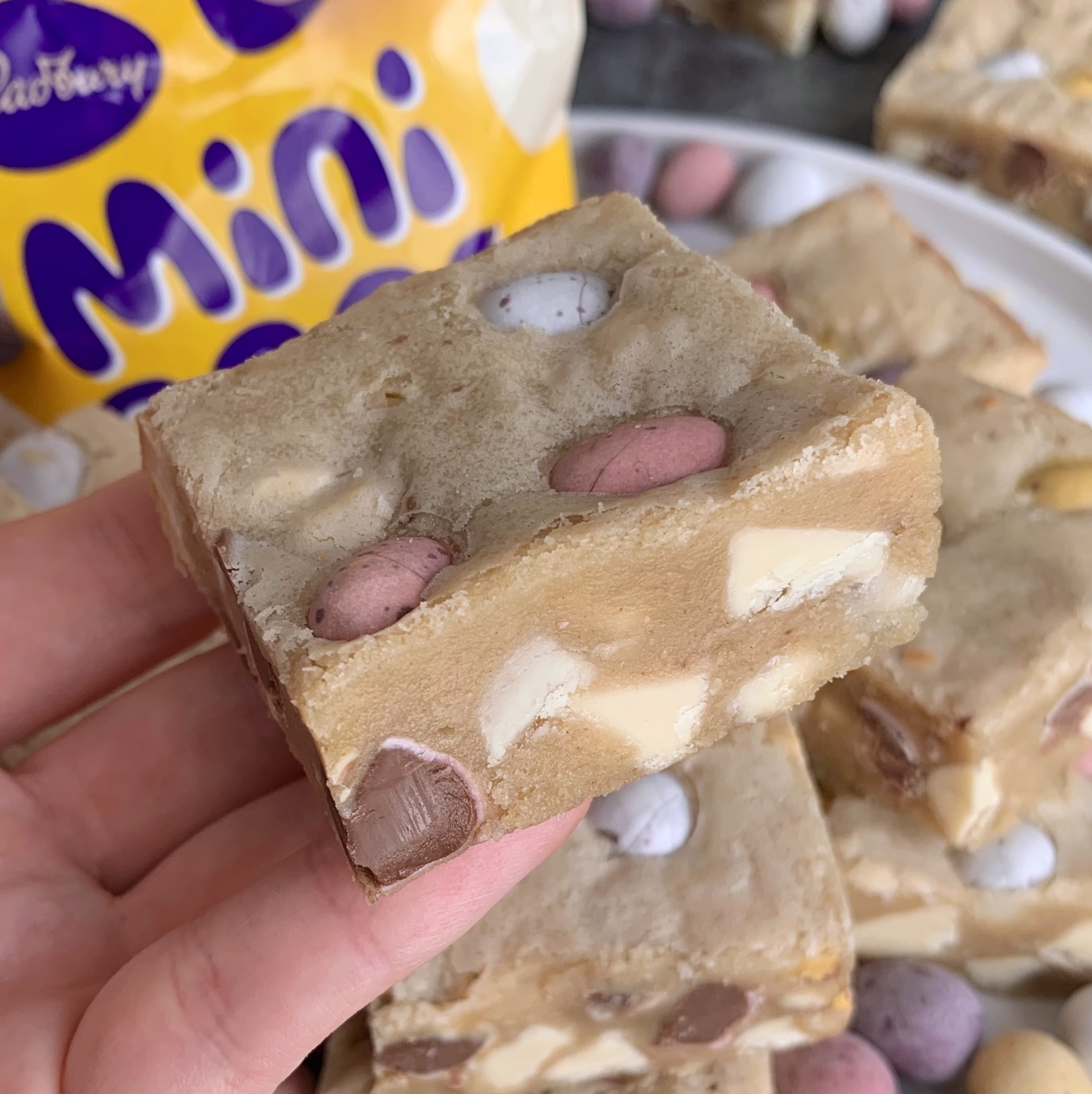 Mini Egg Blondies
Difficulty
Time1 hour (plus cooling)
Servings 16
Ingredients

200g Unsalted Butter
125g Caster Sugar
125g Soft Light Brown Sugar
2 Large Eggs
1 teaspoon Vanilla Extract
260g Plain Flour
15g Cornflour (*see notes)
200g White Chocolate Bar, Chopped
200g Mini Eggs

Method

Line a 9"x9" baking tin. Heat oven to 180°C (350°F) standard oven / 160°C (320°F) fan oven. Chop the white chocolate in to chunks and crush the mini eggs.
Melt the butter in a microwave in 20 seconds bursts until smooth, then add the melted butter to a large bowl along with the two sugars (caster and soft light brown). Whisk (I use a manual hand whisk!) the butter and sugars together for 1 minute.
Add the eggs and the vanilla extract and whisk for a further 1 minute. You should have a pale smooth mixture.
Fold in the sieved flour and cornflour until no flour pockets remains. Finally, fold in the the white chocolate chunks and the crushed mini eggs (leave a handful of crushed mini eggs aside to add to the top of your blondie).
Pour the mixture in to the lined tin, smooth out, and then scatter on any remaining crushed mini eggs, pressing them down gently in to the mix. Cook for 25-30 mins until the middle has a very slight wobble and a toothpick/skewer test has a few wet crumbs. Don't overbake or it'll lose it's fudgeyness and become cakey!
Once baked, leave your blondies to cool in the tin completely. Cut in to portions, then enjoy!

Notes

- Once cooled, store the blondies in an airtight container where they'll keep for 1+ weeks.
- If you don't have any cornflour you can substitute with an extra 15g of plain flour (so 275g total)!
- Tip: Leave your blondies to set in the fridge if you want them to be super fudgy!

Recommended Equipment and Ingredients*

*I earn a small amount of money if you buy the products after clicking the links. You will not be charged extra for this. Thank you for your support!