Rudolph Krispie Treats
Easy, super cute rudolph krispie treats. Perfect for Christmas baking fun with the kids, or big kids!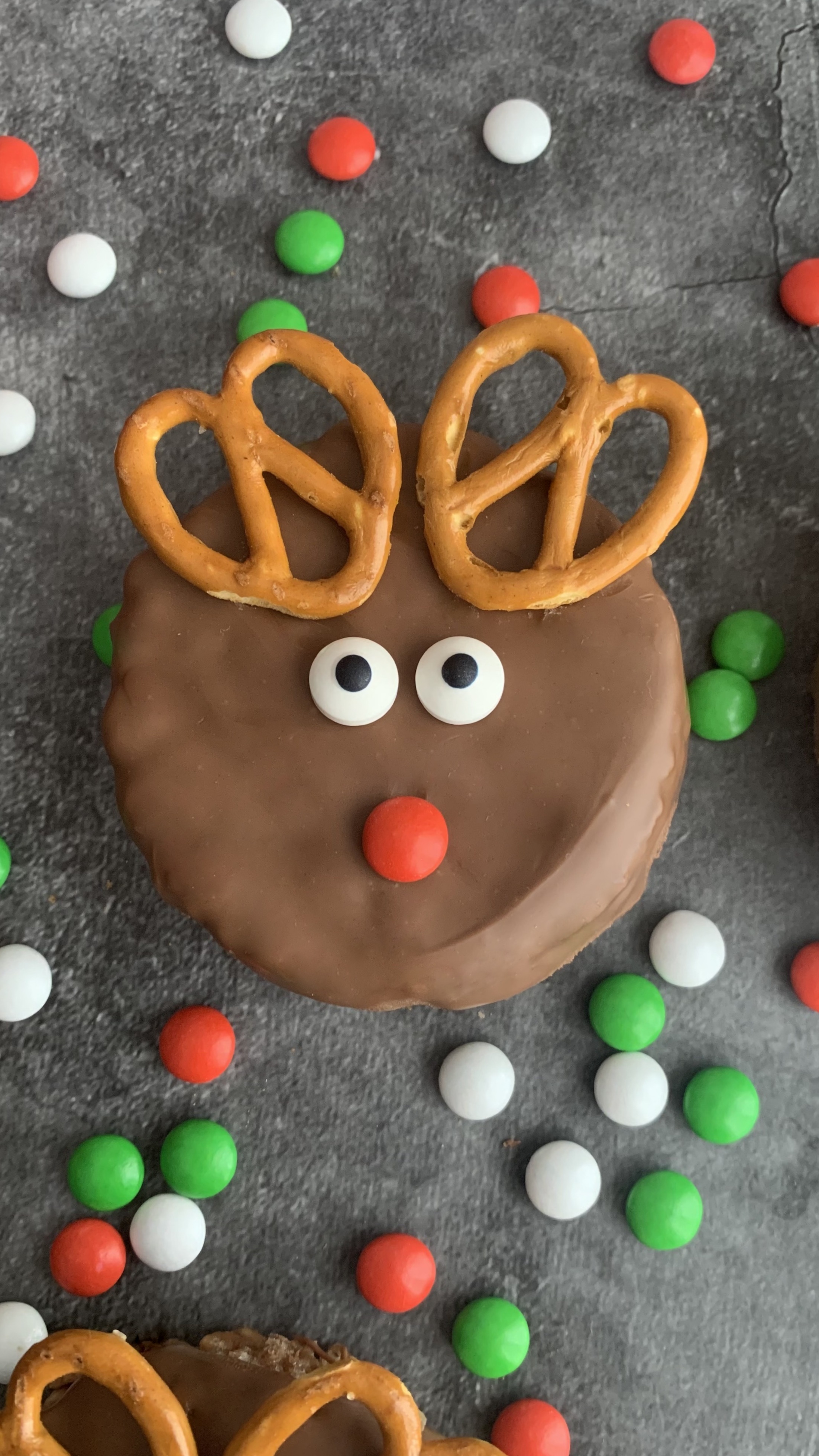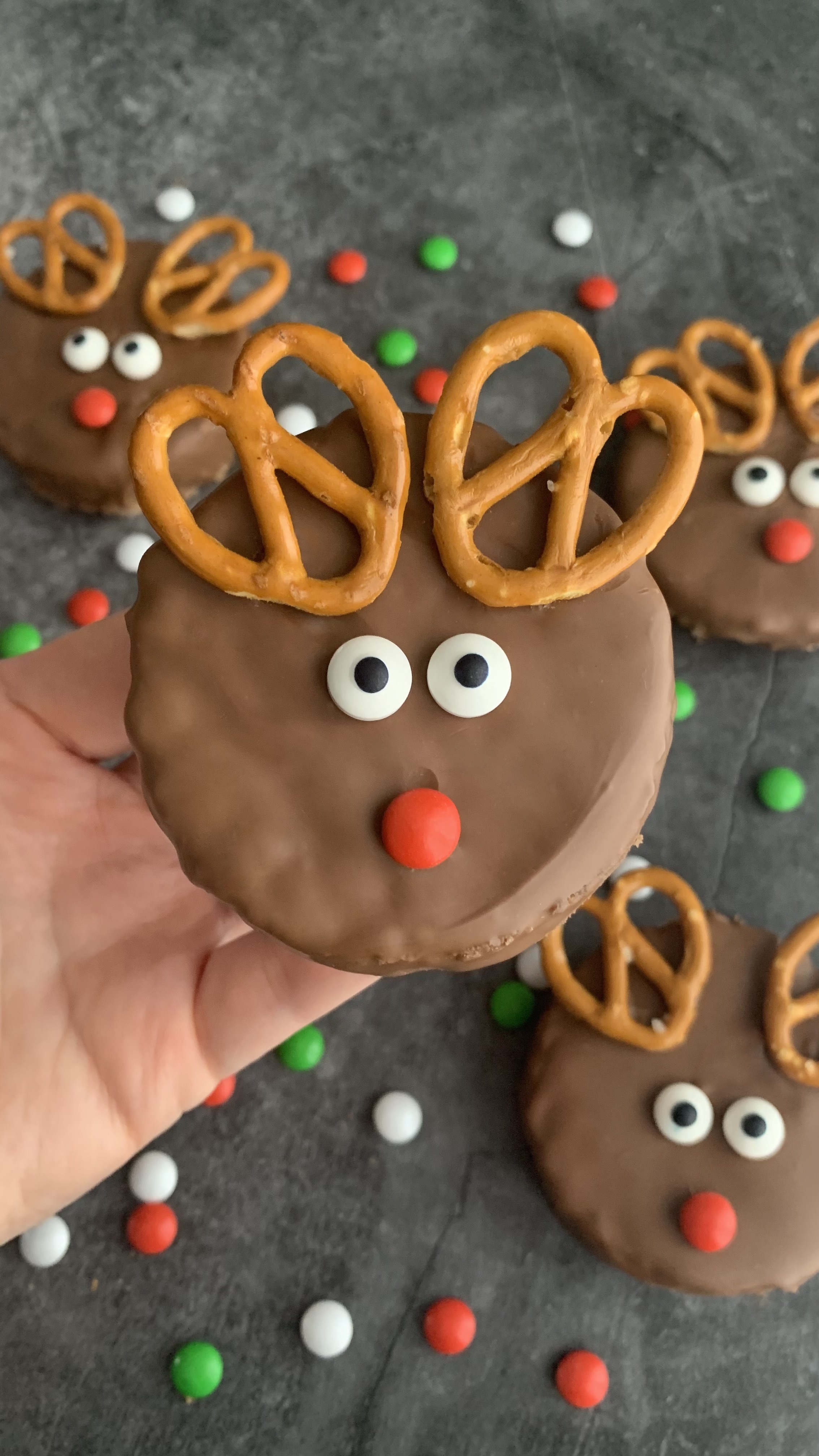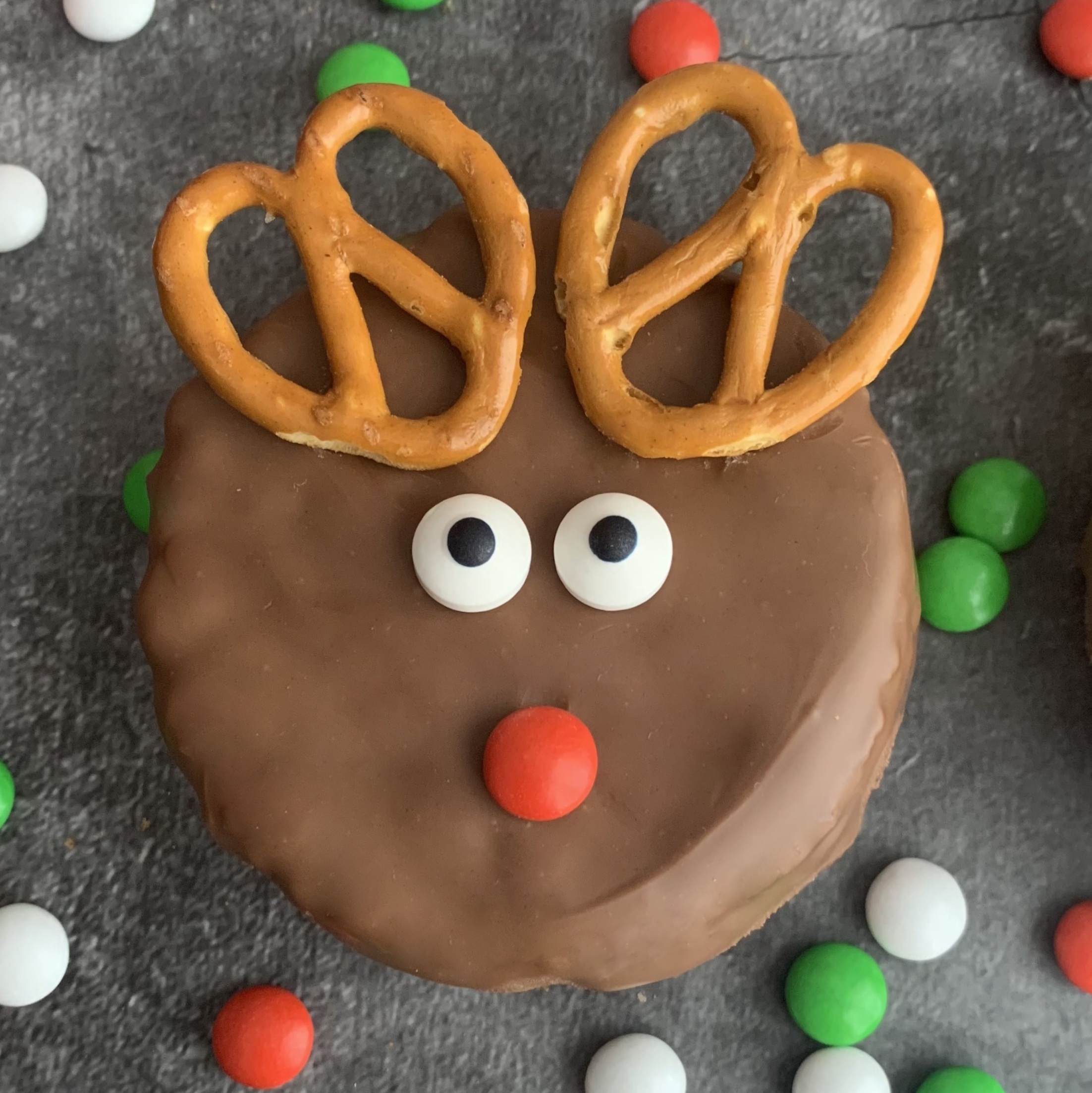 Rudolph Krispie Treats
Difficulty
Time 15 minutes (plus 2 hours cooling)
Servings 6 to 12 depending on size of circle cutter (I made 9)!
Ingredients

- 75g Golden Syrup
- 75g Butter (I used unsalted, but salted would also work)
- 120g Rice Krispies
- 350g Milk Chocolate (150g for the Krispie Treats + 200g for decoration)
- Red Smarties - for Rudolph's noses!
- Pretzels - for Rudolph's antlers!
- Edible Eyes - for Rudolph's antlers! (I got mine from Cake Décor. See Recommended Equipment and Ingredients for a link)

Method

Line a 9"x9" baking tin. Add the rice krispies to a large bowl.
Gently melt the golden syrup, butter and 150g of the milk chocolate in a large saucepan on a low-medium heat. Keep stirring until the mixture has formed a smooth sticky paste. Be patient, as this will take a few minutes.
Once smooth, remove the saucepan from the heat and pour over the rice krispies until they're evenly covered - stir them quickly as it'll begin to harden fast! Press your krispie treats in to the lined baking tin (I use the back of a spoon or a spatula for this as it's really sticky!). Leave to cool until firm - I chilled them in the fridge for 1 hour, but room temp is fine too!
Remove the krispy treats from the tin and use a circle cookie cutter to cut out as many reindeers as you can - I made 9!
Decoration: Melt the remaining 200g of milk chocolate either in the microwave in 10 second bursts, or a using a bain-marie method until smooth. Wait a couple of minutes for the chocolate to cool slightly, then half-dip each circle in to the milk chocolate. Once coated place flat (chocolate side up!) on a piece of parchment paper. Decorate each reindeer with pretzel antlers, edible eyes, and red smarties nose. Leave to set in the fridge until firm (this will take approx 1 hour), and then enjoy!

Notes

- Store your Rudolph Krispy Treats in the fridge or at room temperature in an air tight container, where they will last for 1+ week!
- I used milk chocolate for decoation, but white or dark chocolate could be used instead!

Recommended Equipment and Ingredients*

*I earn a small amount of money if you buy the products after clicking the links. You will not be charged extra for this. Thank you for your support!