Easter Rocky Road
Easy, yummy rocky packed with all your favourite Easter treats!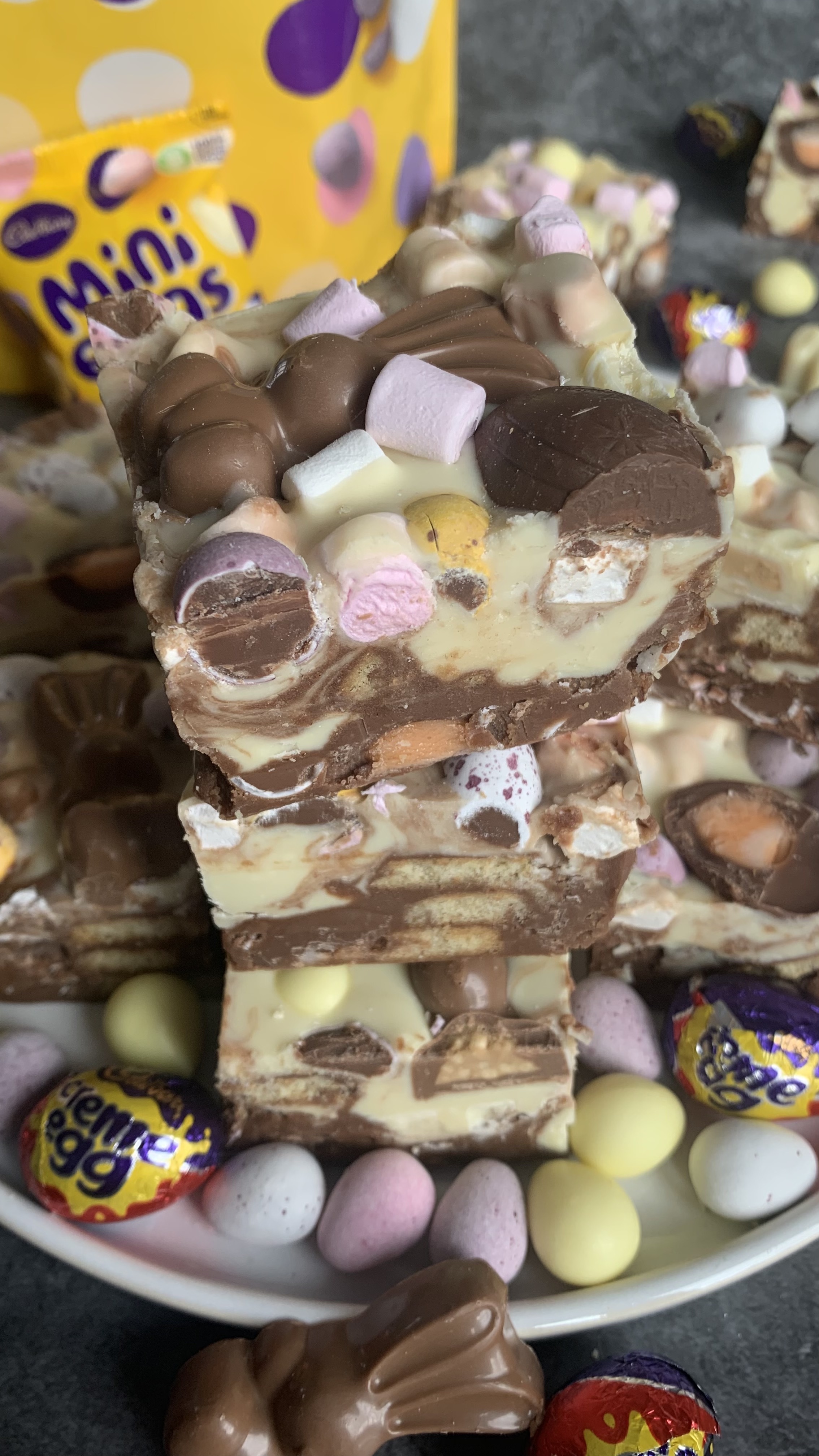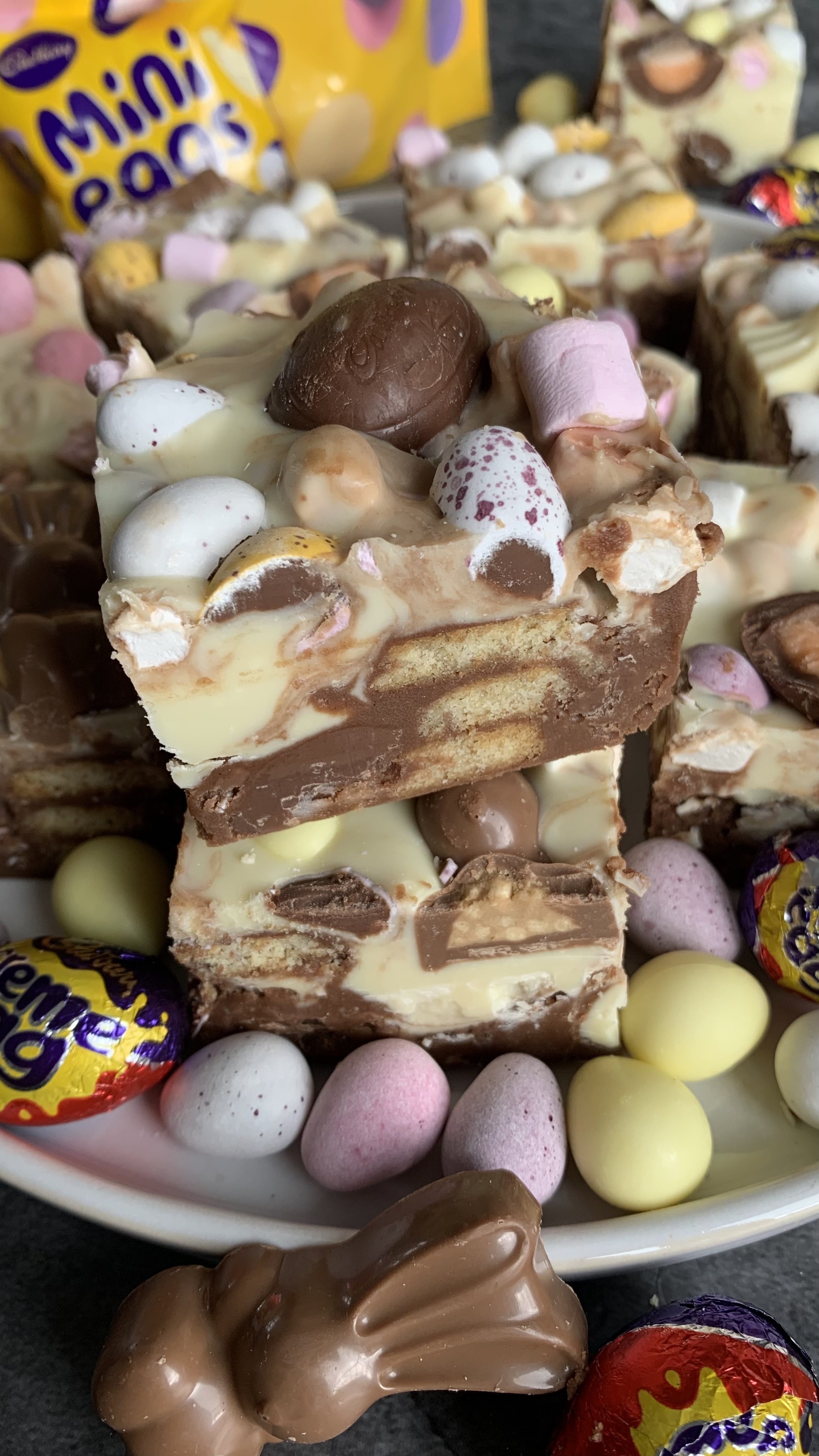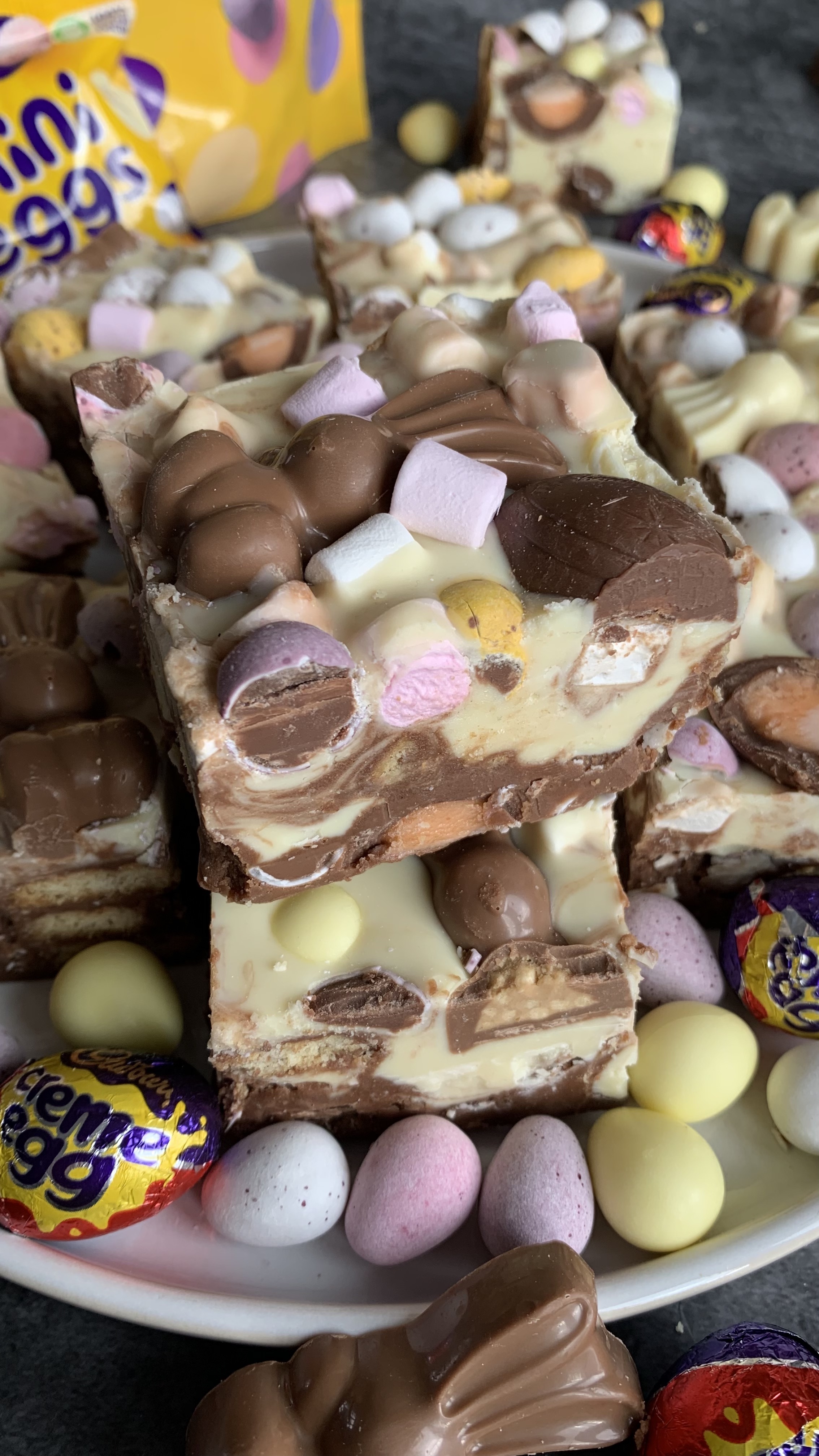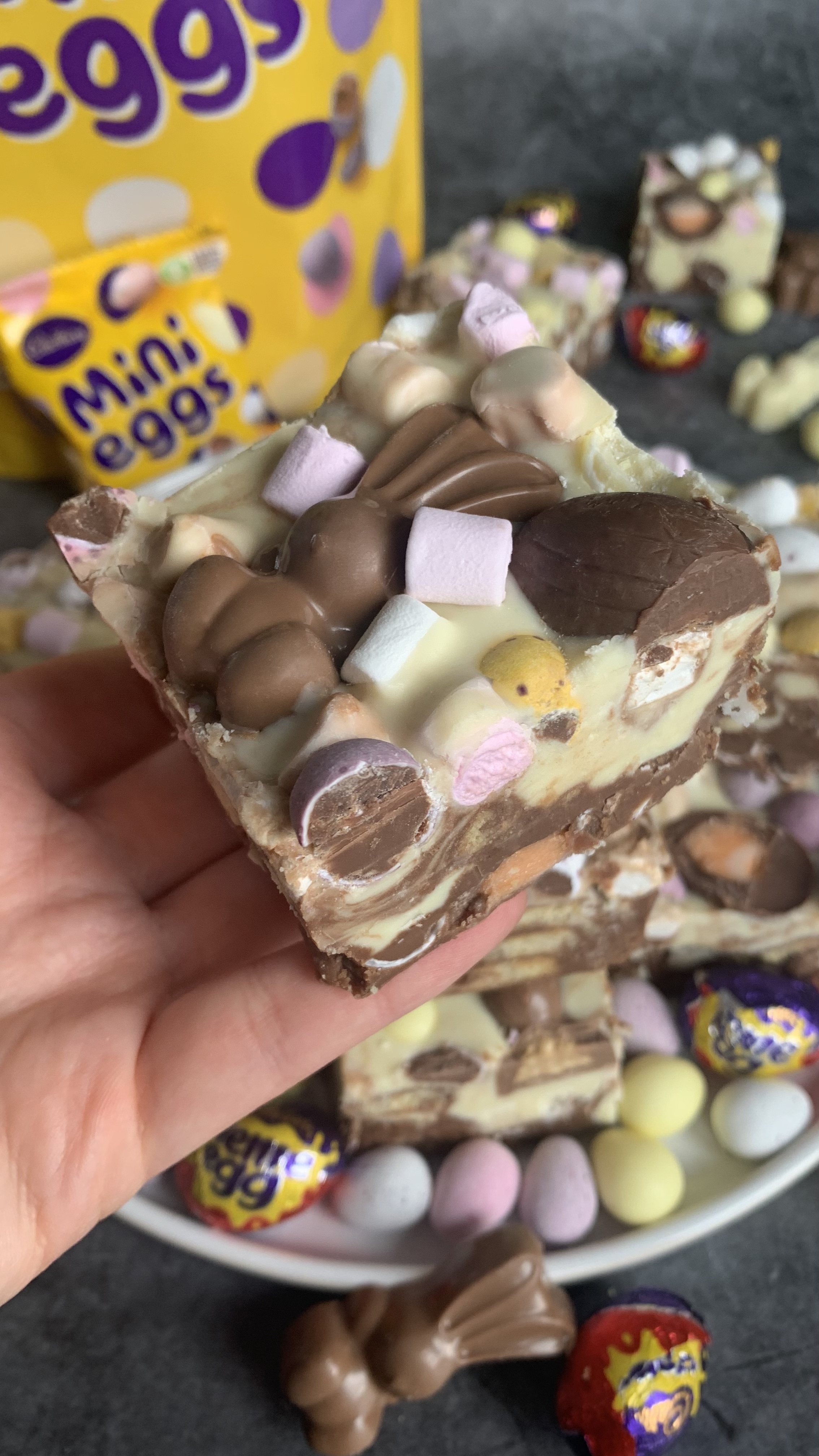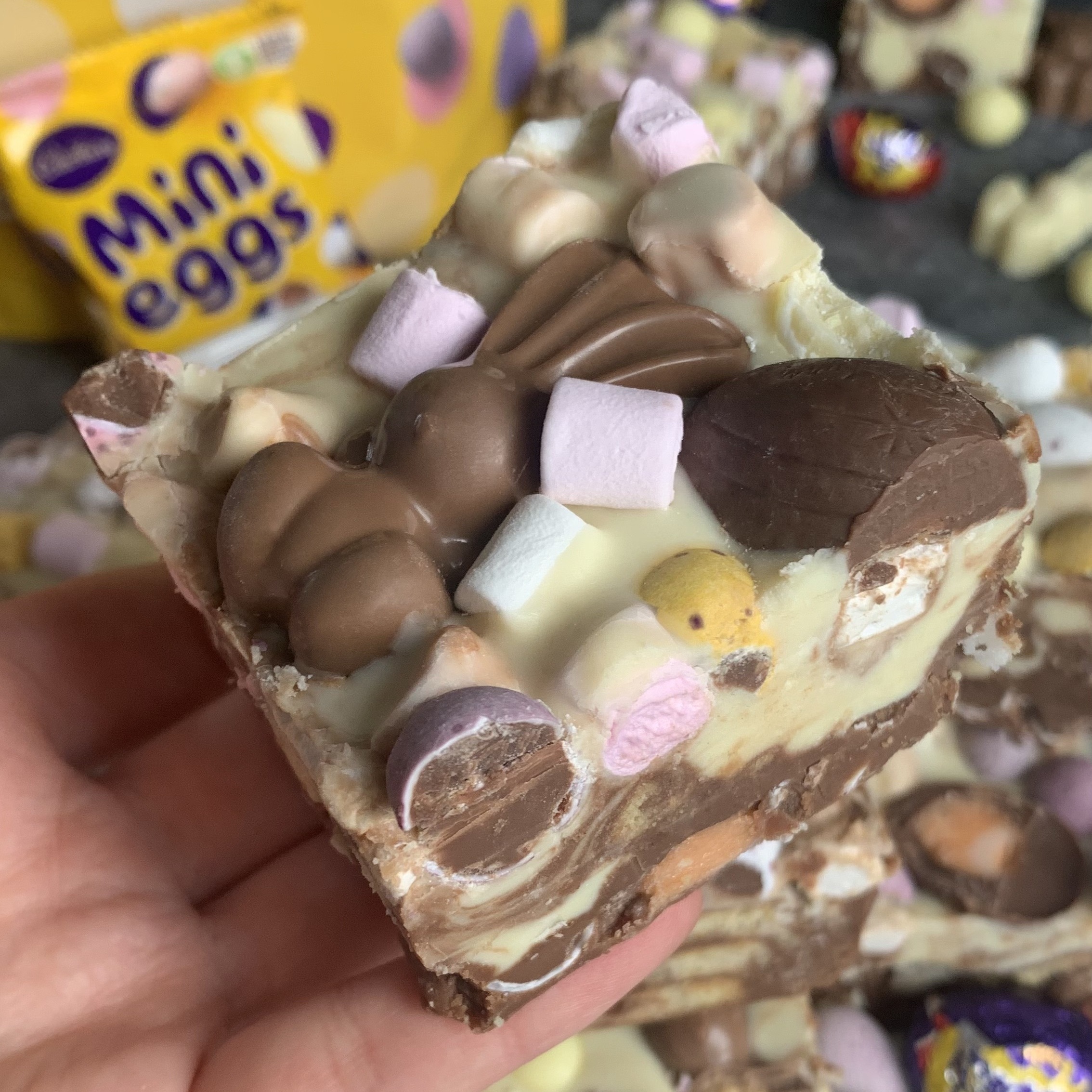 Easter Rocky Road
Difficulty
Time 15 minutes (plus 2-3 hours cooling)
Servings 16
Ingredients

500g Milk Chocolate, chopped
350g White Chocolate, chopped
150g Butter (I used unsalted, but salted would also work)
125g Golden Syrup
100g Digestive Biscuits
75g Mini Marshmallows
400-500g Easter Chocolate - Use your favourites! (I used: 200g Mini Eggs, 78g [1 bag] Mini Creme Eggs, 80g [1 bag] Milkybar Mini Eggs, Malteser Bunnies [2 milk chocolate and 2 white chocolate bunnies!])

Method

Line a 9"x9" baking tin. Chop/break the easter choc in to bitesize pieces along with the digestive biscuits and mini marshmallows. Set some aside to use later for decorating the rocky road, and put the rest in a large bowl.
Gently melt the butter and golden syrup in a saucepan on a low-medium heat. Take off the heat when the mixture is smooth and runny. Add the 500g milk chocolate to the saucepan, and leave it to sit for a couple of minutes (the heat will melt the choc!).
After a couple of minutes give the chocolate a good stir and you should be left with a smooth mixture! (If some chunks of chocolate still remain then add the saucepan back to the heat, but be careful to not burn it).
Pour the melted chocolate mixture in to the large bowl with the dry ingredients (digestives and easter chocs). Stir until fully combined and no dry pockets remain, and then press the mixture in to the lined baking tin.
Melt the 350g of white chocolate either in the microwave in 10 second bursts, or a using a bain-marie method. When the chocolate is fully melted and smooth, pour it on top of the rocky road and then swirl it in a little. (tip: give the tin a shake on a flat surface to help level everything out!).
Decorate as desired with the remaining Easter choc and then leave to set in the fridge until firm (this takes approx 2 hours in my fridge). Chop in to pieces and enjoy!

Notes

- Store your Easter Rocky Road in the fridge or at room temperature in an air tight container, where it will last for 2+ weeks!
- The white chocolate I've used here is optional, you could instead top the rocky road with 300g of melted milk choc, or leave out this part entirely. The Easter chocs can still be added as decoration!

Recommended Equipment and Ingredients*

*I earn a small amount of money if you buy the products after clicking the links. You will not be charged extra for this. Thank you for your support!