Ferrero Tiffin
Easy, yummy tiffin packed with everything chocolatey and hazelnutty!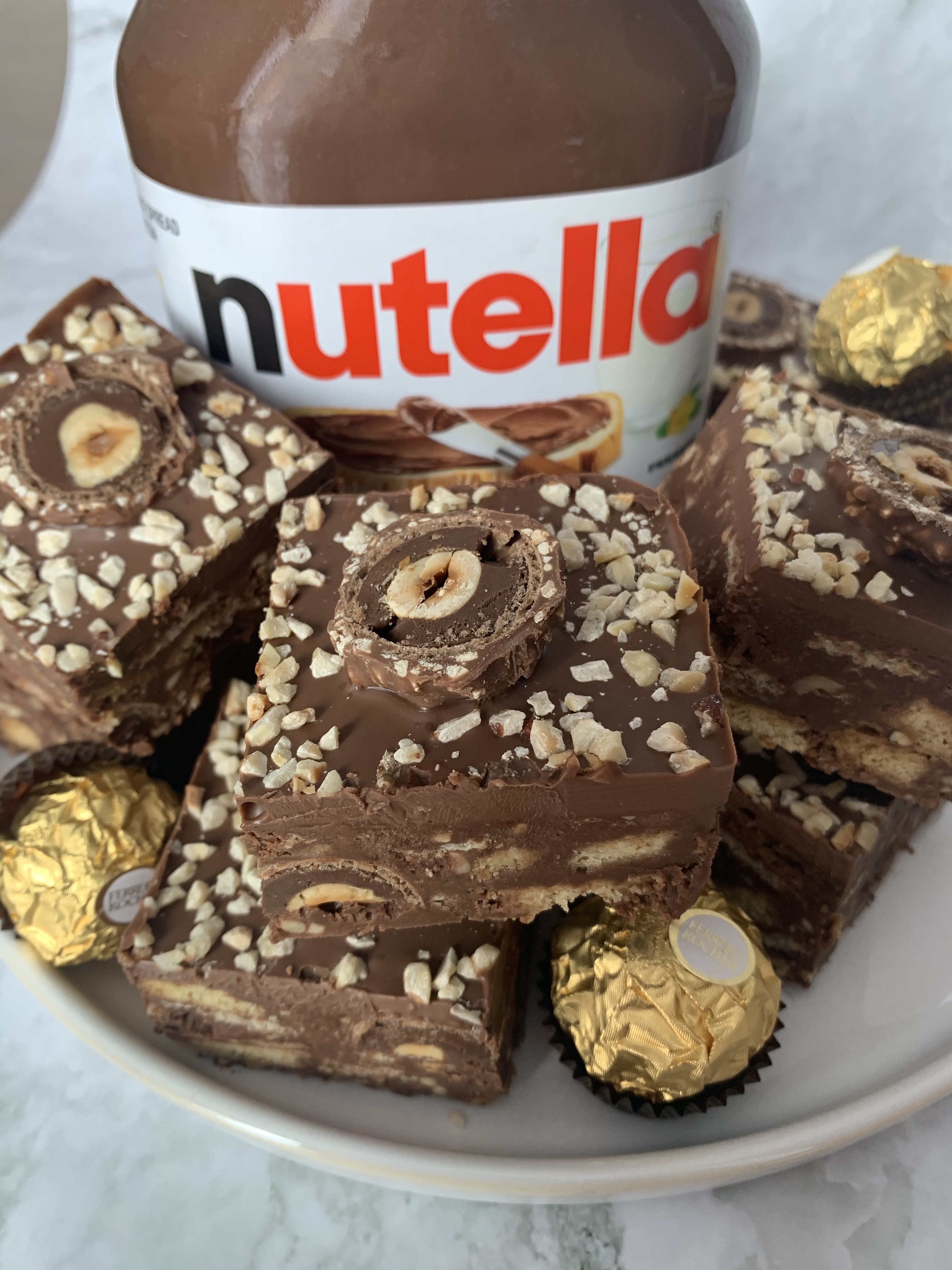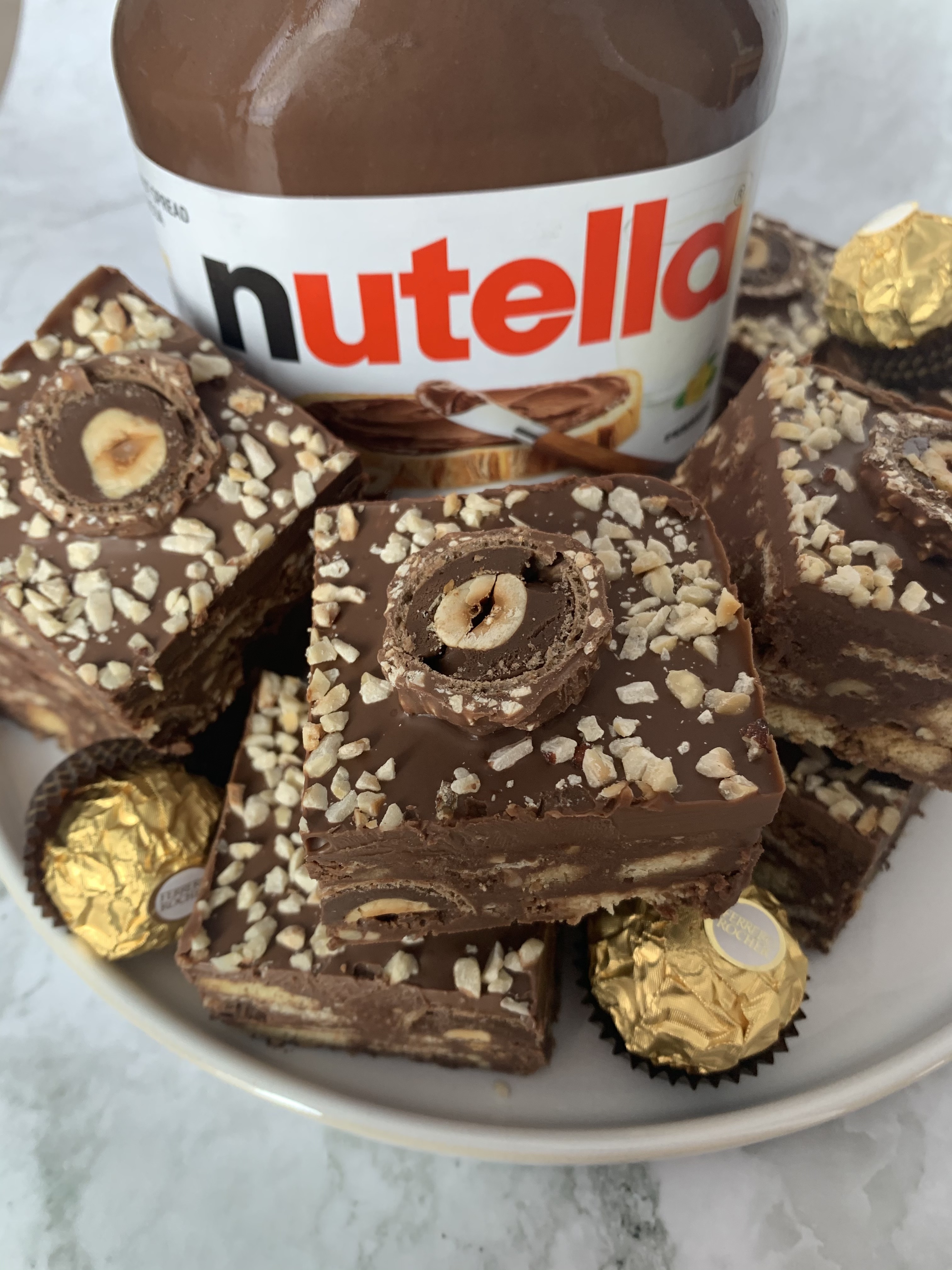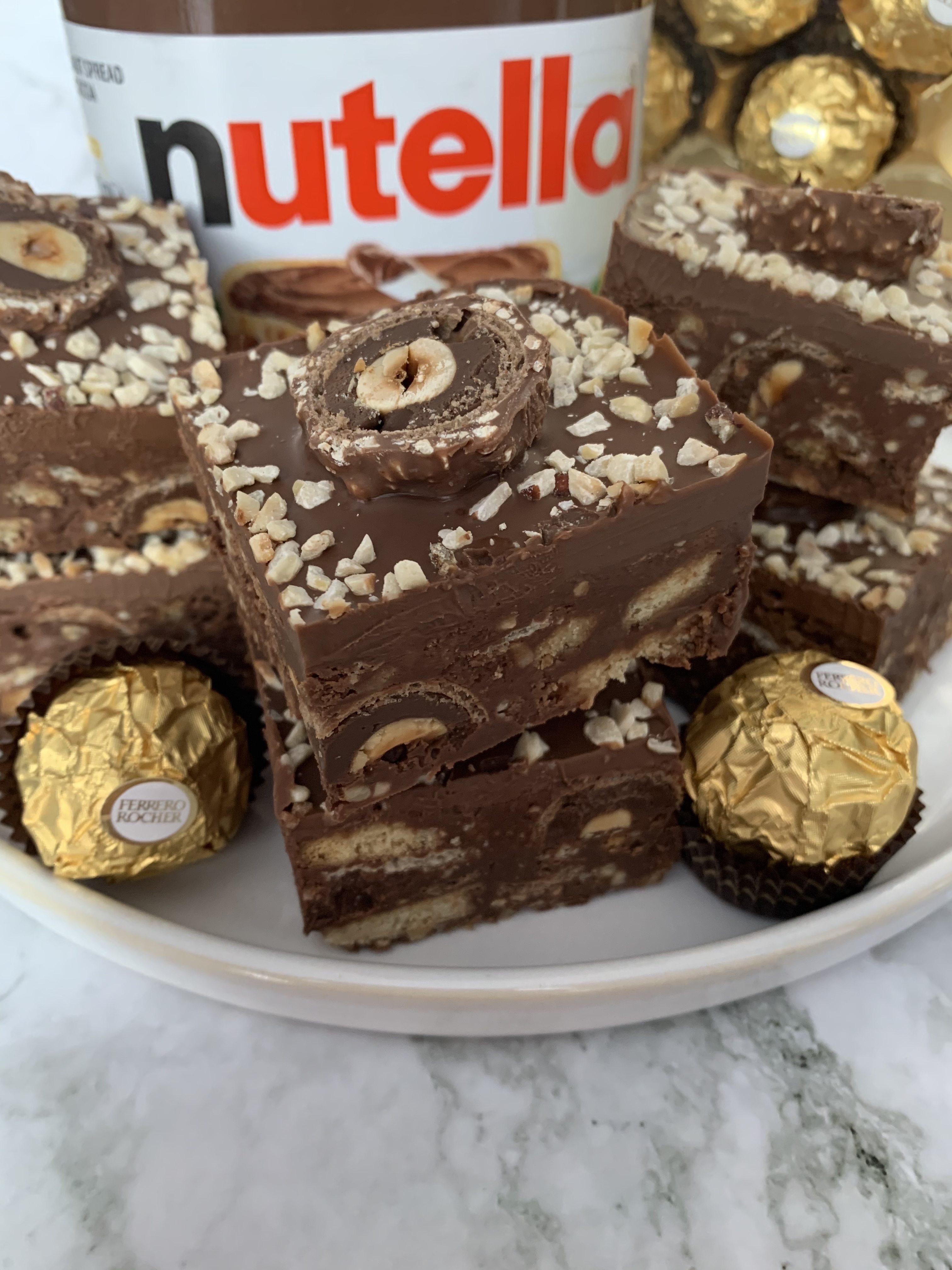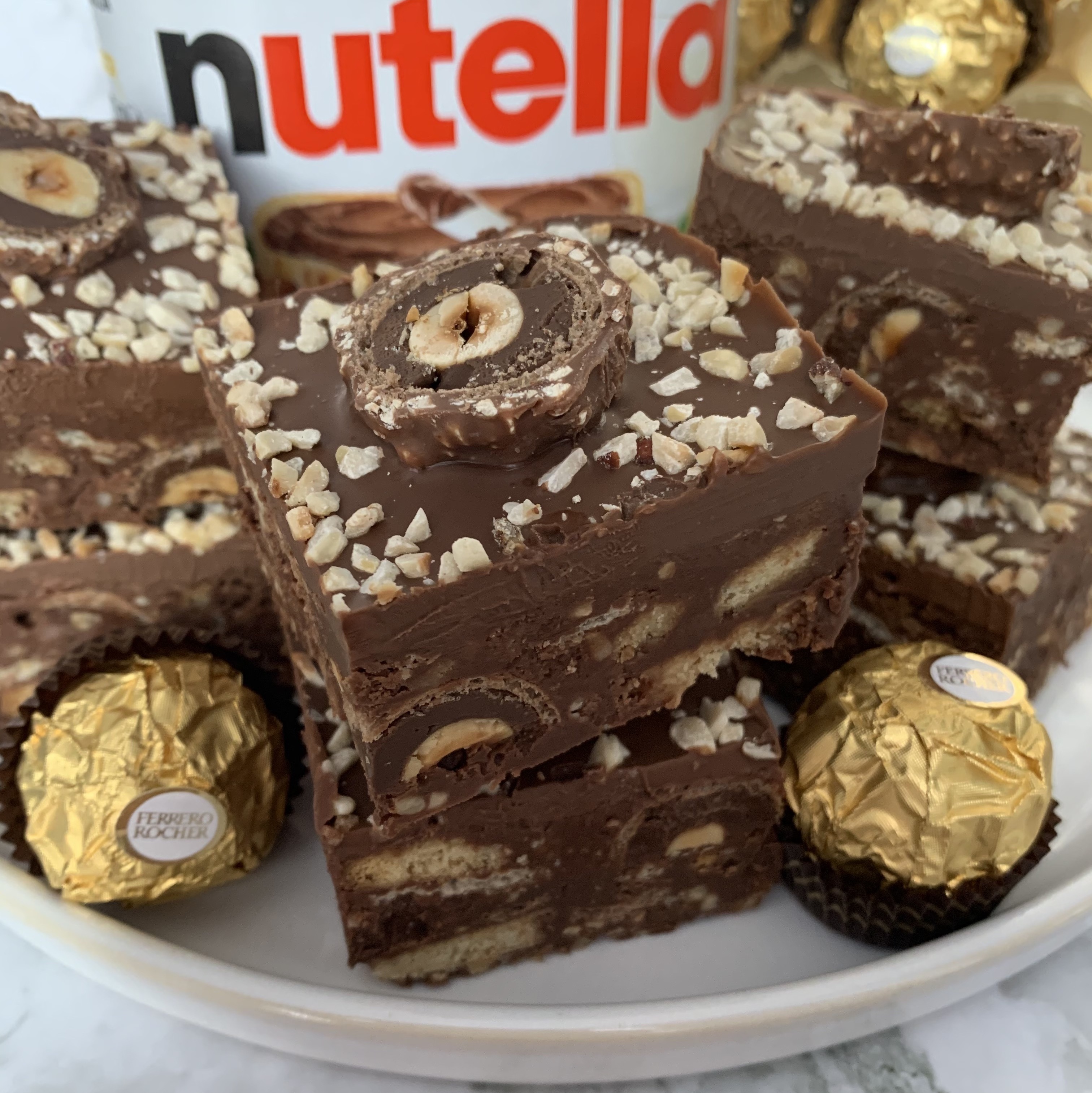 Ferrero Tiffin
Difficulty
Time 15 minutes (plus 2-3 hours cooling)
Servings 16
Ingredients

700g Milk Chocolate
250g Nutella
150g Butter (I used unsalted, but salted would also work)
150g Digestive Biscuits
100g Hazelnut Wafers (optional)
100g Chopped Roasted Hazelnuts (optional)
300g Ferrero Rocher (this is a box of 24, but you can use more or less depending on your budget and preference!)

Method

Line a 9"x9" baking tin. Chop the Ferrero Rocher in to halves and set 16 halves aside (you'll use these later as decoration). Break/chop the digestive biscuits and hazelnut wafers in to bitesize pieces and add them to a large bowl along with roughly 3/4 (75g) of the chopped hazelnuts.
Gently melt the butter and nutella in a saucepan on a low-medium heat. Take off the heat when the mixture is smooth and runny. Add 400g of chopped chocolate to the saucepan, and leave it to sit for a couple of minutes (the heat will melt the choc!).
After a couple of minutes give the chocolate a good stir and you should be left with a smooth mixture! (If some chunks of chocolate still remain then add the saucepan back to the heat, but be careful to not burn it).
Pour the melted mixture in to the bowl with the dry ingredients (digestives, hazelnut wafers, chopped roasted hazelnuts). Stir until fully combined and no dry pockets remain, and then press the tiffin mixture in to the lined baking tin. Refrigerate for 30 minutes and then continue to the next step for decoration!
Decoration: Melt the remaining 300g of chocolate either in the microwave in 10 second bursts, or a using a bain-marie method. When the chocolate is fully melted and smooth, pour it on top of the tiffin and then smooth out until flat (giving the tin a shake on a flat surface helps flatten the surface!). Add the 16 reserved ferrero rocher halfs to each portion (I add them in a 4x4 pattern), and then finish by scattering on the remaning chopped roasted hazelnut pieces as decoration.
Leave to set in the fridge until firm (this takes approx 2 hours in my fridge), then chop in to pieces and enjoy!

Notes

- Store your Ferrero Tiffin in the fridge or at room temperature in an air tight container, where it will last for 2+ weeks!
- I used milk chocolate in this tiffin, However you can use 700g of dark chocolate, or a combination of milk and dark, if you wish. All will work, it's just down to personal preference!
- To keep costs down for this no-bake feel free to reduce the number of Ferrero Rocher from the 24 I used, and remove the chopped roasted hazelnuts. You can also remove the hazelnut wafers if you don't want to use them - I reccommend using 250g digestive biscuits if you do!

Recommended Equipment and Ingredients*

*I earn a small amount of money if you buy the products after clicking the links. You will not be charged extra for this. Thank you for your support!