Terry's Chocolate Orange Muffins
Orange chocolate muffins with Terry's Chocolate Orange chunks, filled with an orange chocolate ganache, and topped with a choc orange segment!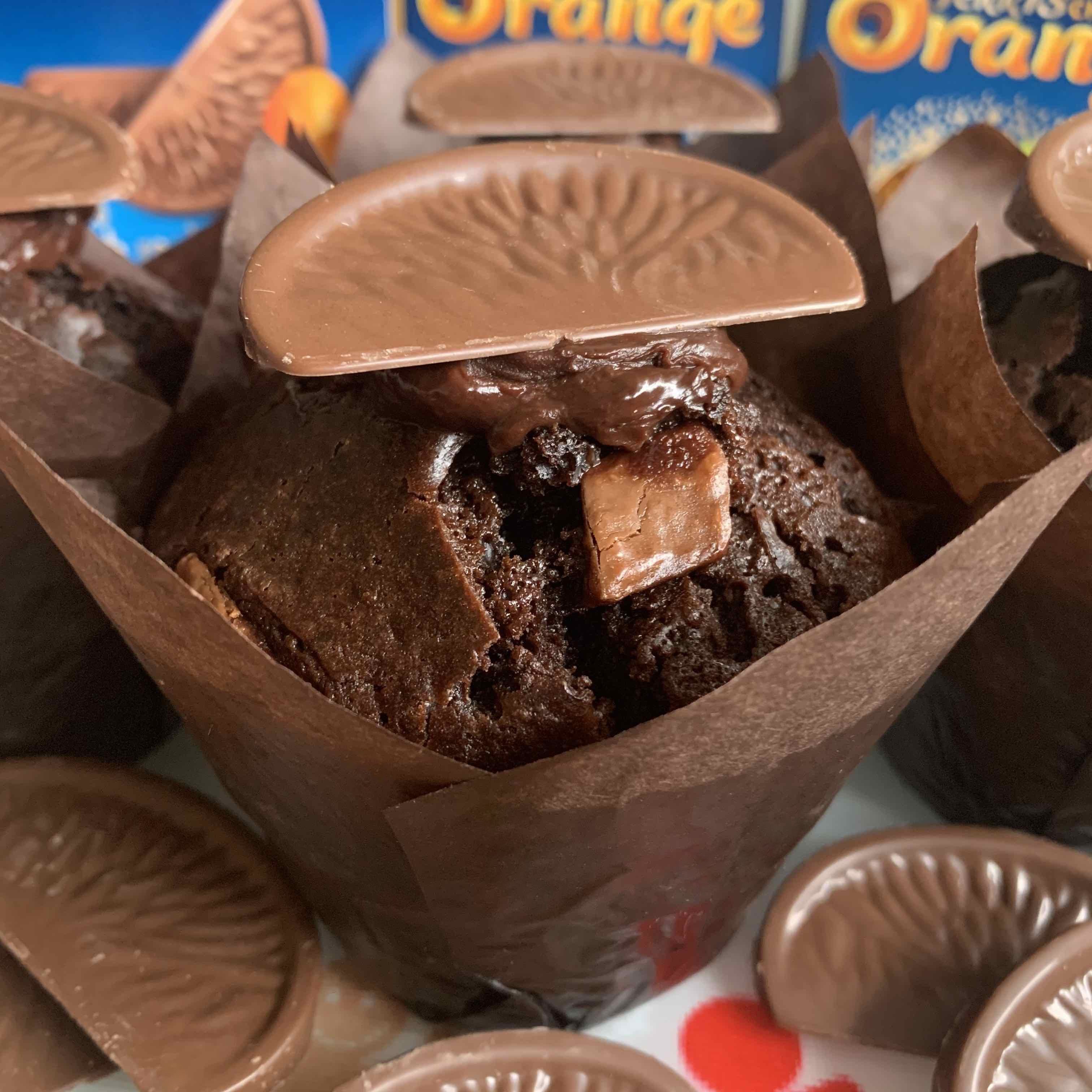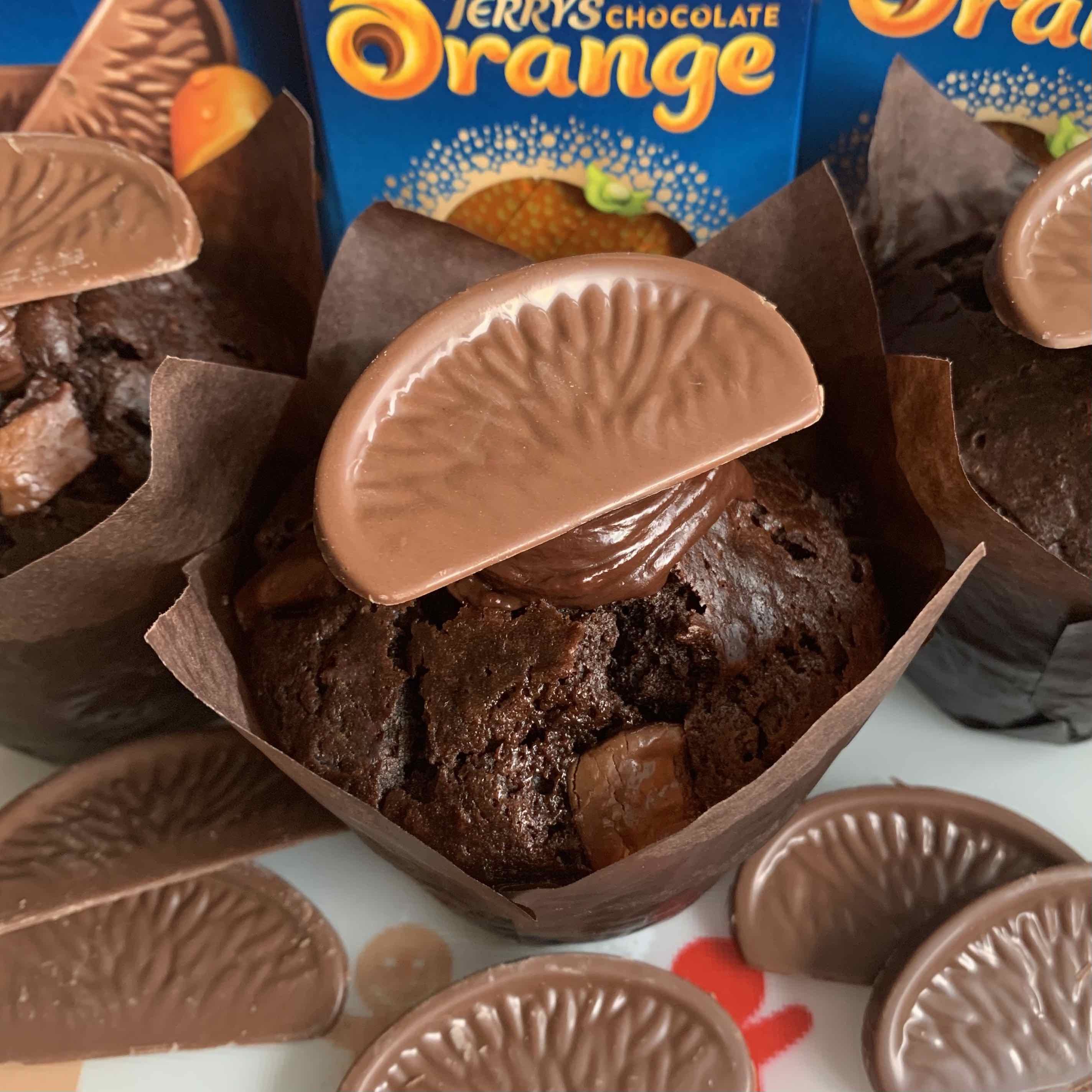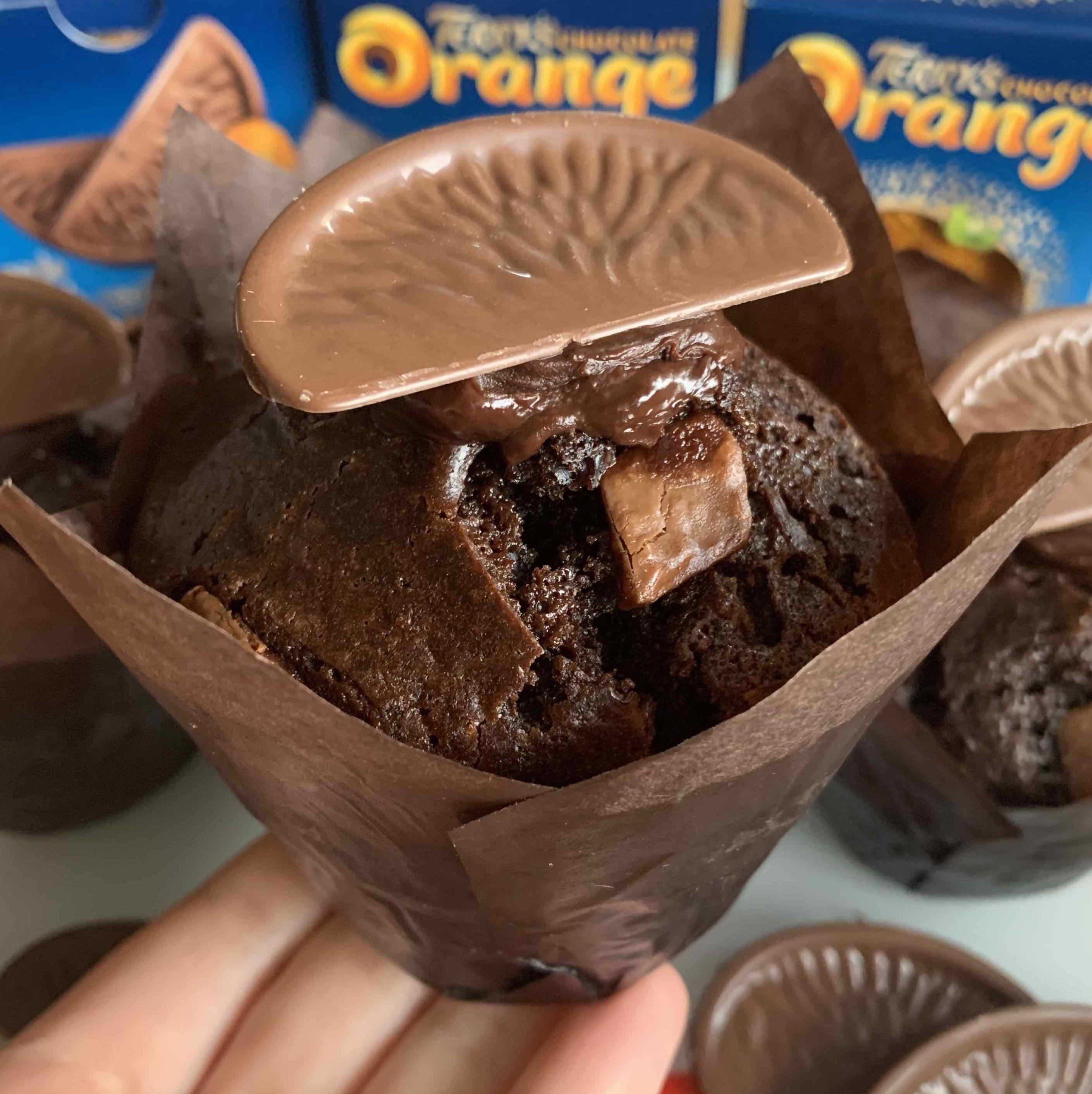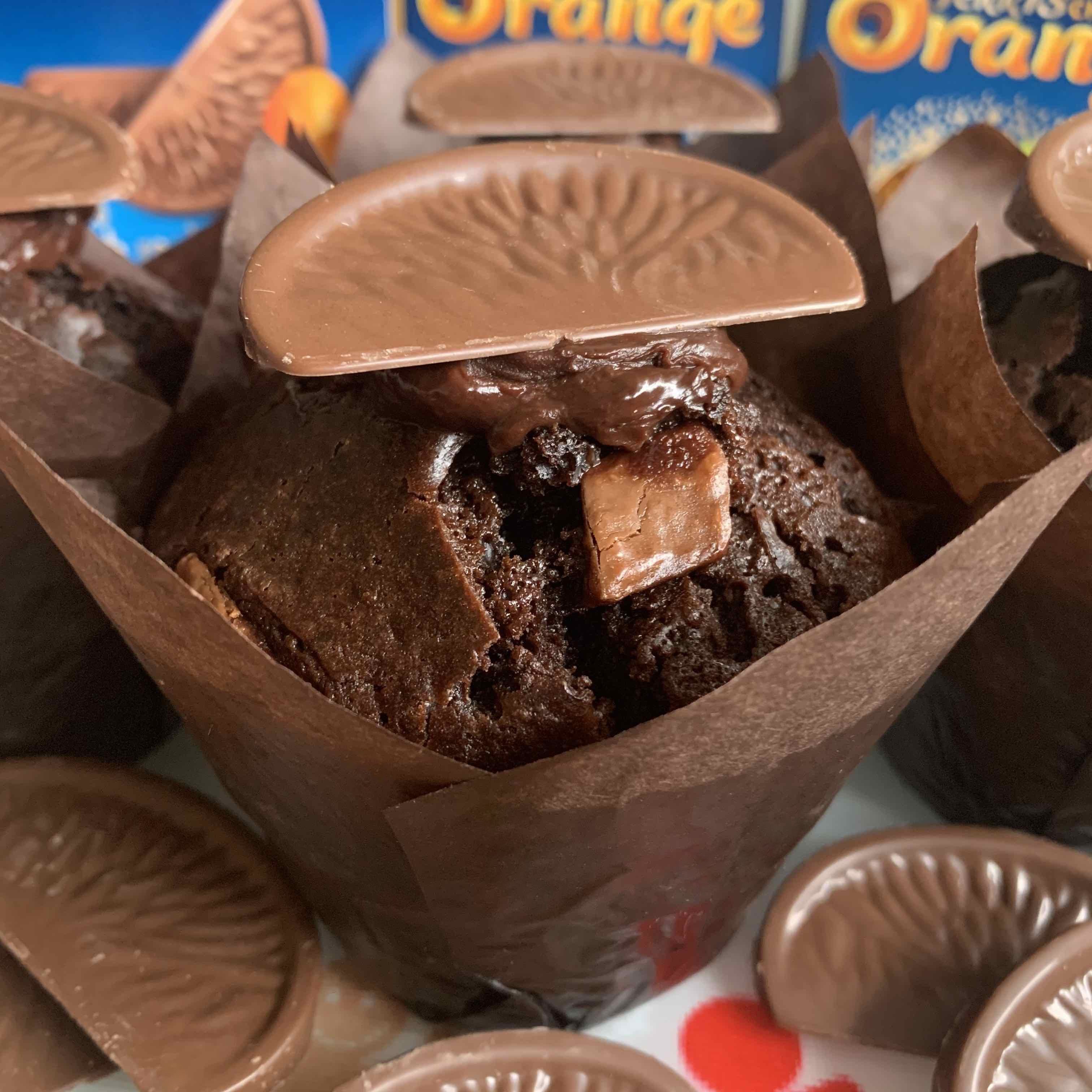 Terry's Chocolate Orange Muffins
Difficulty
Time 1 hour
Servings 6
Equipment

Large Bowl
Cupcake/Muffin Tin and 6 Tulip Cases, or 12 Regular Size Muffin Cases
Microwaveable Bowl / Jug and Microwave
Saucepan
Piping Bag or Sandwich Bag
Cake Skewer / Chopstick (something to test the muffins are cooked and to make a hole for the ganache!)

Ingredients

For the Orange Ganache
150ml Double Cream
150ml Dark Chocolate
1 tablespoon (15g) Unsalted Butter
1 teaspoon Orange Extract (*see recipe notes)
For the Muffins
200g Plain Flour
150g Caster Sugar
50g Cocoa Powder
2 teaspoons Baking Powder
1/4 teaspoon Salt
200ml Milk - I used semi-skimmed
150g Unsalted Butter - Melted and slightly cooled (or salted butter and omit the 1/2 teaspoon of salt)
2 large Eggs - Room temperature
1 teaspoon Orange Extract (*see recipe notes)
157g Terry's Chocolate Orange (1 orange!) - I used the milk chocolate version
For the Decoration
Orange Ganache
6 Terry's Chocolate Orange segments - I used the milk chocolate version

Method

Add the butter and dark chocolate cut in to small chunks in to a heatproof bowl and set aside.
Heat the cream in a saucepan on a medium heat. When it's approaching boiling point (no need for a thermometer here, just do it by eye) take the cream off the heat and then pour it in to the bowl with the butter and dark chocolate. Set aside for 5 minutes to allow the cream to melt the chocolate and butter.
After the 5 minute wait - add in the orange extract and then stir the ganache vigorously until smooth and silky, with no lumps remaining (if there's still some choc chunks this means the cream wasn't hot enough and/or the choc chunks were too big! That's no problem, just microwave in 10 second bursts and stir until smooth).
Add the ganache to a piping bag and put in the fridge to cool.

Melt the butter in the microwave and set aside to cool. Chop the Terry's Chocolate Orange in to small chunks. Heat oven to 200°C (390°F) standard / 180°C (350°F) fan. Line a muffin pan with 6 tulip cases.
Sieve the dry ingredients (plain flour, cocoa powder, baking powder, salt, and caster sugar) together in to a large bowl. Whisk to evenly distribute the ingredients, and then set aside.
Add the wet ingredients to the slightly cooled melted butter (5 mins to cool should be enough) - eggs, butter, milk, and orange extract.
Make a well in the dry ingredients, then add the wet to the dry, along with all but one handful of the chopped chocolate orange. Fold the ingredients together until no large pockets of dry ingredients remain - be careful to not over-mix, it's okay if there's still some small lumps.
Divide the muffin batter evenly between the 6 tulip cases, then scatter the remaining chopped chocolate orange on top of each muffin. Bake for 5 minutes, then lower the temperature to 180°C (350°F) standard / 160°C (320°F) fan and bake for an additional 20-25 minutes (so 25-30 minutes total bake time!), until a toothpick/cake skewer inserted comes out dry and with little to no crumbs. Let the muffins cool in the muffin pan for 5 minutes before transferring to a cooling rack.

Once the muffins have cooled, we can decorate! - Use a cake skewer (or chopstick / knife / anything else suitable) to make a hole in the center of each muffin at the top. Take your orange ganache out of the fridge, snip the end of piping bag off, and then pipe as much ganache in to each muffin as you can, letting it come out of the top of the muffins a little.
Place a segment of chocolate orange on top of each muffin, using the ganache as 'glue'. Enjoy!

Notes

- These muffins are best eaten on the day of baking, but they keep for up to 1 week when stored in an air-tight container at room temperature!
- You can substitute the orange extract for the zest of 1 orange.
- For a smaller muffin, divide the batter in to 12 regular sized muffin cases and cook for 5 minutes at the higher temp, plus an additional 15 minutes at the lower temp, or until cooked (so approx 20mins total bake time)!

Recommended Equipment and Ingredients*

*I earn a small amount of money if you buy the products after clicking the links. You will not be charged extra for this. Thank you for your support!