Kit Kat Cupcakes
Have a break, have a... Kit Kat Cupcake!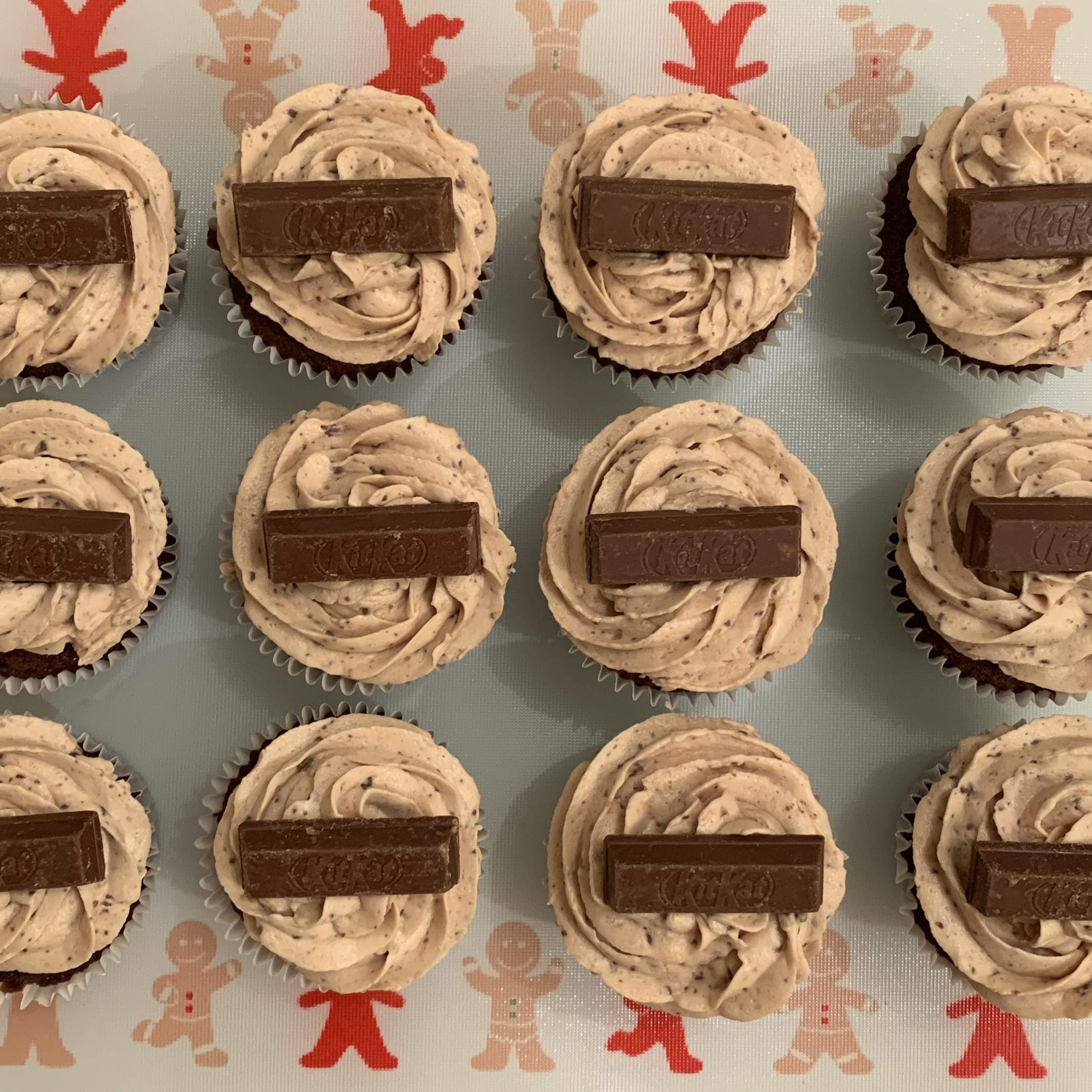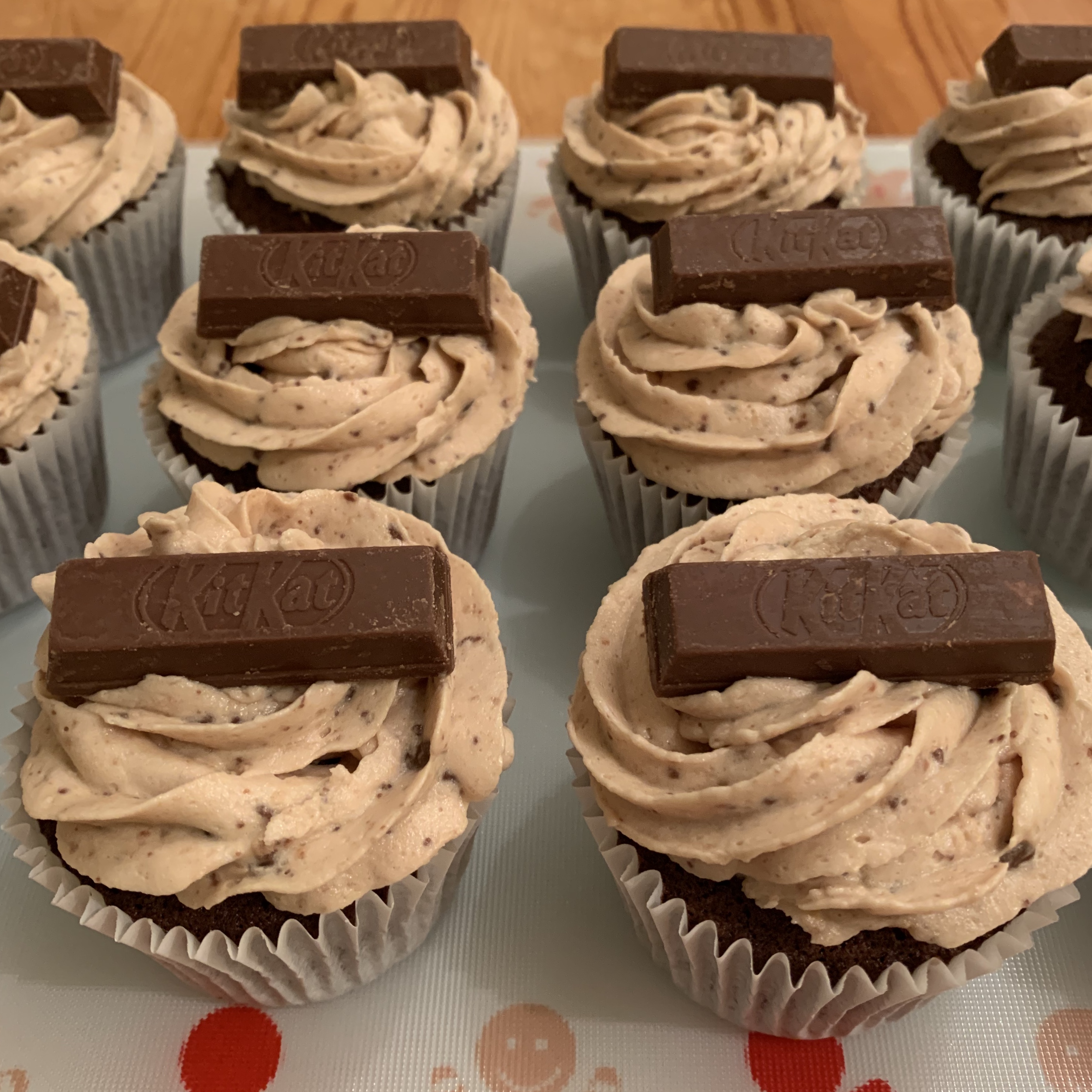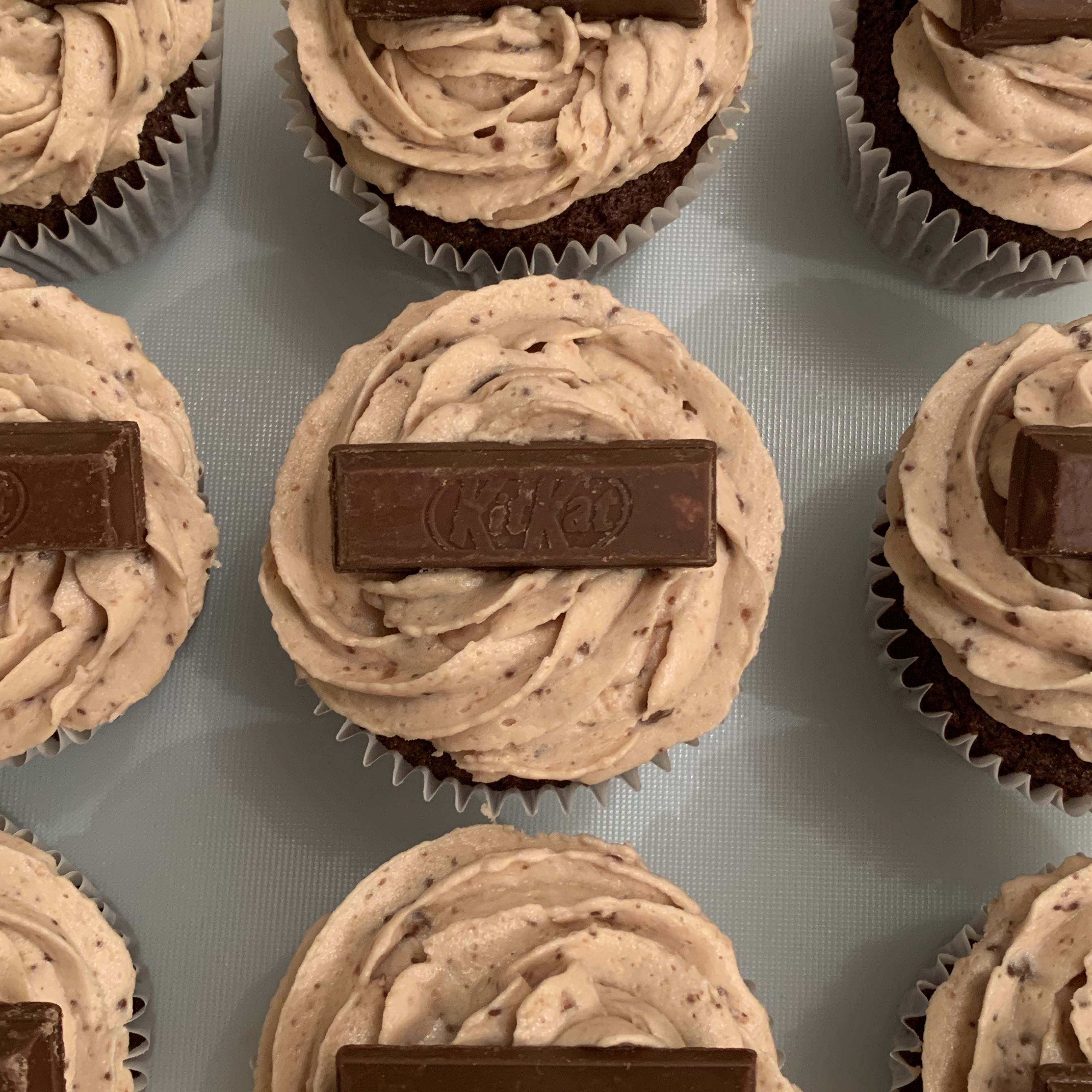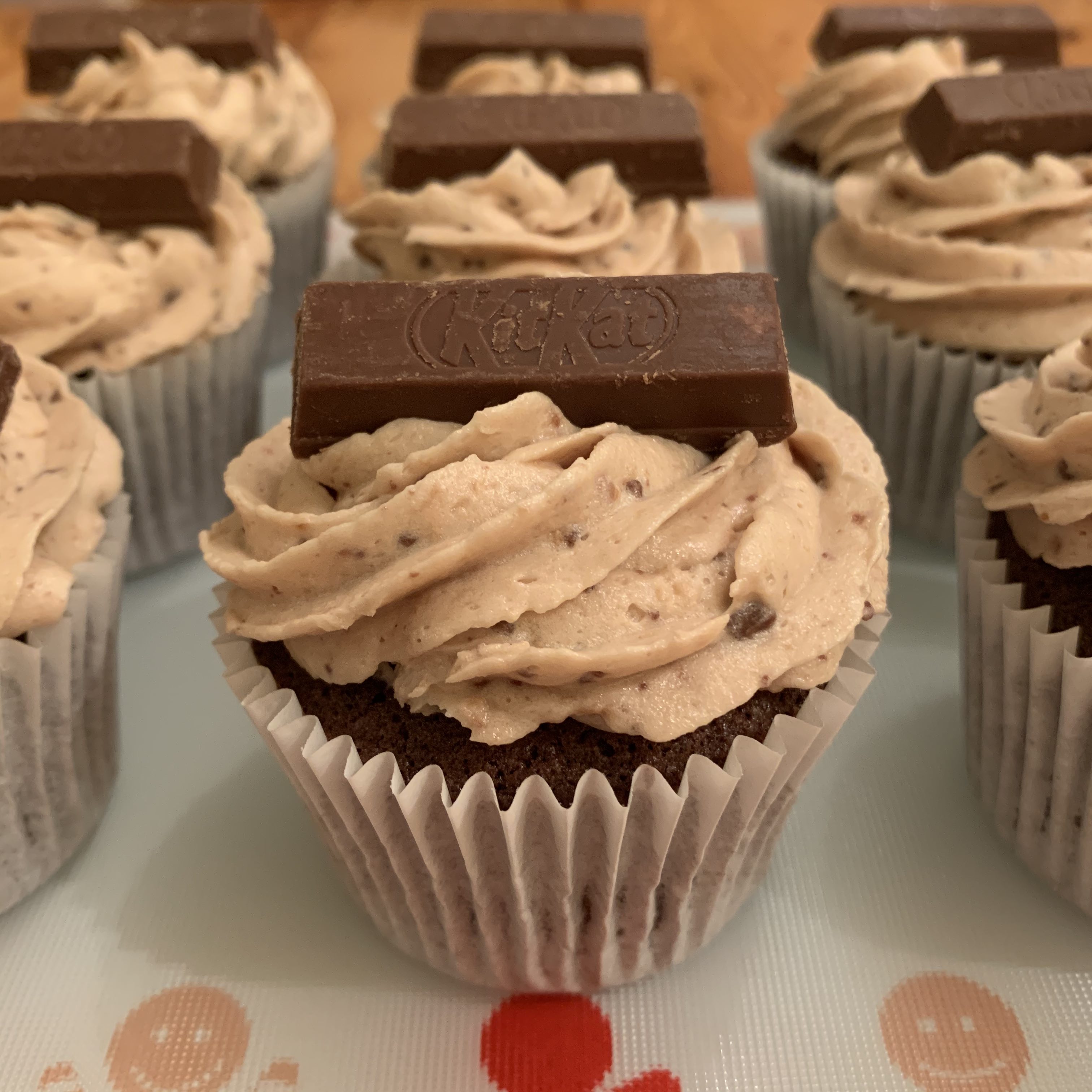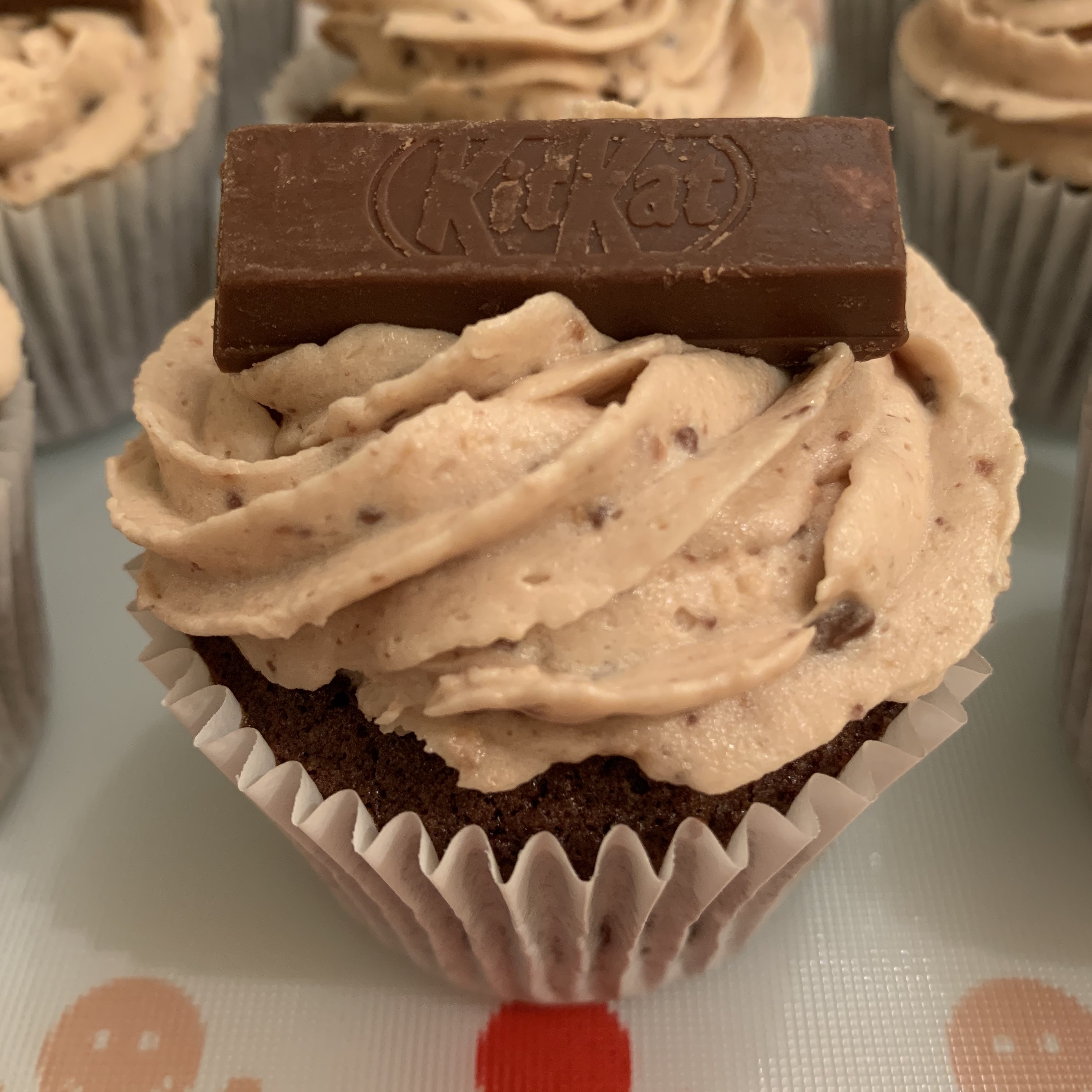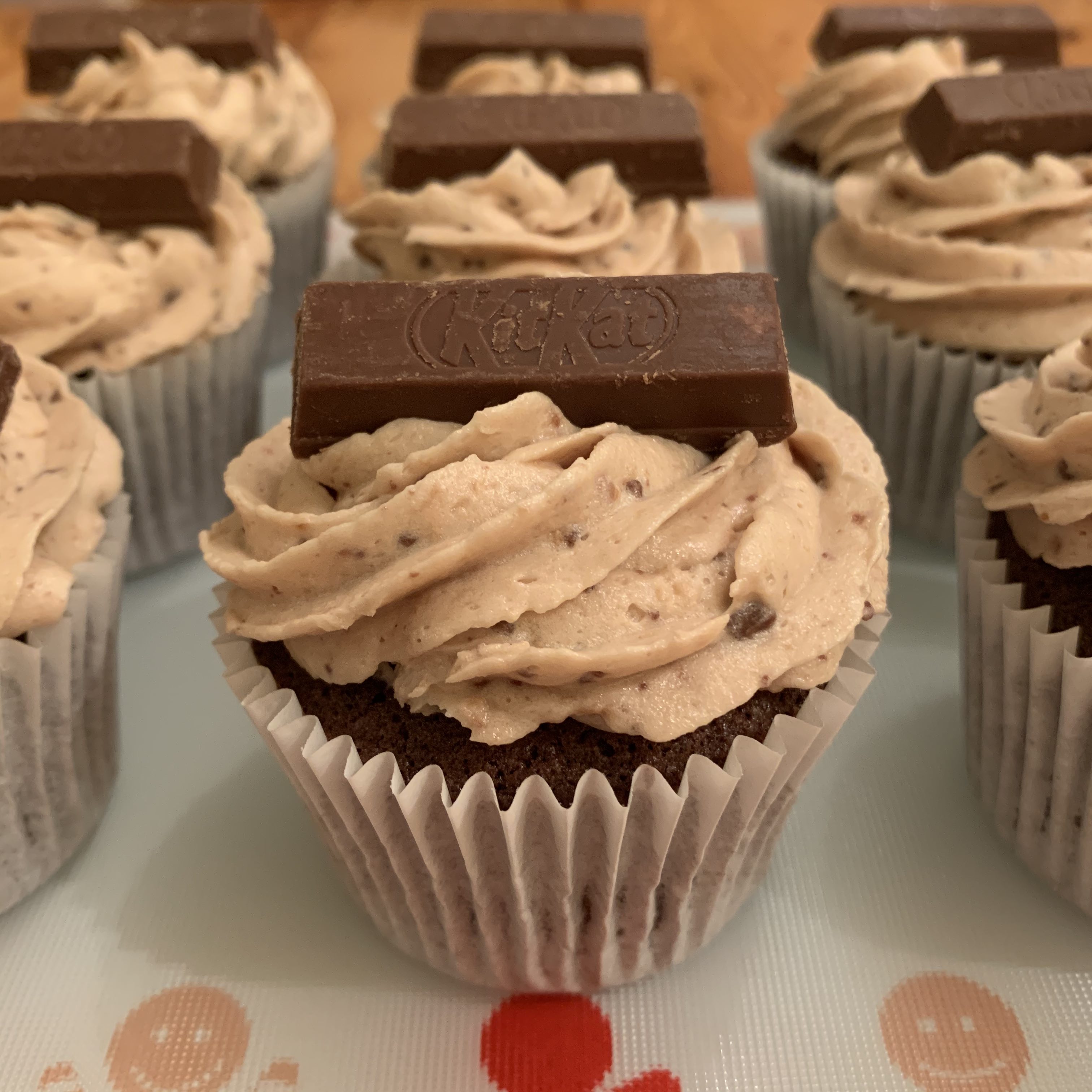 Kit Kat Cupcakes
Difficulty
Time 1.5 hours
Servings 12
Ingredients

For the Cupcakes
Unsalted Butter / Stork (150g)
Caster Sugar (150g)
Self Raising Flour (125g)
Cocoa Powder (25g)
3 Medium Eggs (150g)
Vanilla Extract (1 teaspoon)
For the Buttercream and Decoration
Unsalted Butter (225g)
Icing Sugar (450g)
Kit Kat Bars - Crushed (6 x 2 finger bars - approx 125g)
12 Kit Kat Bites
Milk (2 tablespoons)

Method

Heat oven to 180°C. Line a cupcake pan with 12 cupcake cases.
Cream the butter/stork and caster sugar together until light and fluffy.
Add the eggs and vanilla extract and sieve in the flour and cocoa powder. Mix until smooth.
Divide the mixture evenly between the 12 cupcake cases. Bake for 18-20 minutes (I baked mine for 18) until the cupcakes have become domed, are springy, and a skewer/toothpick comes out clean.
Allow to cool for a minute in the cupcake pan, then transfer the cupcakes in their cases to a wire cooling rack. Allow to fully cool before decorating with buttercream.

For the Buttercream and Decoration

Beat room temperature butter for a few minutes using a hand or stand mixure until the butter has softened.
Add in the icing sugar, and beat till smooth and the mixture has softened.
Add the crushed Kit Kat bars to the mixture, ensuring that you've left no big lumps in (they will clog the piping tip!). Mix for 1-2 minutes until desired consistency has been reached. Add milk if the mixture is too firm to loosen it up.
Use a spatula to add the buttercream to a large piping bag with a 1M Open Star Piping tip.
Pipe buttercream swirls on to each cupcake and finish with a Kit Kat Bite!

Notes

- For a plain vanilla sponge remove the 25g of Cocoa Powder and add 25g of Self Raising Flour.
- If you have a food processor I'd highly recommend crushing the Kit Kats for the buttercream in this. I did mine by hand (pestle and mortar) and my 1M tip got clogged a couple of times, oops!

Recommended Equipment and Ingredients*

*I earn a small amount of money if you buy the products after clicking the links. You will not be charged extra for this. Thank you for your support!