Twix Tiffin
Tiffin packed with delciously chewy white and milk chocolate twix, digestive biscuits and chocolate.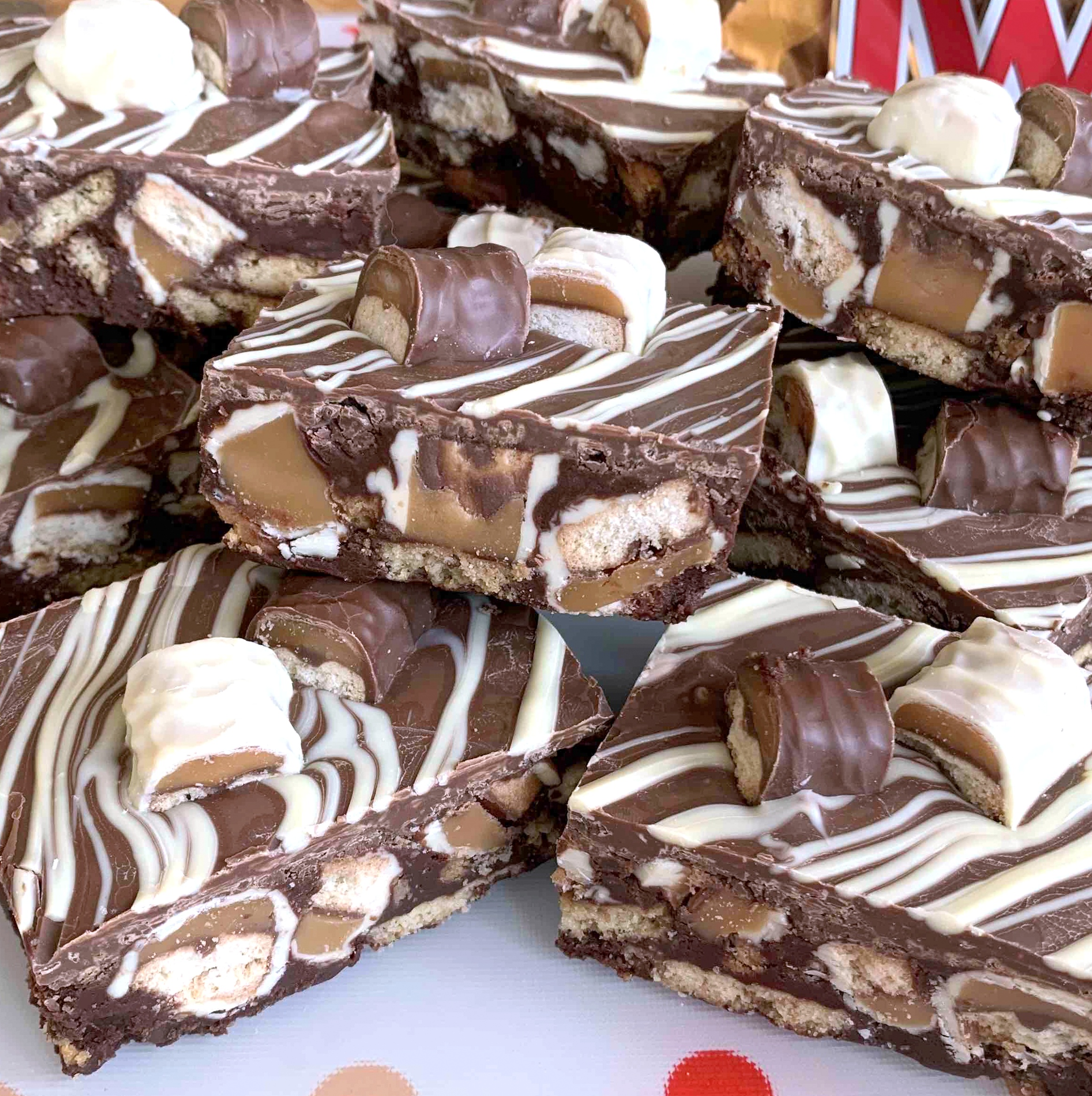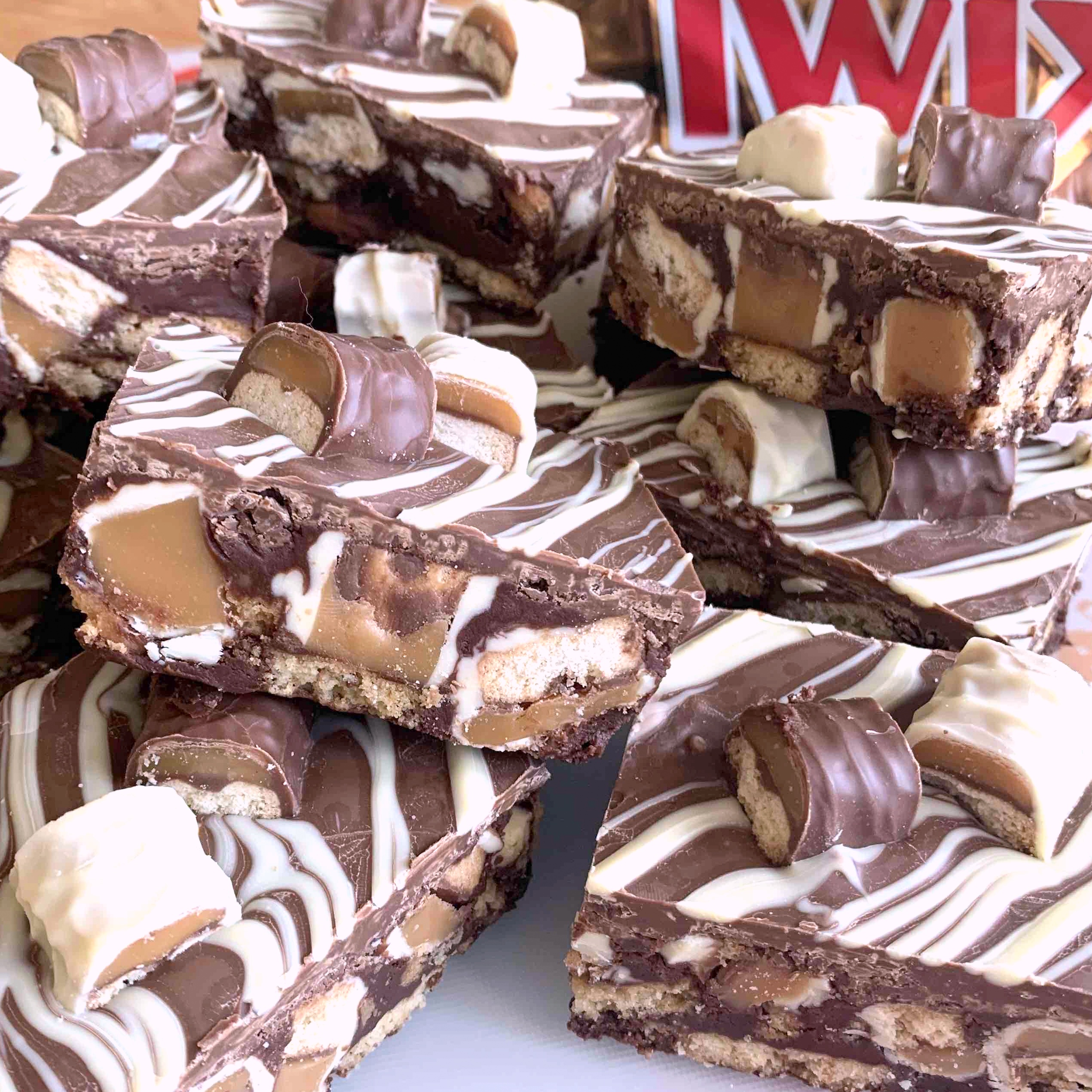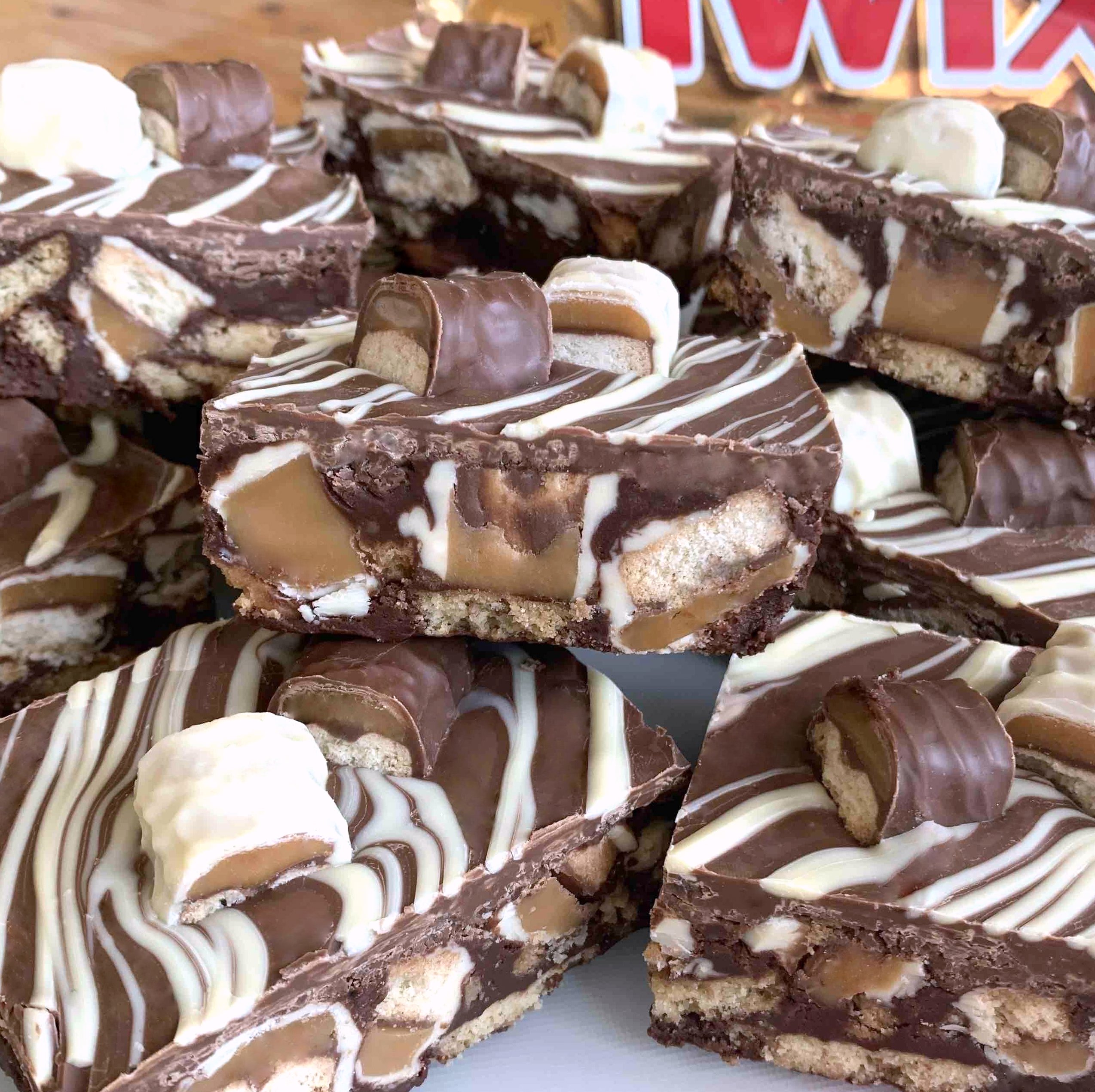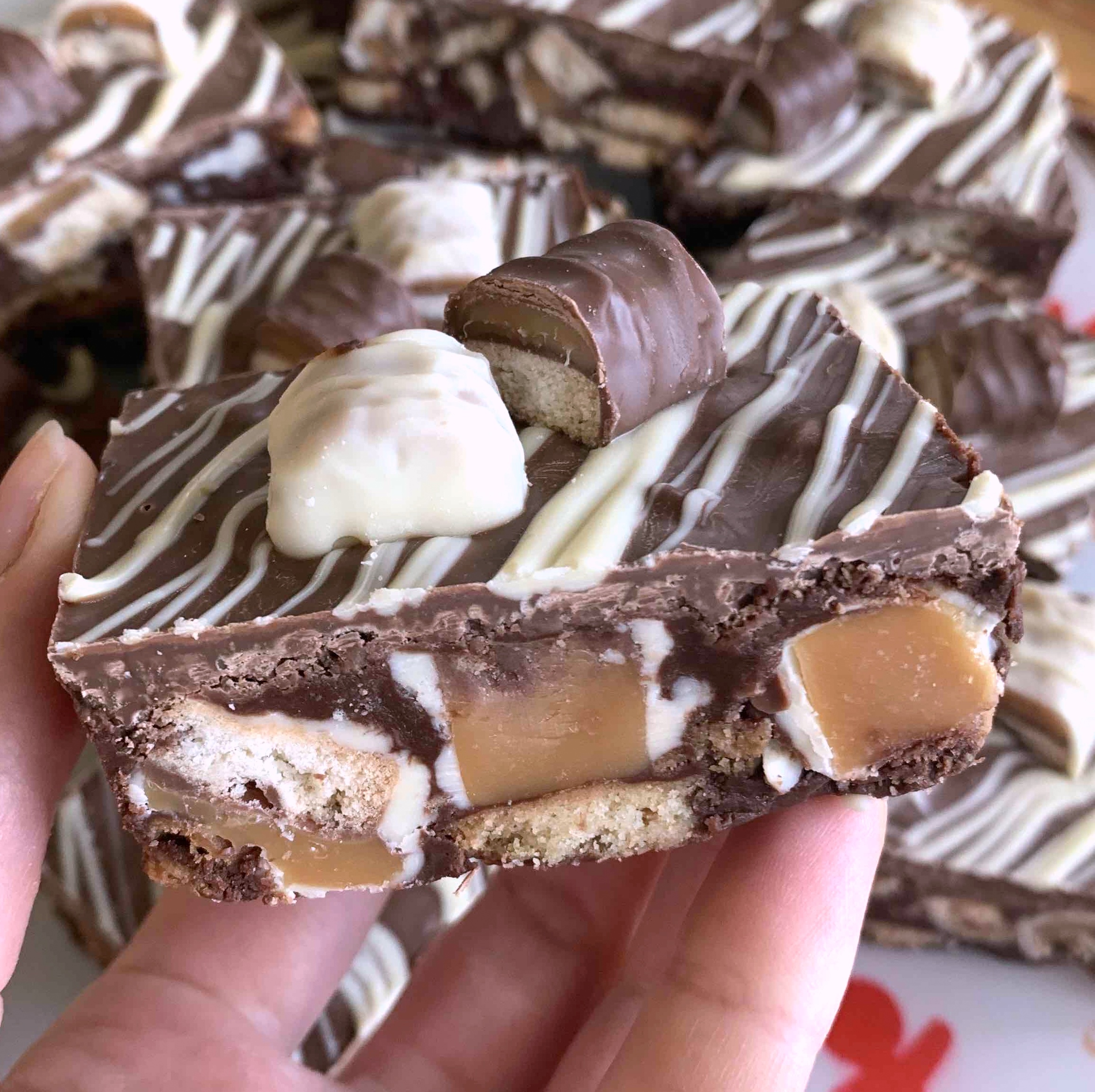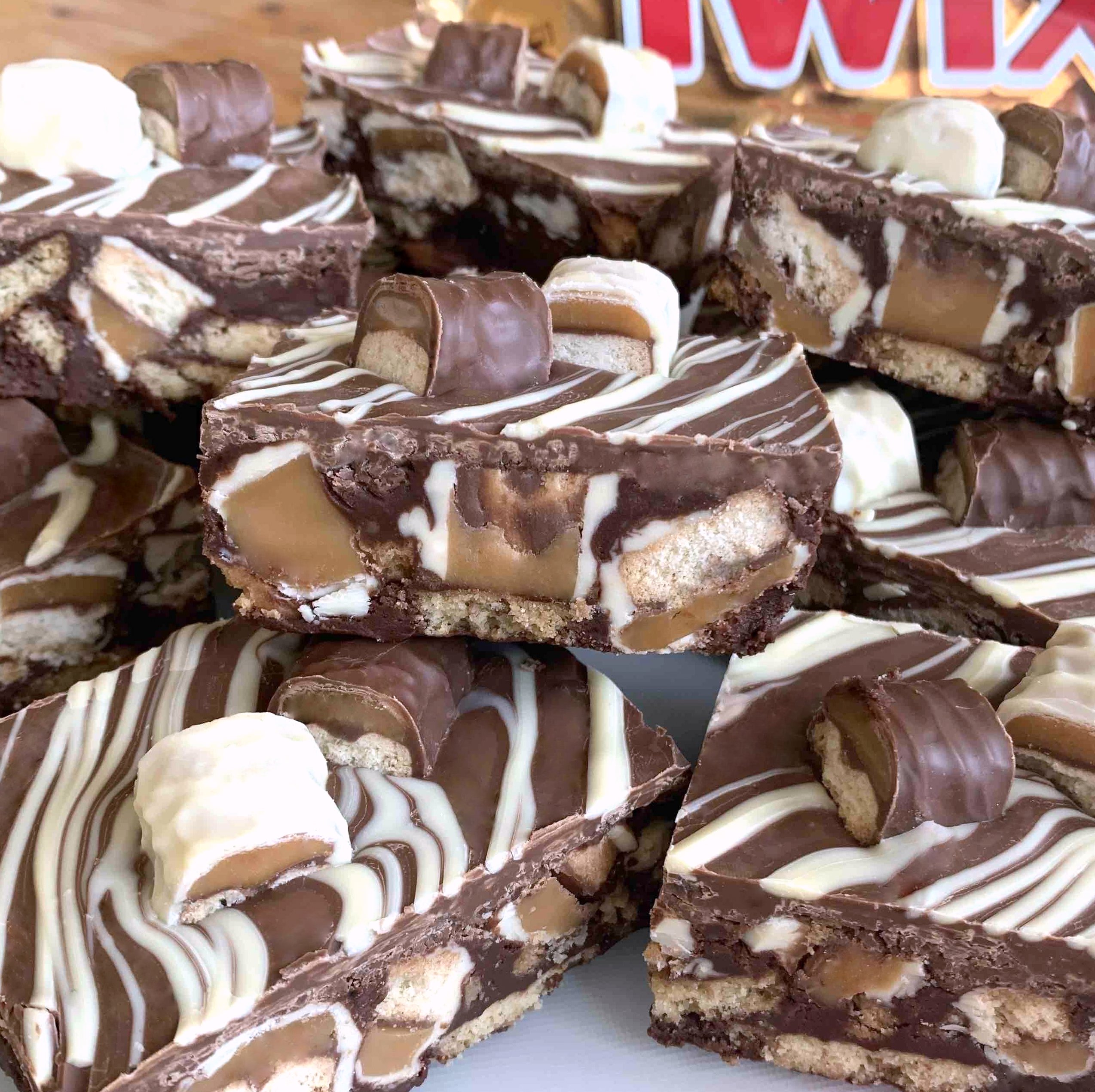 Twix Tiffin
Difficulty
Time 30 - 45 minutes (plus 3 hours cooling)
Servings 12
Ingredients

Butter (125g)
Golden Syrup (125g)
Milk Chocolate (500g)
Dark Chocolate (200g)
Digestive Biscuits (200g)
Twix (350g - I used a mixture of milk and white!)
White Chocolate (75g)

Method

Line a 9"x9" baking tin. Chop the twix up in to bitesize pieces.
Gently melt the butter and golden syrup in a saucepan on a low-medium heat. Take off the heat when the mixture is smooth and starts to bubble.
Break / cut in to small chunks 200g milk chocolate and the 200g dark chocolate and add to the butter and golden syrup. Set aside to allow the chocolate to melt.
While waiting for the chocolate to melt, break the digestive biscuits and add them to a large mixing bowl along along with the twix.
When the chocolate is fully melted pour it on top of the broken digestives and twix, then mix until fully coated.
Press the mixture down in to the lined baking tin.
Wait for 5 minutes until the mixute has cooled a bit - it doesn't need to be room temperature, we just want it cooled enough so that it doesn't melt the twix!
Once cooled, press the twix in to the mixture.
Topping: Melt the remaining 300g of milk chocolate and 75g of white chocolate seperately in two heatproof bowls/jugs either in the microwave or a using a double boiler. When both chocolates are fully melted pour the milk chocolate on top of the tiffin and smooth out, then drizzle the white chocolate on top. Finish by decorating with the remaning twix pieces.

Notes

- If the chocolate isn't fully melted in to the butter and golden syrup mix after a couple of minutes add the saucepan back on to the heat for a few seconds - but be careful to not over-heat the chocolate!
- This recipe uses A LOT of chocolate... the white chocolate is optional, the milk chocolate in the topping can be reduced by 100g to 200g, and the twix can be reduced to 200g! If you're making these reductions, you might also want to reduce the digestives to 175g.
- I've used digestive biscuits, but shortbread or other cookies can used as an alternative - as twix have little bits of shortbread in them, shortbread would be a great option here! :)

Recommended Equipment and Ingredients*

*I earn a small amount of money if you buy the products after clicking the links. You will not be charged extra for this. Thank you for your support!