Jammie Dodgers
Sweet, buttery biscuits sandwiched with jam. These homemade Jammie Dodgers are adorable and easy to make!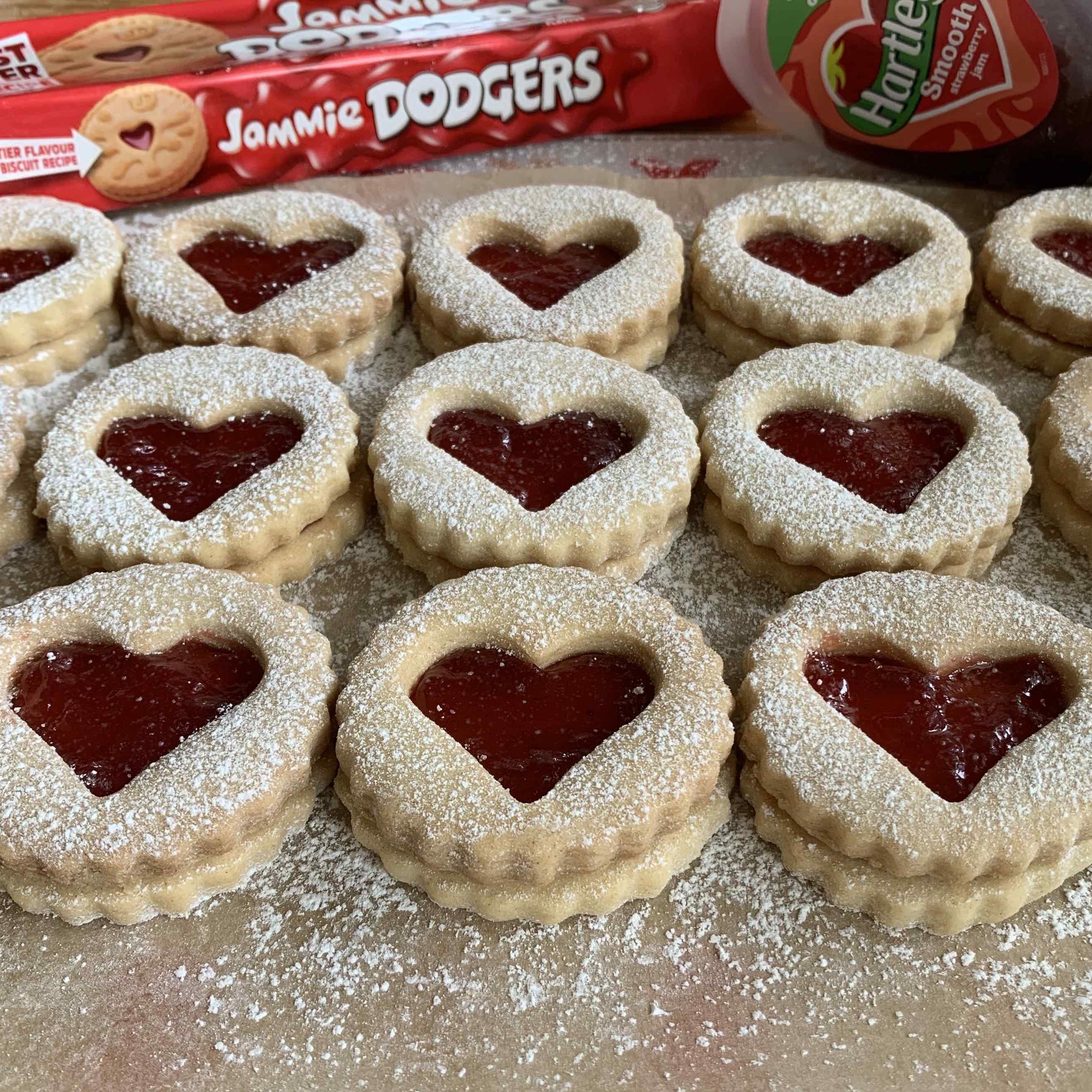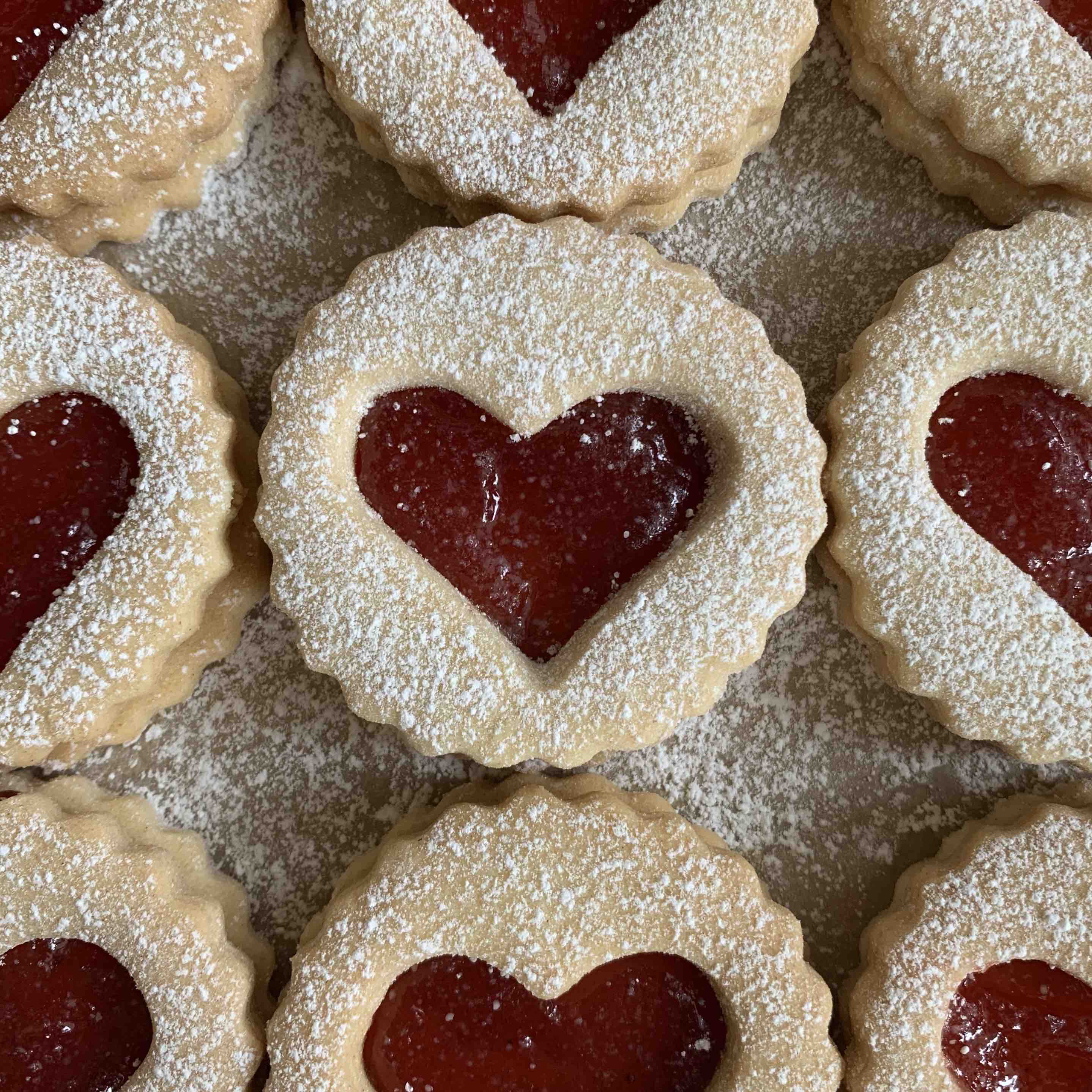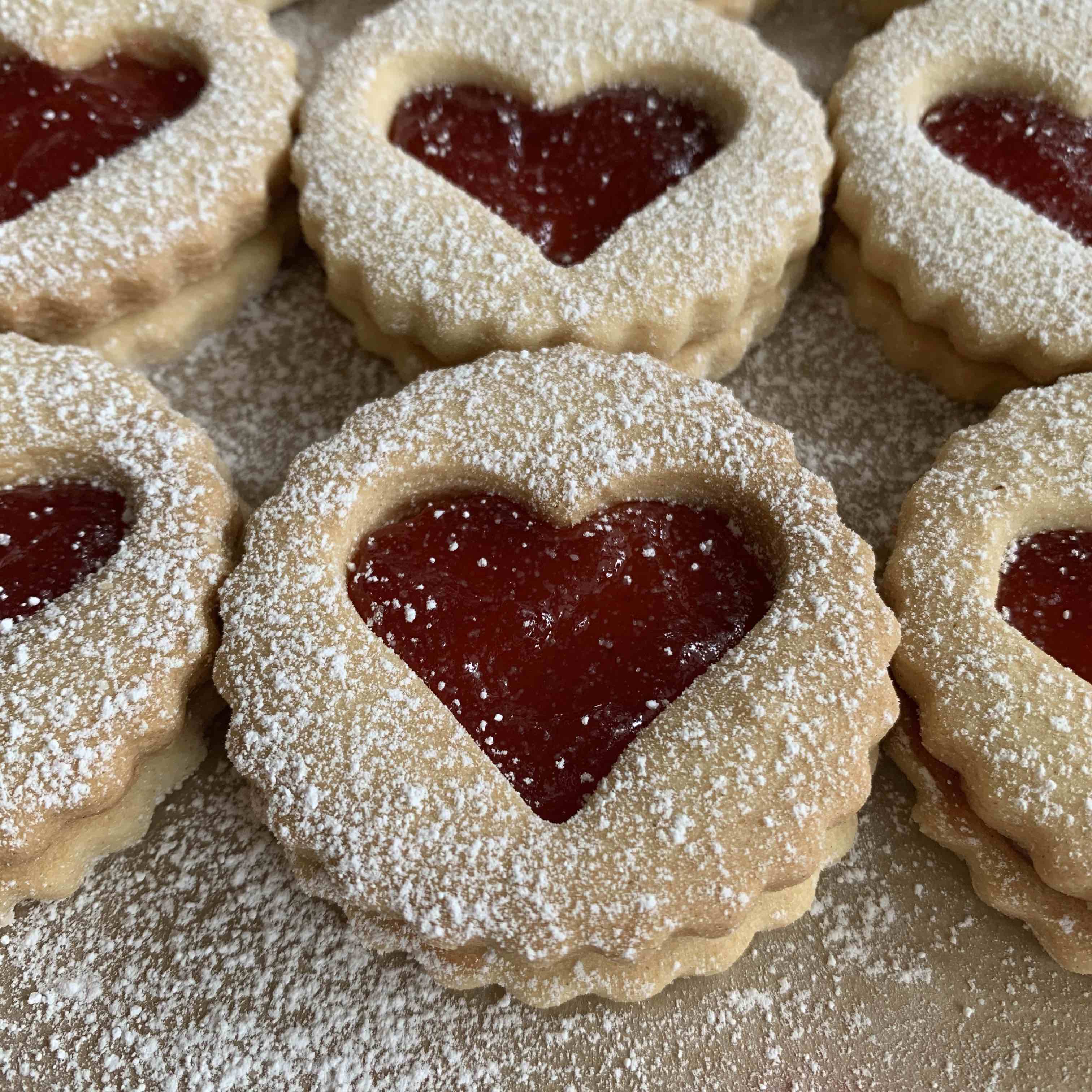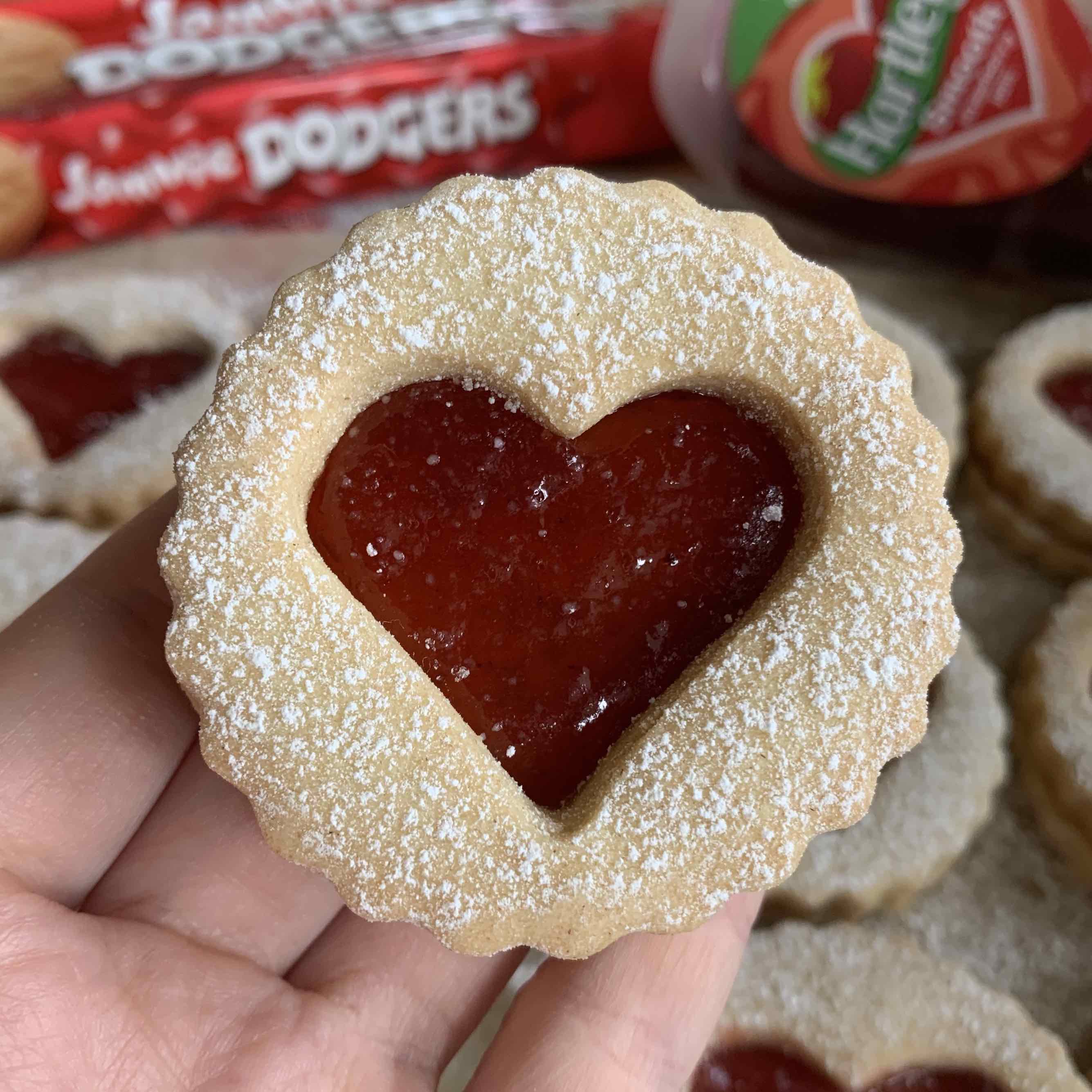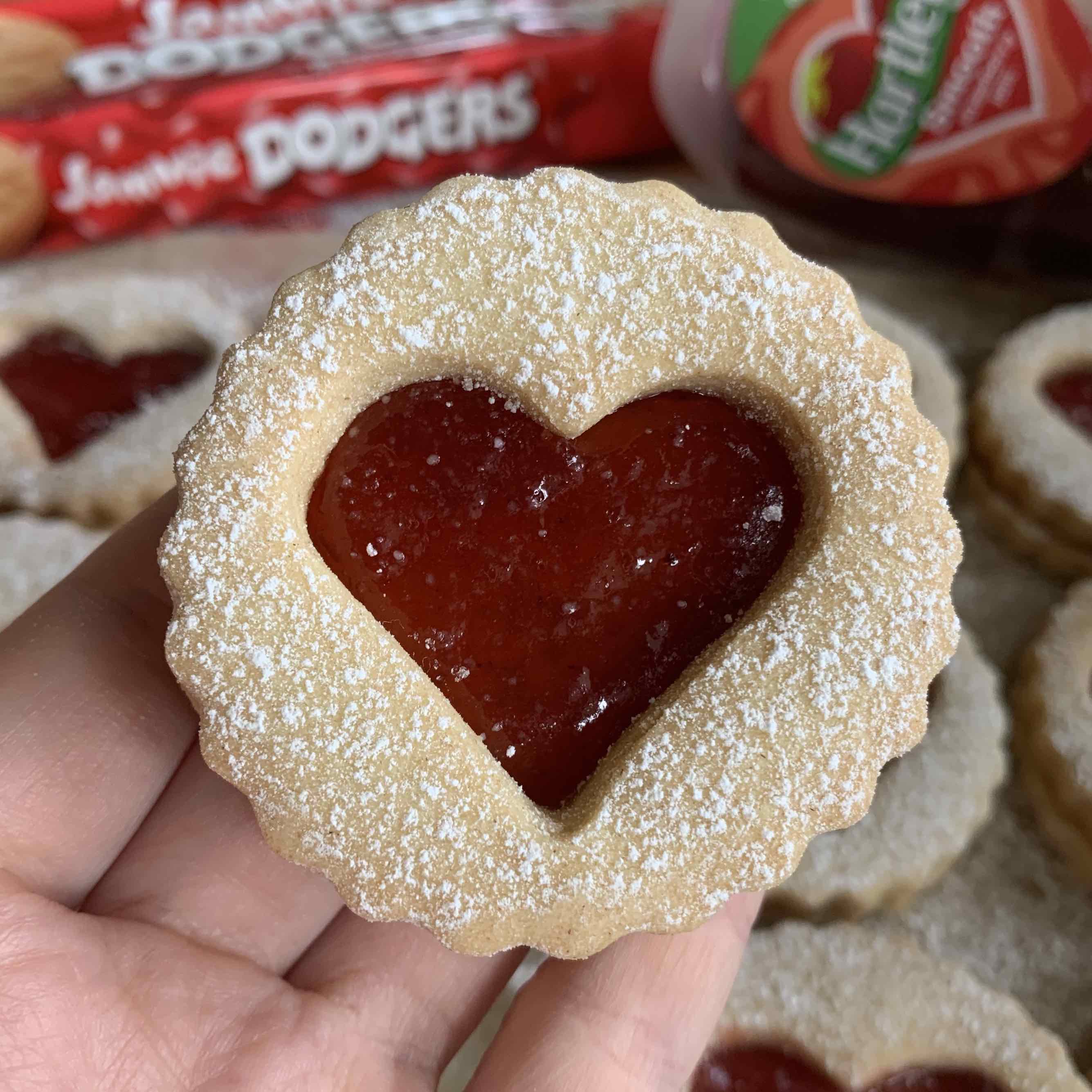 Jammie Dodgers
Difficulty
Time 3 hours (including cooling)
Servings Approx 20
Ingredients

Softened Unsalted Butter (200g)
Icing Sugar (100g, plus extra for dusting)
Plain Flour (250-275g, plus extra for rolling)
1 Large Egg Yolk
Seedless Jam - I used Strawberry! (150-200g)

Method

Sieve the icing sugar and plain flour in to two separate bowls and set aside.
Using an electric hand or stand mixer, beat the butter and icing sugar until pale and fluffy. Mix in the egg yolk, then add flour and mix until dough formed. Wrap the dough in cling film and cool in fridge for 1 hour.
Line two baking trays and lightly flour a work surface. Take the dough out of the fridge and divide in two. Roll one half of the dough until it's 1cm thick and use a 7cm (approx 2.75 inches) fluted circle cutter to cut out the biscuits. Place the biscuits on the lined tray once cut. Re-roll the dough and cut out more biscuits until no dough remains.
Repeat the process with the second half of the dough, but this time also use a smaller (I used one that's 5cm / 2 inches) heart shaped cutter to stamp out the centre of the biscuits.
Place the biscuits in your fridge for 30 minutes.
Heat your oven to 180°C (350°F) standard / 160°C (320°F) fan. Bake for 12-14 minutes until lightly golden. Leave on the baking sheets for 5 minutes then transfer to a cooling.
Biscuit Assembly: Once the cookies have cooled spoon a large teaspoon of jam in to the centre of the base biscuits and spread it out a little. Dust icing sugar lightly on to the top of the top biscuits (the ones with the heart cut out!), and then gently sandwich the biscuits together. Enjoy!

Notes

- Keep the Jammie Dodgers in an airtight container at room temperature where they'll last for around a week!
- Don't overbake or the cookies will become brittle!
- I used strawberry jam, but any flavour jam, chocolate spread (e.g. nutella), caramel (e.g. carnation caramel), or lemon curd can also be used as delicious alternatives!
- I used quite a large heart shaped cutter, but a smaller one can be used for a more realistic Jammie Dodger replication!
- For chocolate dodgers: replace 50g of plain flour with 50g of cocoa powder, and add 1/2 teaspoon of vanilla extract.

Recommended Equipment and Ingredients*

*I earn a small amount of money if you buy the products after clicking the links. You will not be charged extra for this. Thank you for your support!