Jam Flapjacks
Classic chewy flapjacks stuffed with sweet delicious raspberry jam and a subtle hint of warm cinnamon and mixed spice!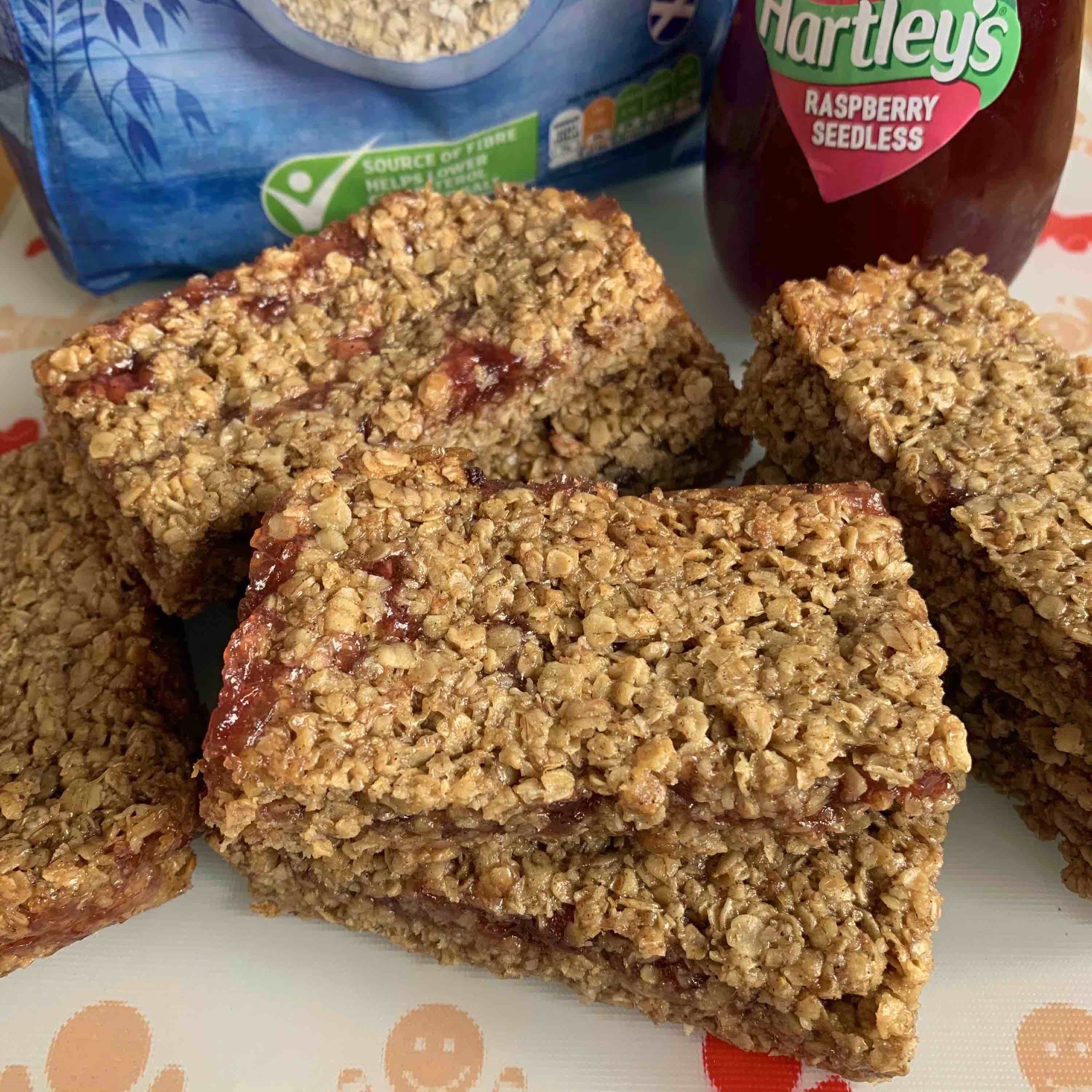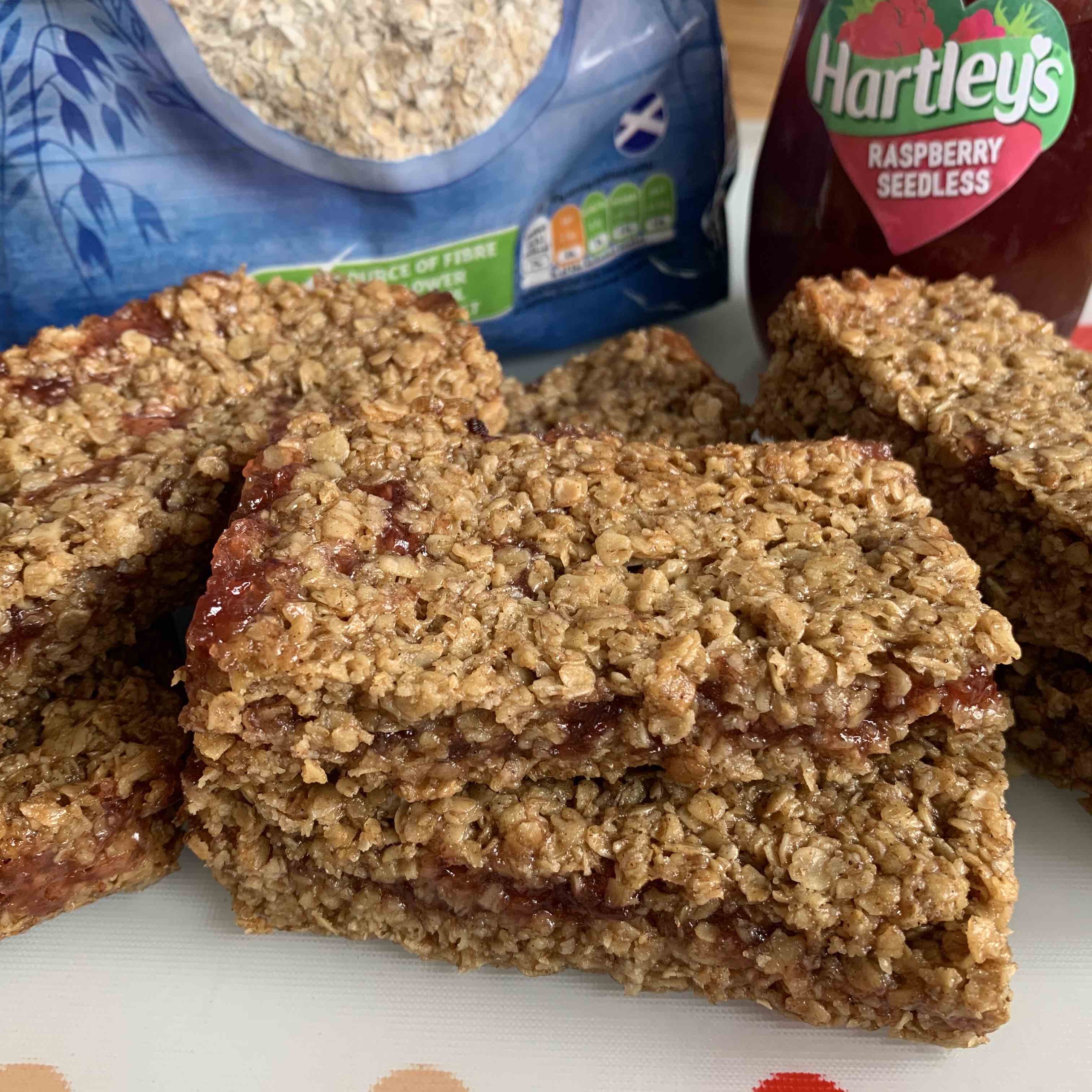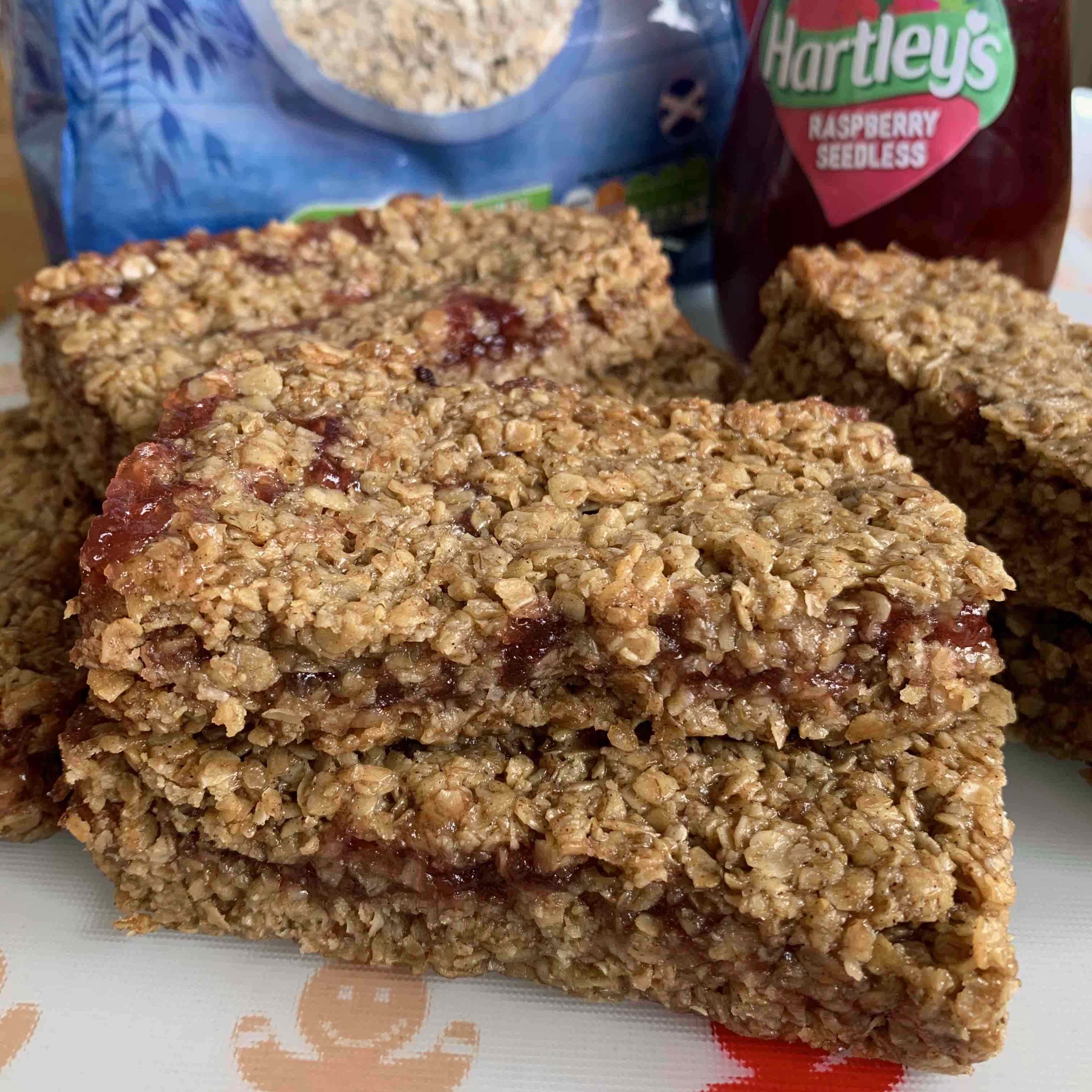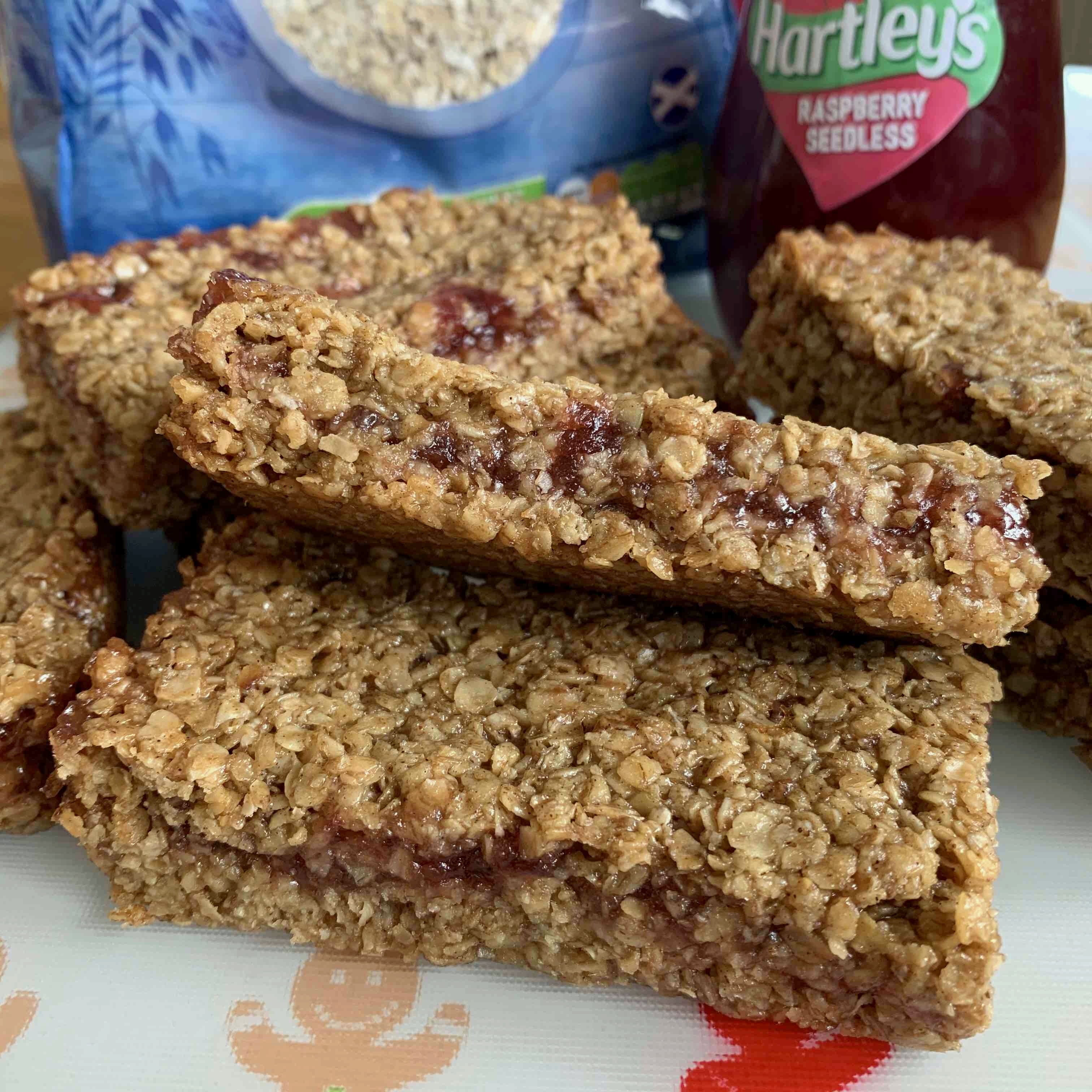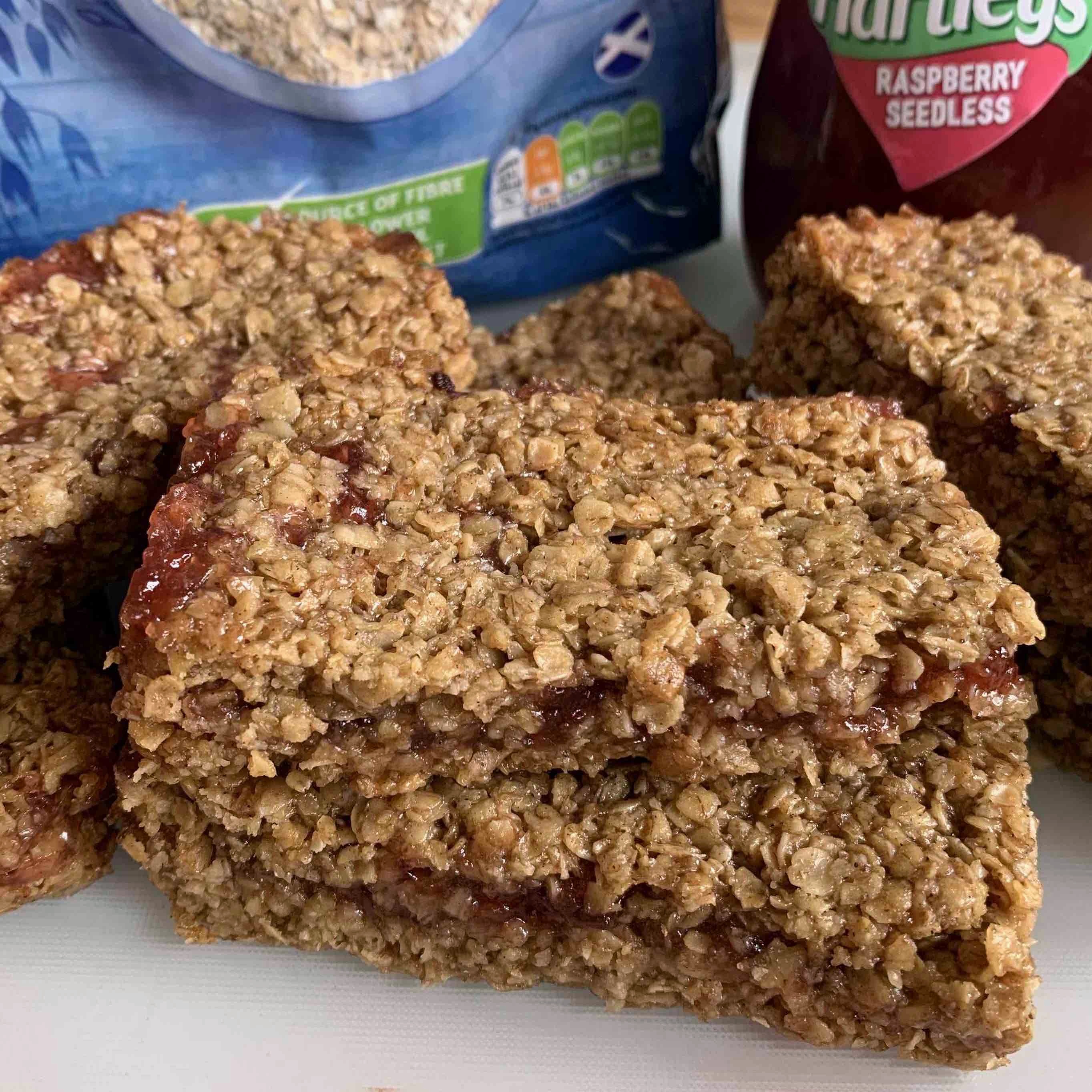 Jam Flapjacks
Difficulty
Time 1.5 hours (including cooling)
Servings 16
Ingredients

125g Light Soft Brown Sugar
100g Golden Syrup
175g Unsalted Butter
325g Rolled Oats / Porridge Oats
1 teaspoon Mixed Spice (optional)
1 teaspoon Cinnamon (optional)
175g Raspberry Jam

Method

Line a 8"x8" baking tin and preheat the oven to 180C (350F) standard / 160C (320F) fan. Add the oats along with the mixed spice and cinnamon, if using, to a large bowl and set aside. Weigh out the jam in to a small bowl and set aside.
Gently melt the butter, brown sugar, and golden syrup in a saucepan on a low-medium heat until smooth and gently bubbling.
Take off the heat and pour on top of the oats. Stir until fully combined and the butter has been absorbed in to the oats.
Add two thirds of the mixture in to the lined baking tin and press down until compact. Then carefully spread the jam over the oats (I find it helps to loosen the jam up by stirring it with a spoon). Top the jam with the remaining oat mix and press down gently (It's okay if some jam is peaking out from under the oats!). Bake for 25-30 minutes until the edges have browned and the jam is bubbling. (The flapjacks will still look soft, this is okay, they'll harden as they cool!)
Once cooked, leave to cool on a wire rack until room temp before cutting and serving. Enjoy!

Notes

- Store your jam flapjacks at room temperature, where they will last for 1 week!
- The raspberry jam can be swapped out for any flavoured jam of your preference, raspberry is just my favourite!

Recommended Equipment and Ingredients*

*I earn a small amount of money if you buy the products after clicking the links. You will not be charged extra for this. Thank you for your support!