Gingerbread Men
The most iconic of Christmas biscuits, these gingerbread men are easy and fun to make, and are soft, delicious, and packed full of all of the warm Christmassy spices you'd hope for!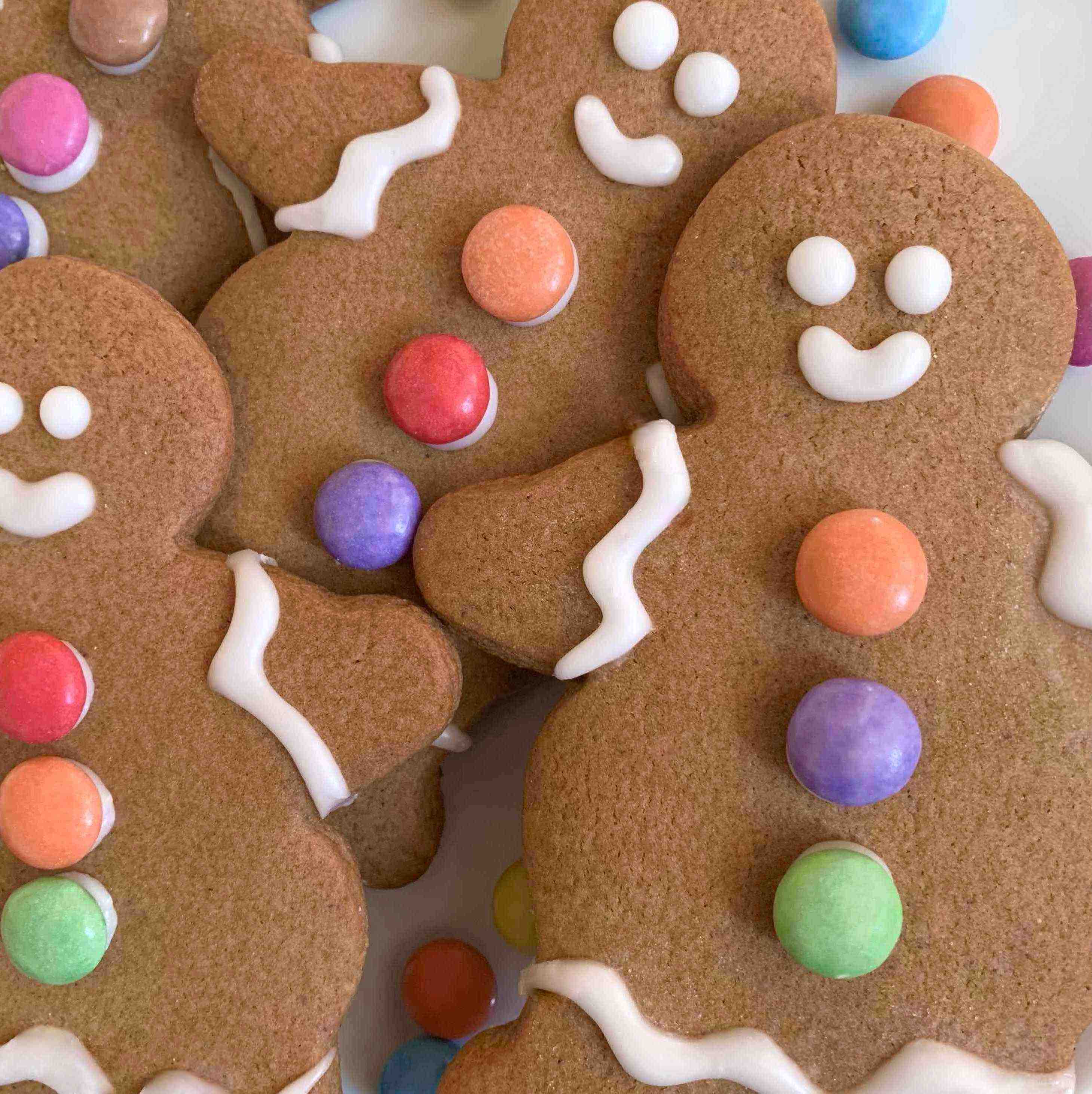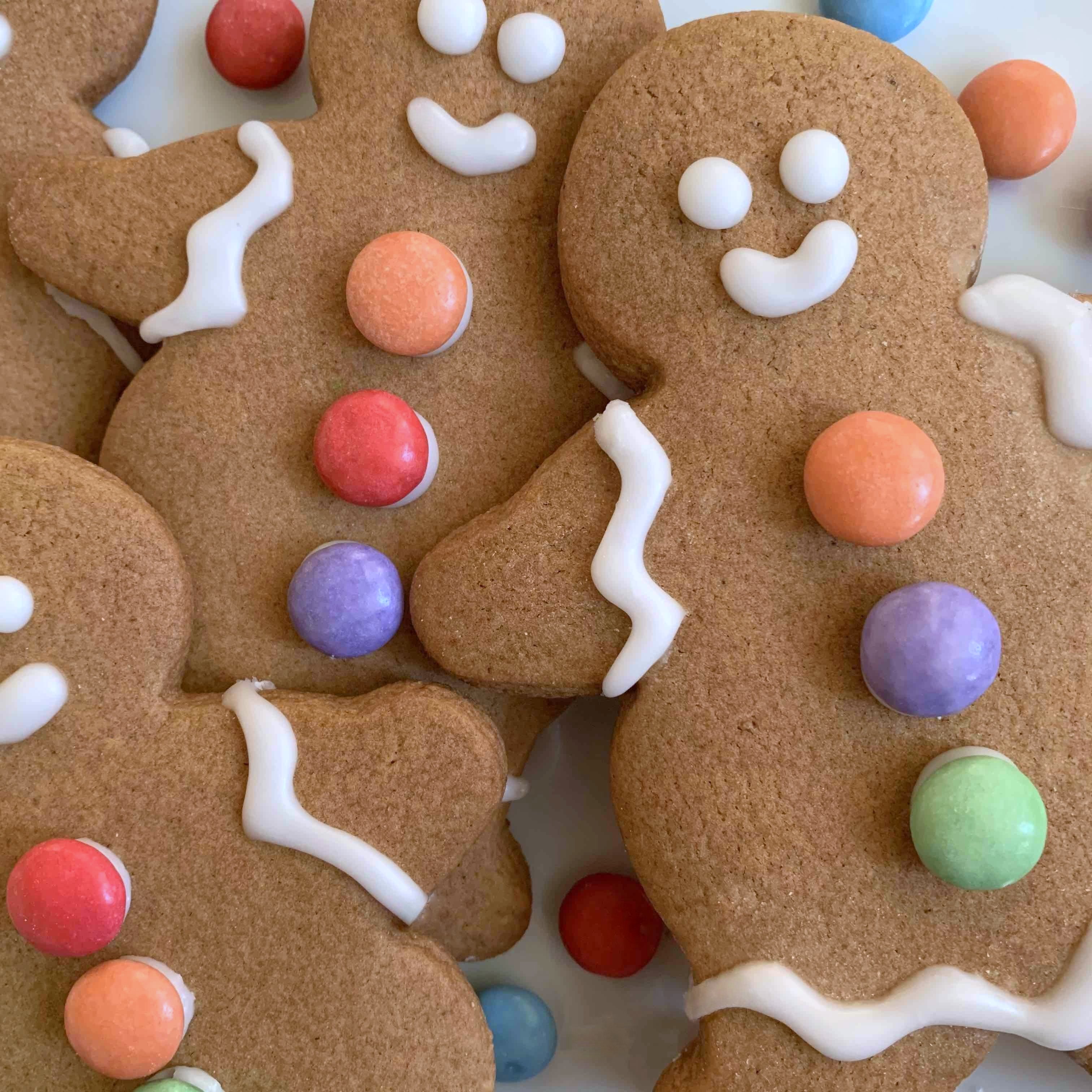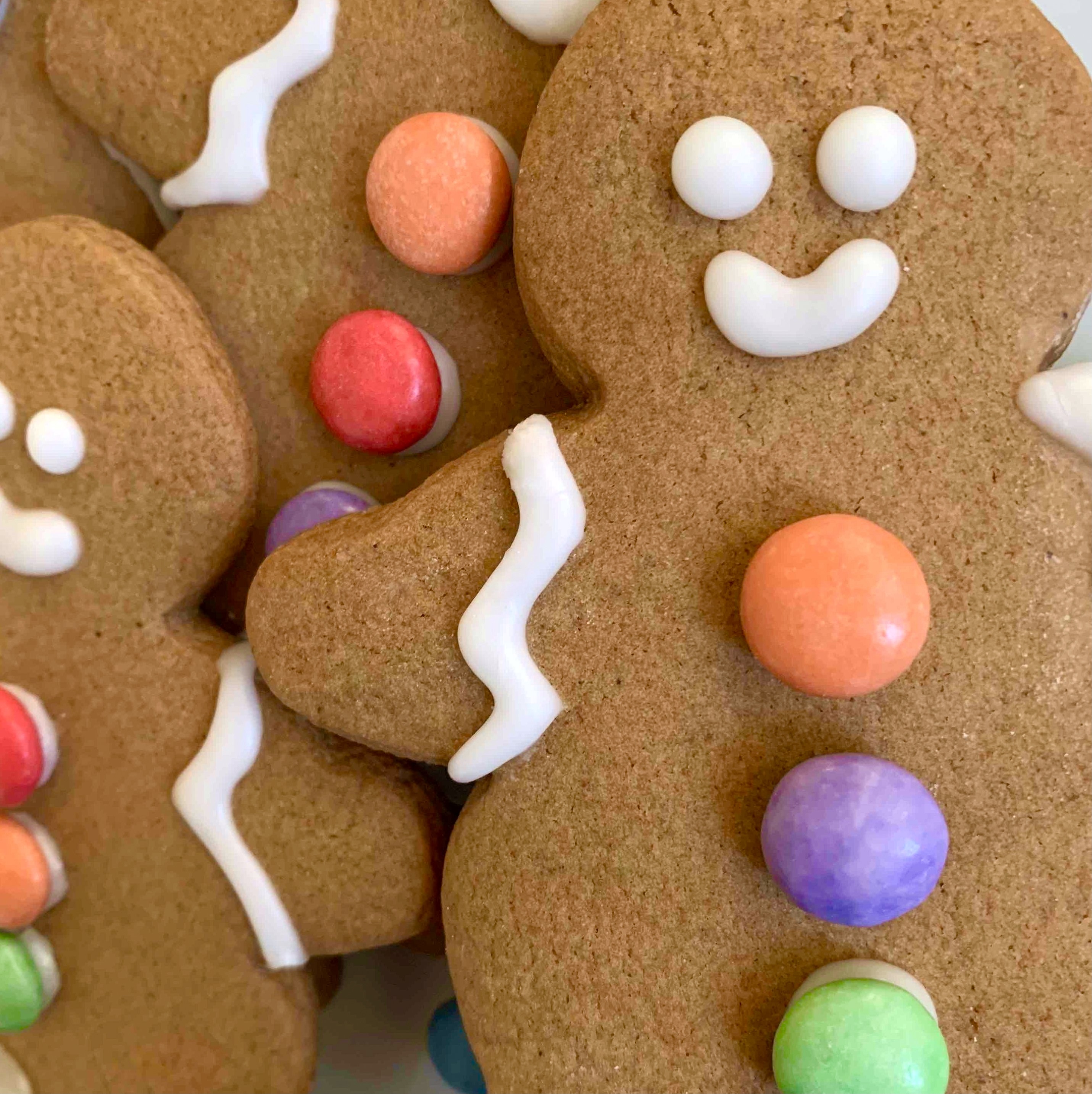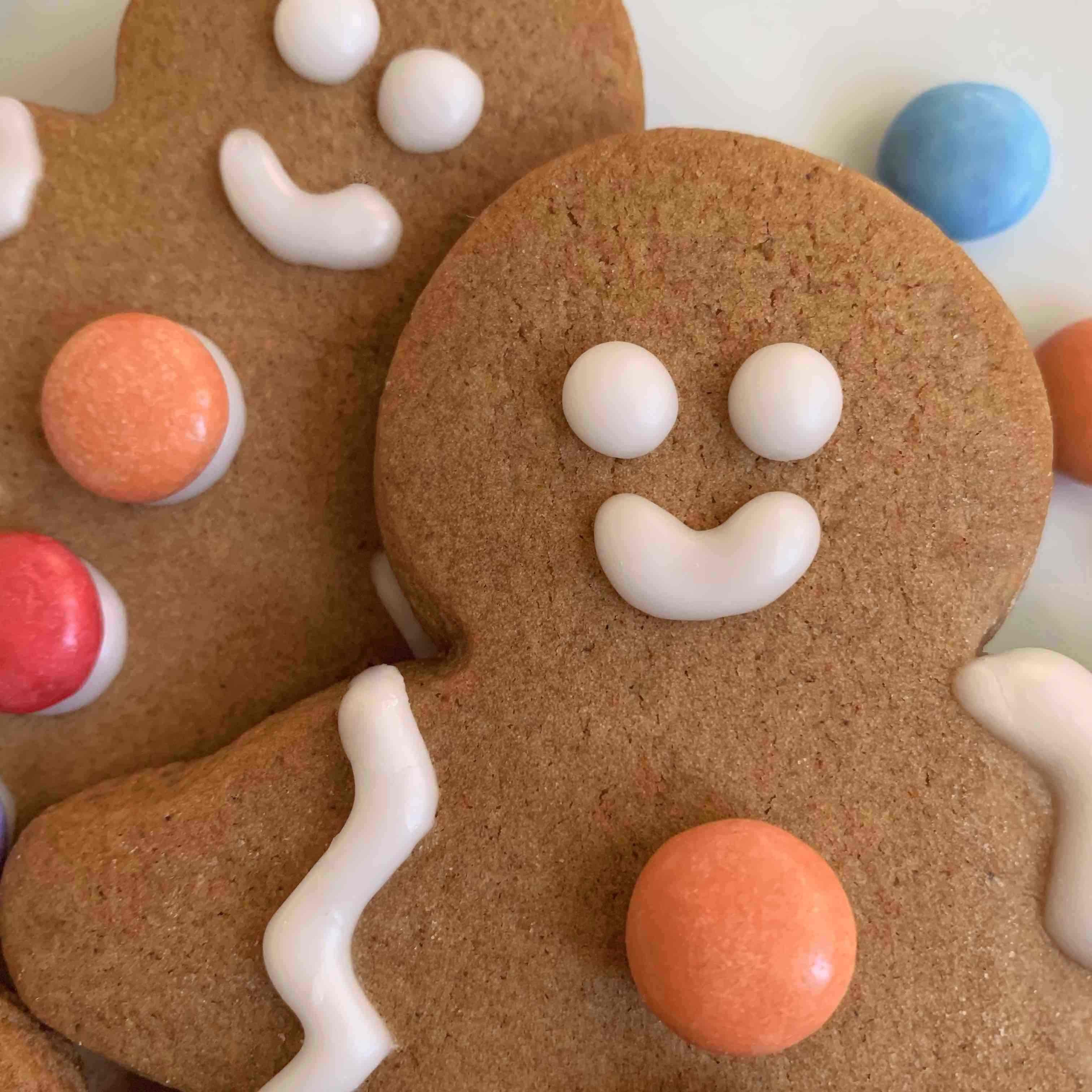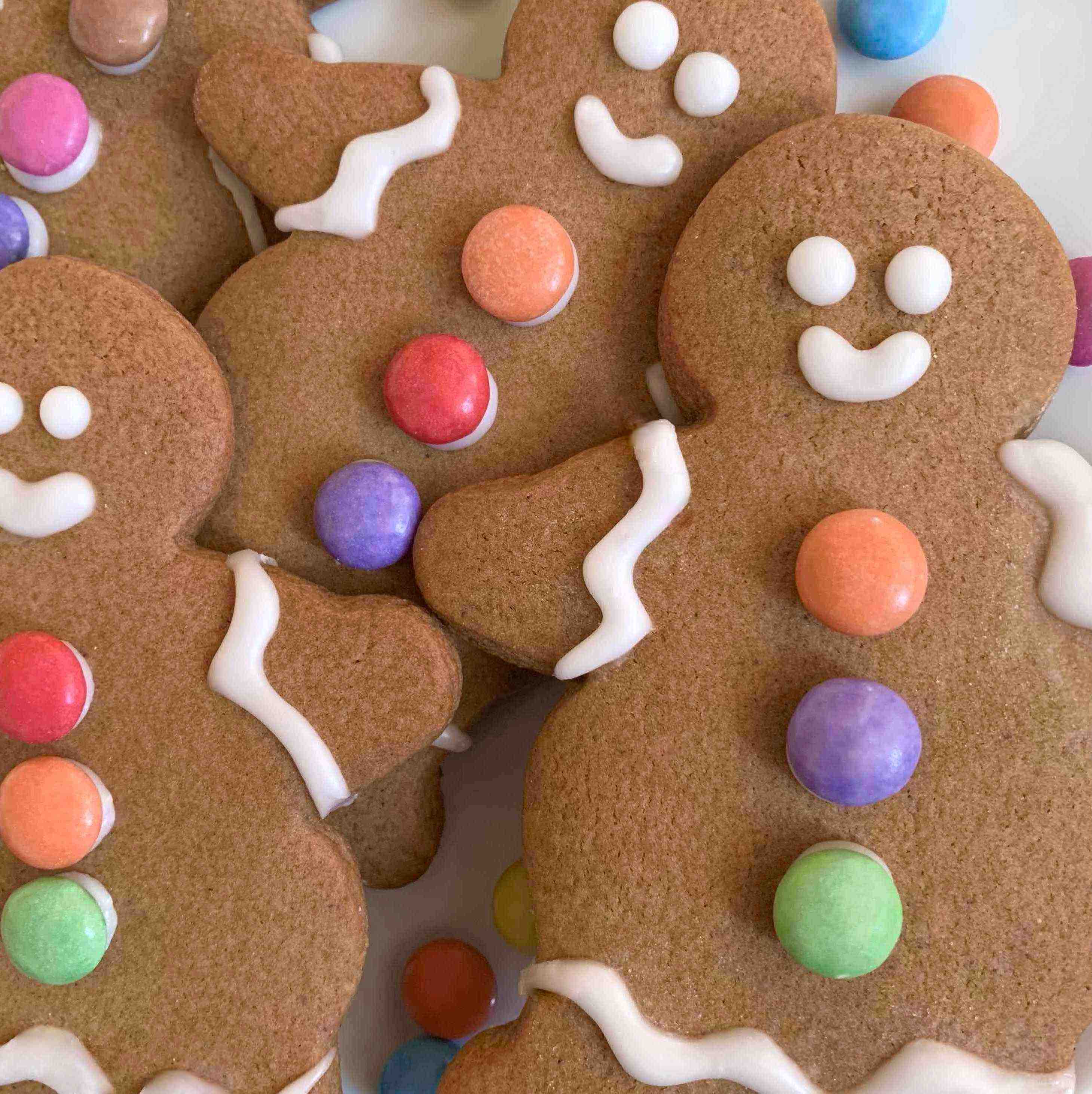 Gingerbread Men
Difficulty
Time 1 hour
Servings Depending on size - I made 9 giant ones!
Equipment

1 large bowl
Clingfilm
Rolling pin
Baking tray(s)
Parchment paper
Gingerbread Man cookie cutter
For decoration: Piping bag or sandwich bag

Ingredients

For the Gingerbread Men
350g Plain Flour, plus extra for rolling out
1 teaspoon Bicarbonate Soda
2-3 teaspoons Ground Ginger
Optional - 1/4 teaspoon Ground Nutmeg and 1/4 teaspoon Ground Cloves
125g Unsalted Butter - Cold Cubed
150g Light Soft Brown Sugar
1 Large Egg
100g Golden Syrup
For Decoration (Optional)
125g Icing Sugar (or Royal Icing Sugar!)
As much water as needed
Smarties

Method

Add the plain flour, bicarbonate of soda, ginger, and nutmet/cloves (if using) to a large bowl and stir. Add in the cubed cold butter and mix until the ingredients are evenly dispersed (there shouldn't be any big chunks of butter, it should be like sticky breadcrumbs!). Squeeze the mixture together to form a dough.
Stir in the sugar, then add in the golden syrup and egg. Mix until combined and then knead the dough in the bowl until a smooth dough is formed. Wrap the dough in clingfilm and then put in the fridge for 15 minutes.
Preheat the oven to 180C (350F) standard / 160C (320F) fan and line 2+ baking trays with parchment paper while you wait for the dough to chill!
Take the dough out of the fridge, unwrap, and then roll the dough out on a lightly floured surface until it's 1.5-2cm (approx 0.75inches) thick. (It helps to lightly flour your hands and rolling pin too!). Cut out gingerbread man shapes using a cuter, and then place each gingerbread man on to a lined baking tray. Combine and re-roll the dough until you have none left!
Bake in the oven until lightly golden approx 8-15 minutes depending on the size of your cutter - mine took 11-12 minutes as I used a big cutter. Leave to cool on the baking trays for 5 minutes, and then transfer to a cooling rack until fully cooled.
To decorate: Add the icing sugar to a bowl and then add water a little at a time stirring until a stiff smooth paste is formed. Add the icing sugar to a piping bag (or use a sandwich bag), snip off the end of the piping bag, and then pipe decorations on to the gingerbread men. Add the smarties on to the gingerbread men, using the icing as 'glue'. Leave for 10 minutes to allow the icing to set firmer, and then enjoy!

Notes

- Store your gingerbread men in an airtight container at room temperate, where they'll last for up to a week!
- You can alter the spices to your taste: I like mine with a stronger spice flavour so I add 3 teaspoons of ginger, plus the optional nutmet and cloves!
- Ideas for decoration: Hard chocolate such as Smarties or M&Ms, chocolate curls or sprinkles, sweets such as Skittles, fruit such as raisins!

Recommended Equipment and Ingredients*

*I earn a small amount of money if you buy the products after clicking the links. You will not be charged extra for this. Thank you for your support!