Apple Traybake Cake
December 13, 2019 (Recipe updated on September 25, 2021)
Appley and cinnamony. A firm favourite in my household that's just as perfect served hot with ice cream or cold with a cuppa!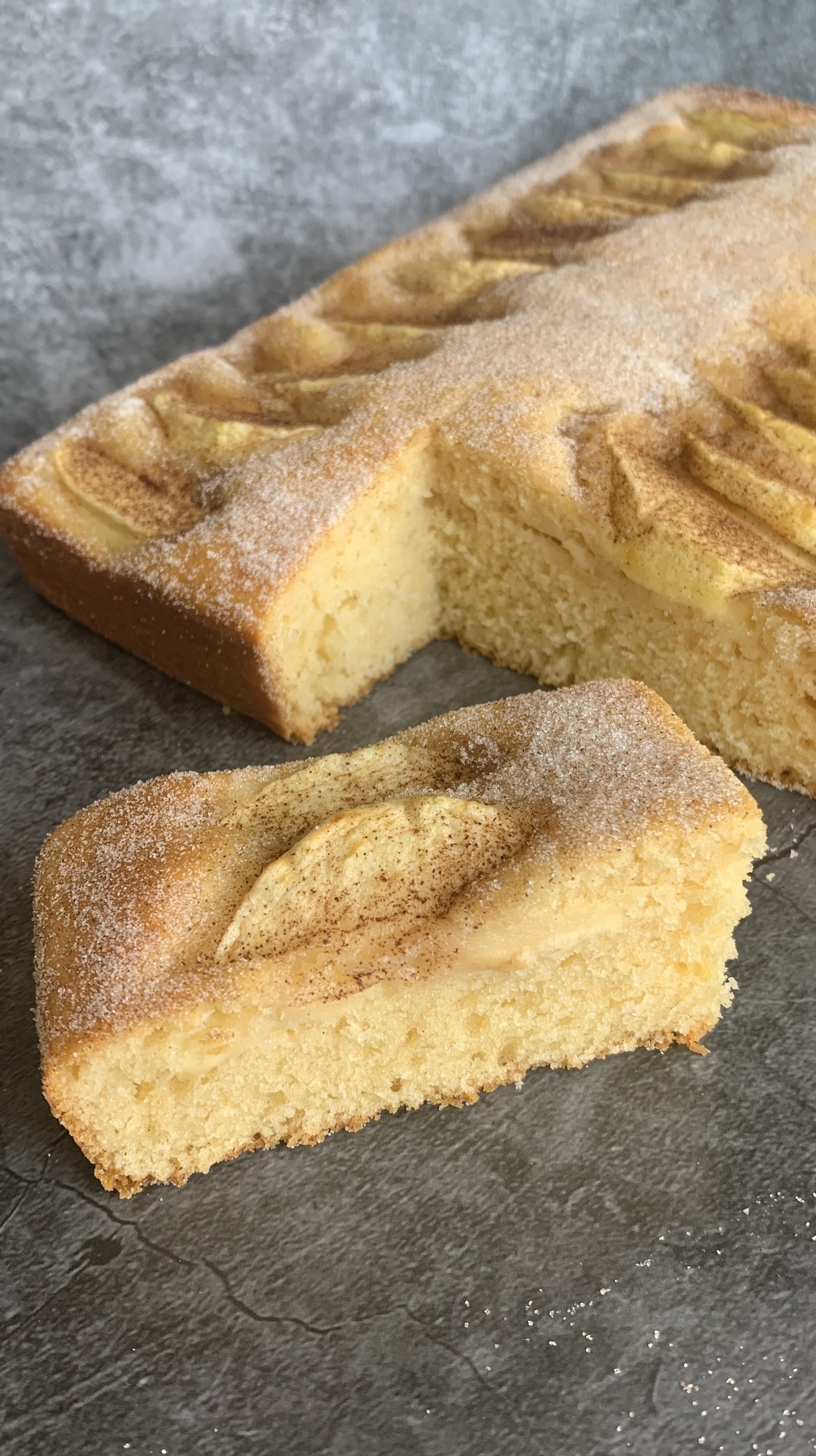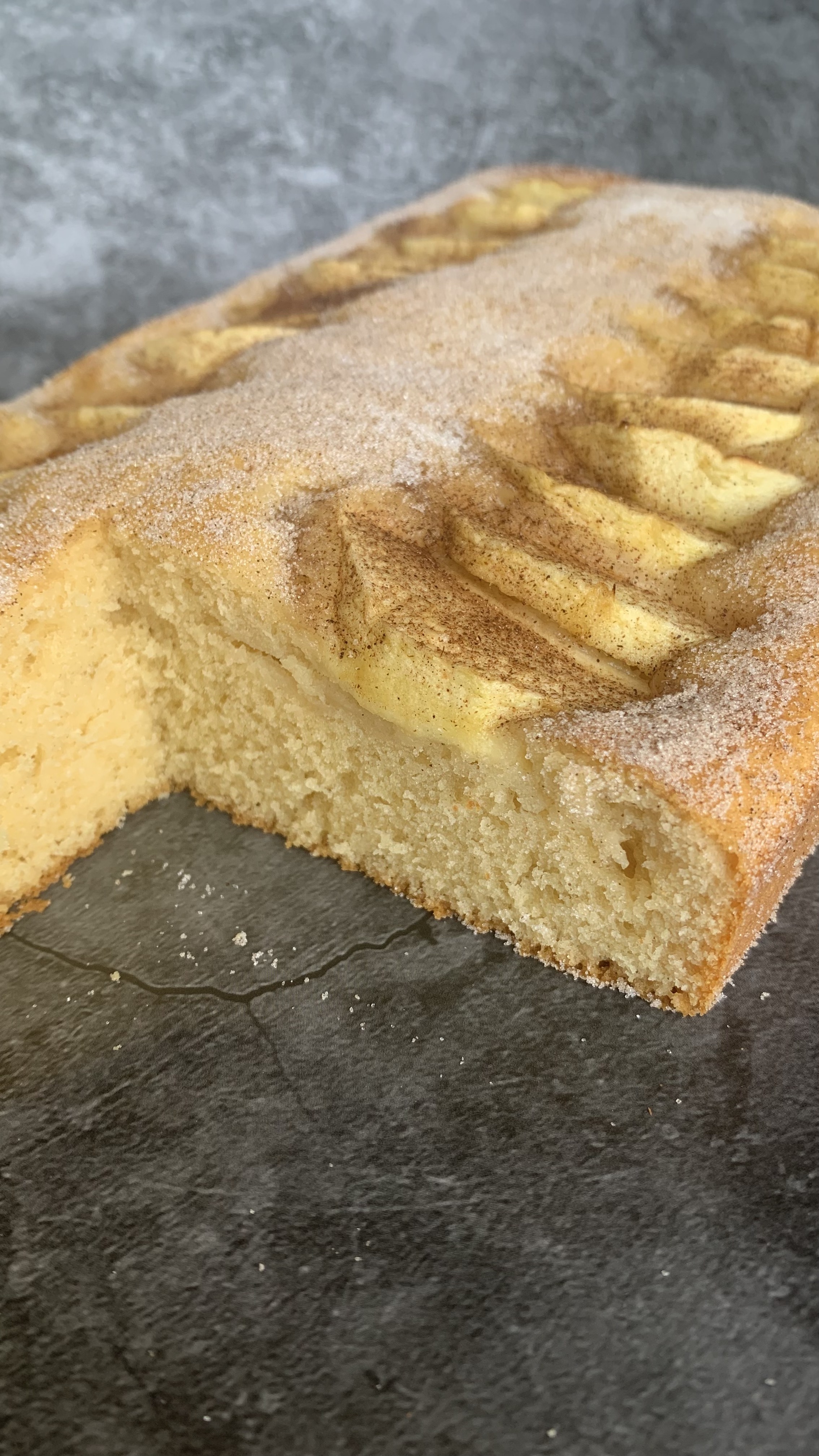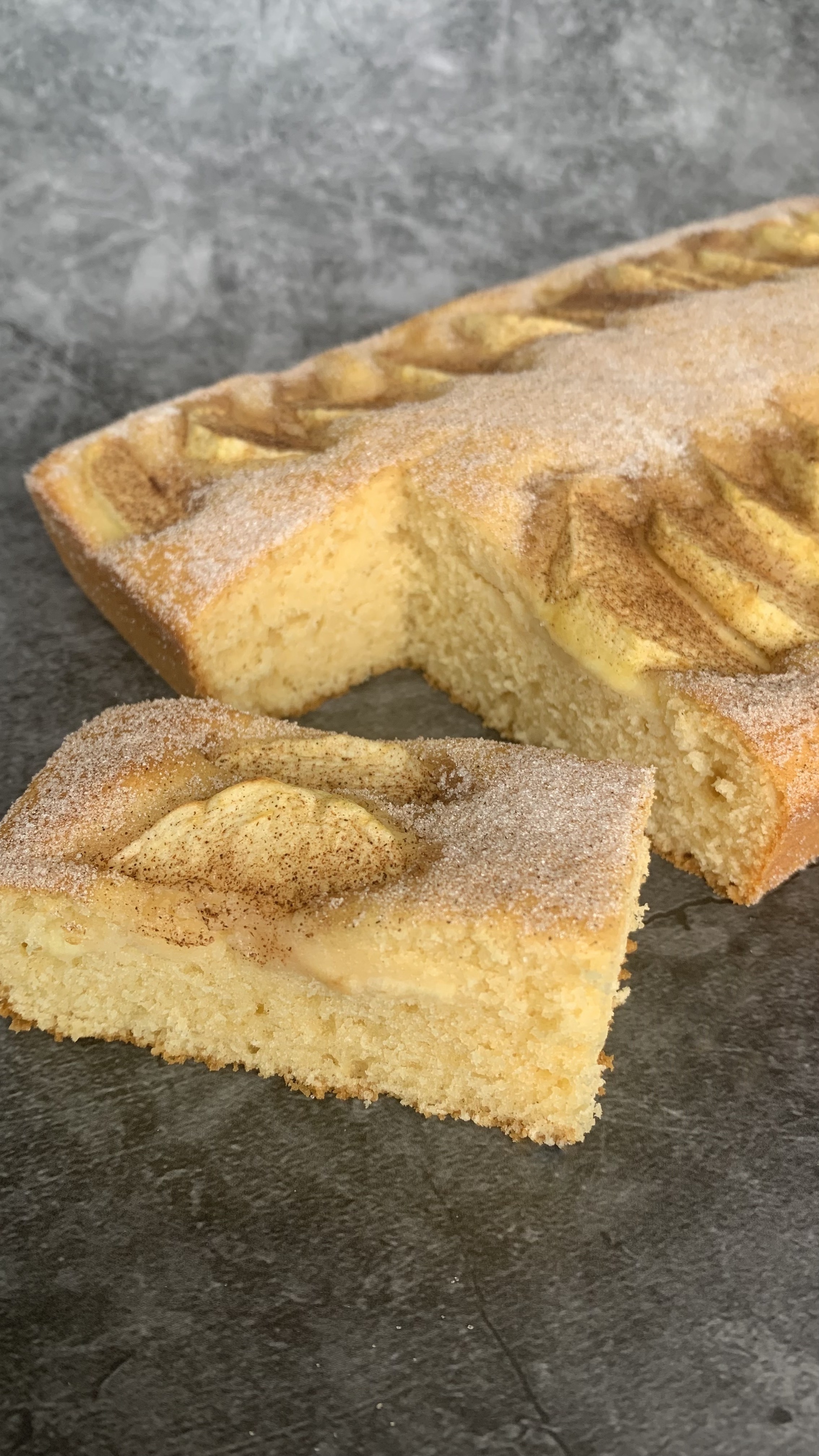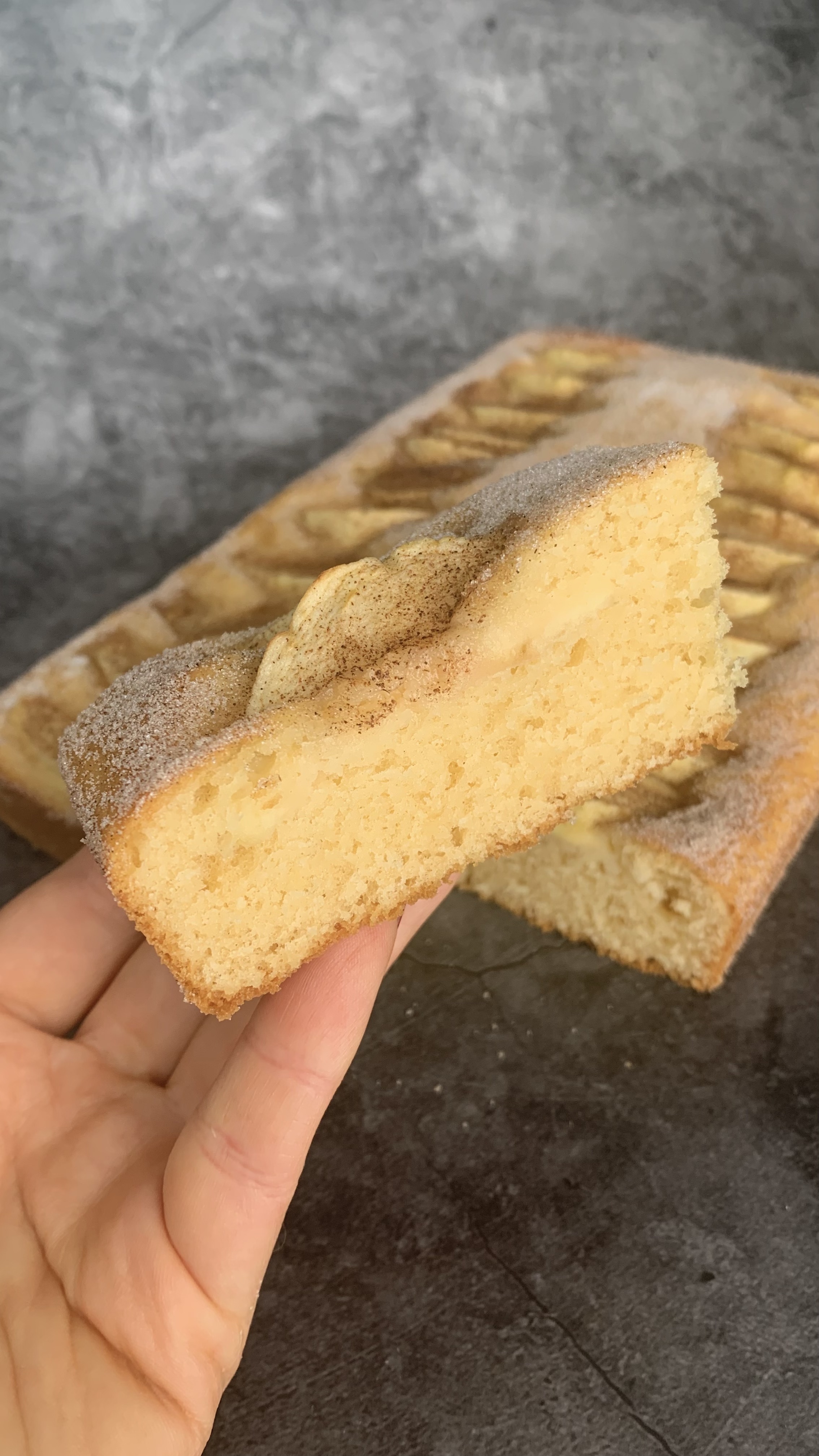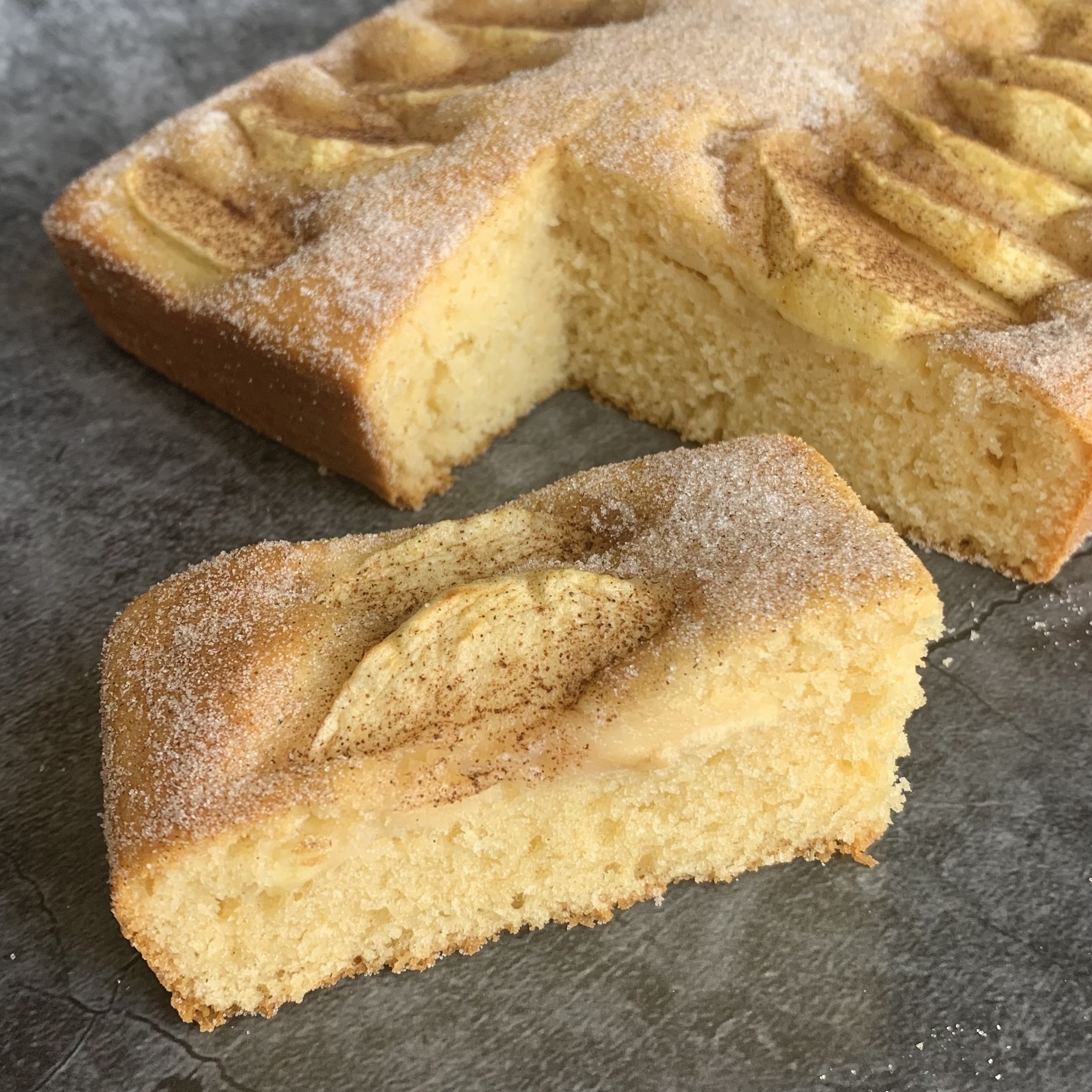 Apple Traybake Cake
December 13, 2019 (Recipe updated on September 25, 2021)
Difficulty
Time 1 hour
Servings 12
Ingredients

2 Medium Eggs
160g Caster Sugar
115g Butter (I tend to use salted but unsalted is also fine)
170g Evaporated Milk (small tin)
200g Self Raising Flour
1 Cooking Apples (I use Bramley apples. If you're using smaller apples you will likely need 2)
Cinnamon to taste

Method

Heat your oven to 200°C (400°F; gas mark 6) standard oven / 180°C (350°F; gas mark 4) fan oven. Grease and flour a 7"x11" baking tin (see recipe notes for using an 8"x8" tin). Add 20g of caster sugar and cinnamon to taste (I use about 2 teaspoons) in to a small bowl, stir together until the ingredients are evenly distributed, and then set aside for later (we'll sprinkle it on top of the cooked cake!)
Whisk the eggs and 140g of caster sugar until thick and creamy (I use an electric hand whisk for this).
Gentley heat the butter and evaporated milk in a pan on a medium-low heat until the butter has melted. Take off the heat once the butter has fully melted, and stir in to the egg mix. Try to not knock too much air from the eggs.
Gently fold in the flour to make a smooth batter.
Pour the mixture in to prepared baking tin. Peel and slice the apple and then arrange it on top of the cake mixture.
Bake in the oven for 20-25 minutes until an inserted skewer comes out clean, and the top is lightly golden. Immediately sprinkle the hot cake with your cinnamon sugar mix.
Either leave to cool, or cut and serve while still warm. Enjoy!

Notes

- Store your Apple Traybake Cake in an airtight container at room temperature, where it will last for 3+ days!
- If you don't have a 7"x11" baking tin you could use an 8"x8" baking tin and increase the baking time (as your cake will be slightly deeper due to the smaller area). I'd reccommend checking from 25 minutes! You could also use a 9"x9" baking tin in a pinch and reduce the baking time (as this tin size has a slightly larger surface area), but I don't reccommend this as favourably, as the 7"x11" tin already produces a fairly shallow cake!
- If you don't like cinnamon then it can be left out.
- Apple Cake goes nicely with double cream or vanilla ice cream, and can be eaten either hot or cold.
- Recipe instructions and pictures were updated on 17/04/2021

Recommended Equipment and Ingredients*

*I earn a small amount of money if you buy the products after clicking the links. You will not be charged extra for this. Thank you for your support!