Victoria Sponge
Victoria Sponge, Victoria Sandwich, whatever you call it, this classic British bake is a beautiful served with a cup of tea!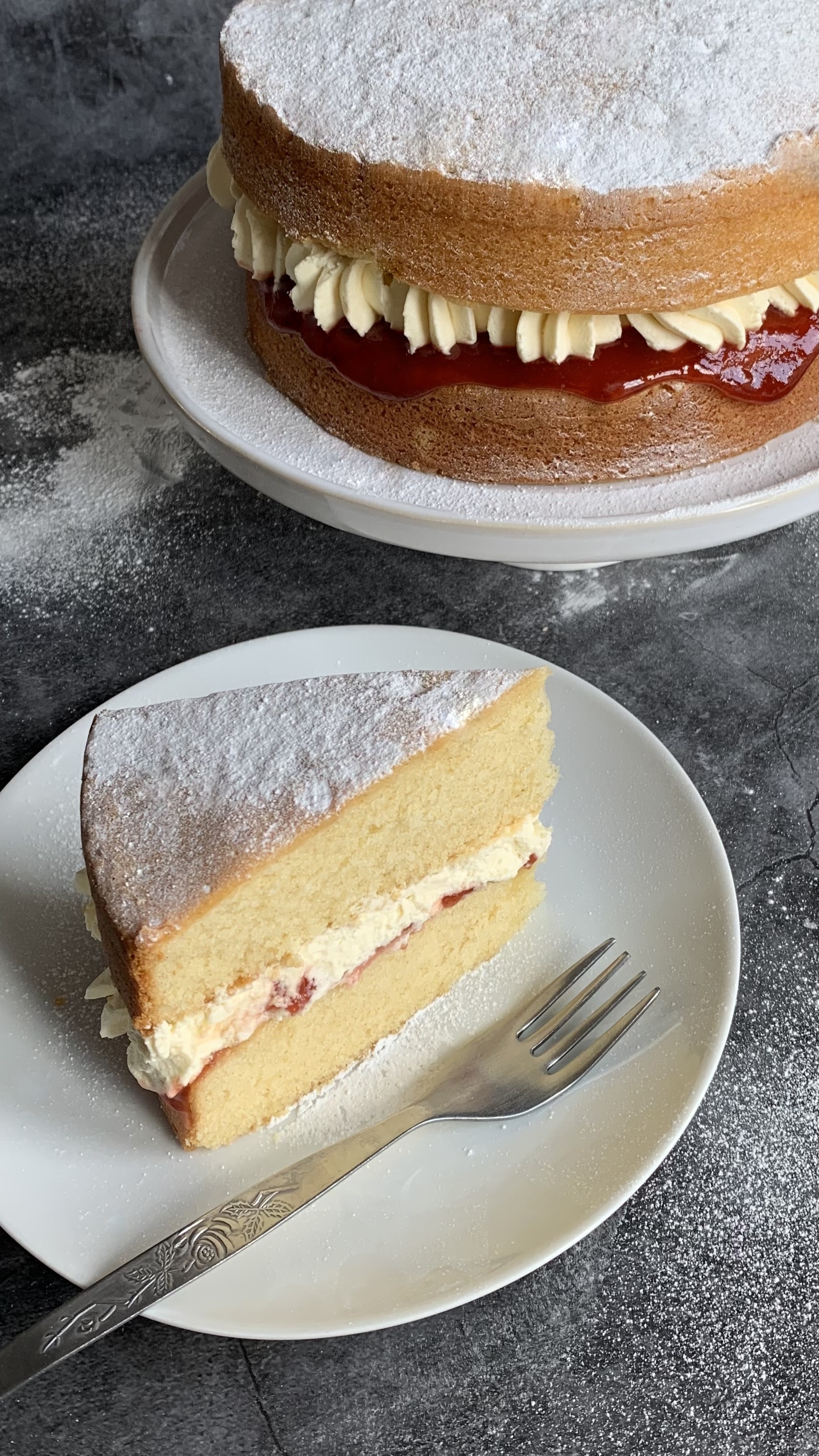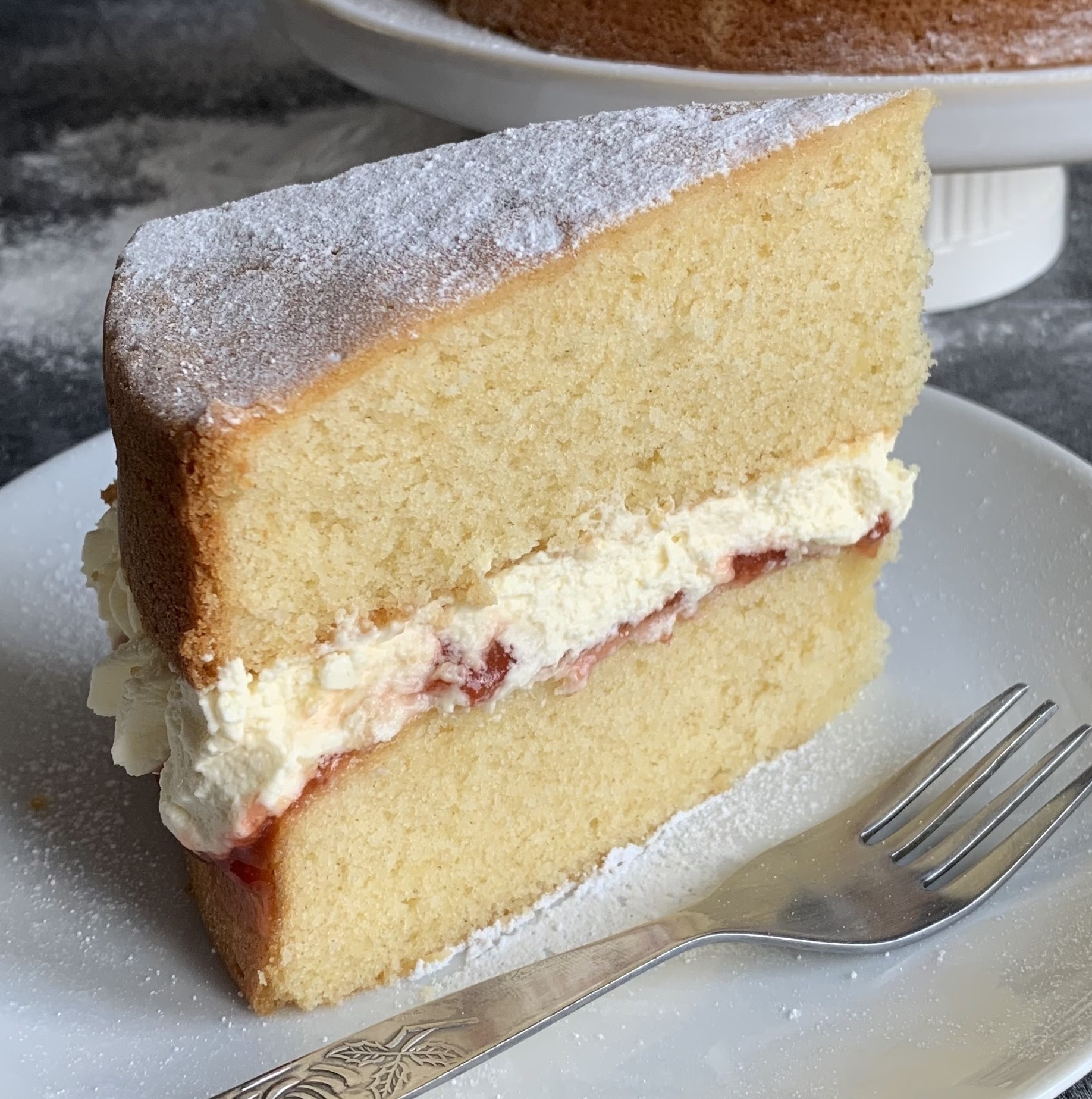 Victoria Sponge
Difficulty
Time 2-3 hours (including cooling)
Servings 12
Ingredients

For the Cake
350g Unsalted Butter - room temperature
350g Caster Sugar
6 Large Eggs
350g Self Raising Flour
2 tablespoons Milk (I used semi-skimmed)
For the Filling and Decoration
300ml Double Cream
175g Jam (I used seedless strawberry jam but raspberry would also be nice!)
1 teaspoon Vanilla Extract (Optional)
2 tablespoons Icing Sugar (Optional)

Method

Preheat your oven to 160°C (320°F) standard / 140°C (280°F) fan. Grease and line two 8" (20cm) round cake tins (preferably springform) with baking paper.
Add the room temperature butter and caster sugar to a large bowl and cream together (I used a stand mixer, but you could use an electric hand mixer, or a wooden spoon!) until smooth, light, and fluffy.
Add the eggs one at a time along with the milk, mix well.
Fold in sieved self raising flour a little at a time to help the mixture is stay smooth.
Divide your mixture evenly between the two tins (either divide by eye, or use kitchen scales) and smooth out until flat. Bake for 35-40 minutes, or until the surface of the cake has started to brown, and a skewer (or knife) comes out clean when inserted in to the centre of the cake. Leave the cake to cool in the tin for 5 minutes, and then turning out onto a cooling rack and leave to cool completely.

For the Filling and Decoration

When the cake has fully cooled down, we can decorate: Take one of the cake halves and place on a large plate or cake board. If the cake is overly domed then use a knife to carefully level it.
Add the double cream (along with the vanilla and 1.5 tablespoons of the icing sugar, if using) to a bowl and whisk (either by hand or using an electric hand mixer) until soft peaks form.
Spread the jam over the top of the cake, and gently top with the whisked double cream (dollop on and spread with a knife, or pipe on), then turn the second cake upside down and carefully place on top of the cream. Press down gently and firmly to help the cake stay in place.
Sieve on the remaining icing sugar as decoration, if using - slice and enjoy!

Notes

- This cake is best enjoyed on the day it is made due to the double cream, however it can be stored covered in the fridge for 2-3 days!
- If storing in the fridge allow take it out 30 minutes before serving to allow it to come to room temperature.
- If you don't have Self Raising Flour you can make your own by adding 1 teaspoon of baking powder to every 100g of Plain Flour - mix thoroughly, then weigh our the 350g required for the recipe.

Recommended Equipment and Ingredients*

*I earn a small amount of money if you buy the products after clicking the links. You will not be charged extra for this. Thank you for your support!