Cherry Bakewell Traybake Cake
Almond sponge cake topped with raspberry jam, icing sugar, and glacé cherries - a fun, yummy spin on the classic bakewell tart. Perfect served with a cuppa!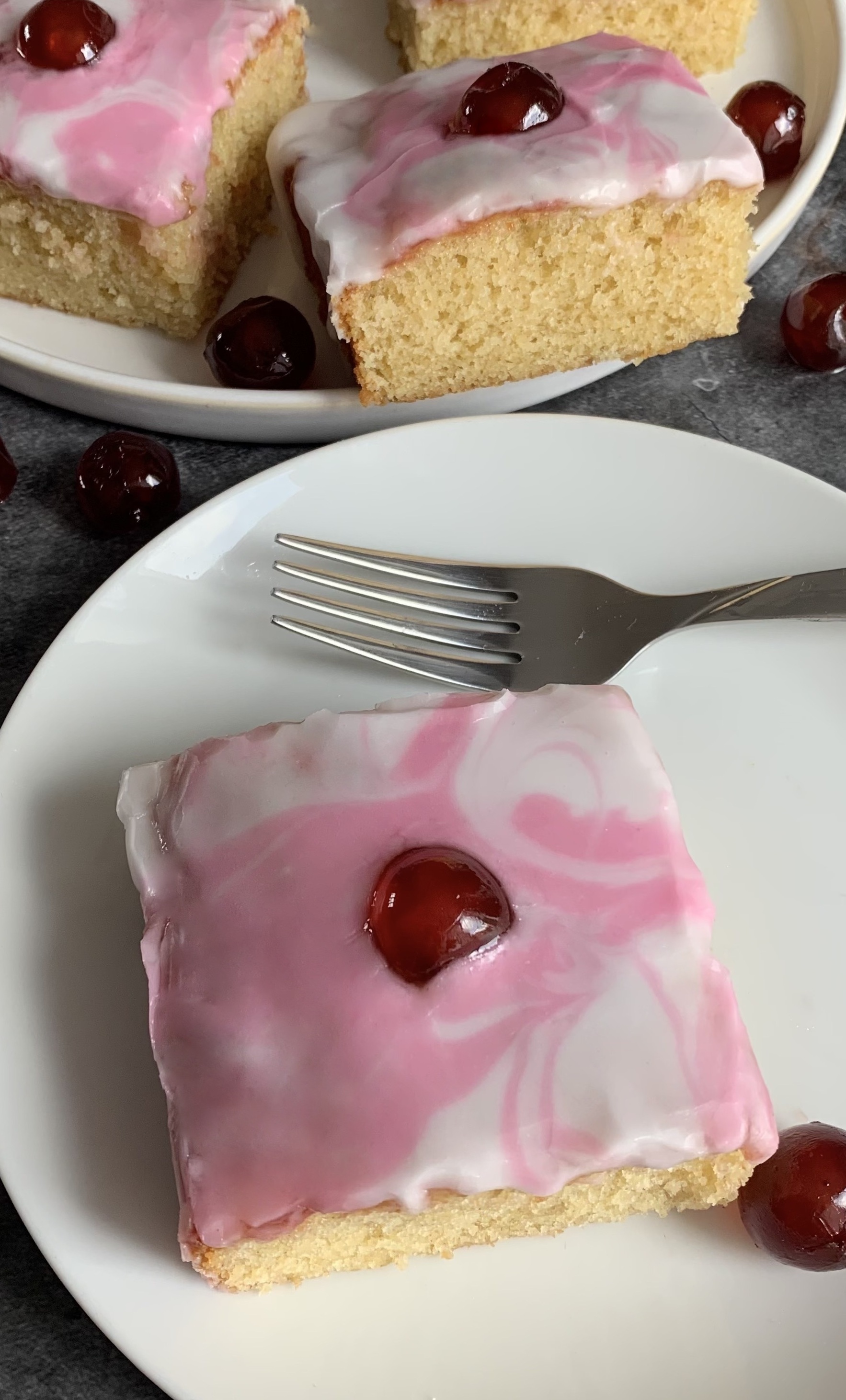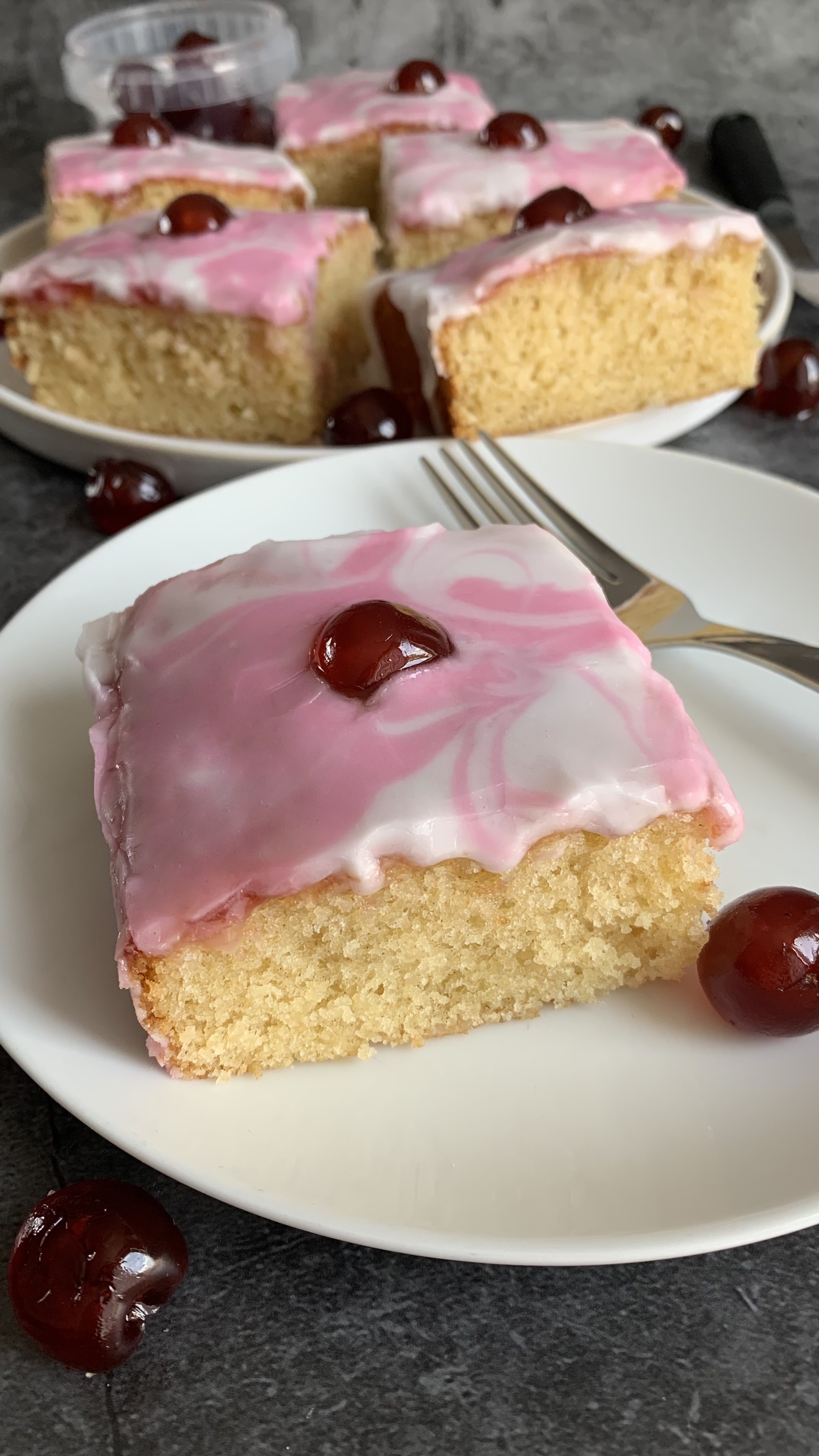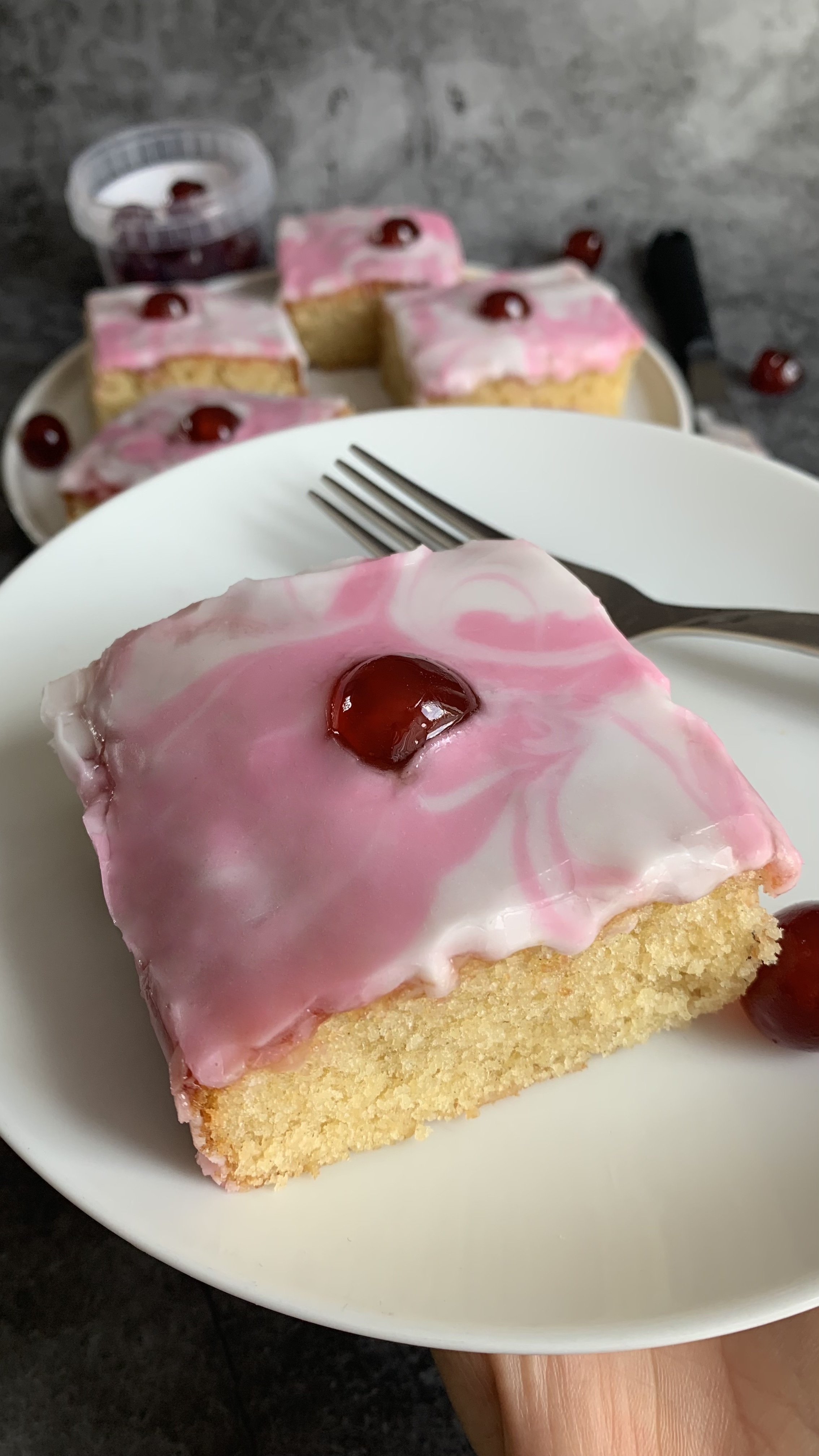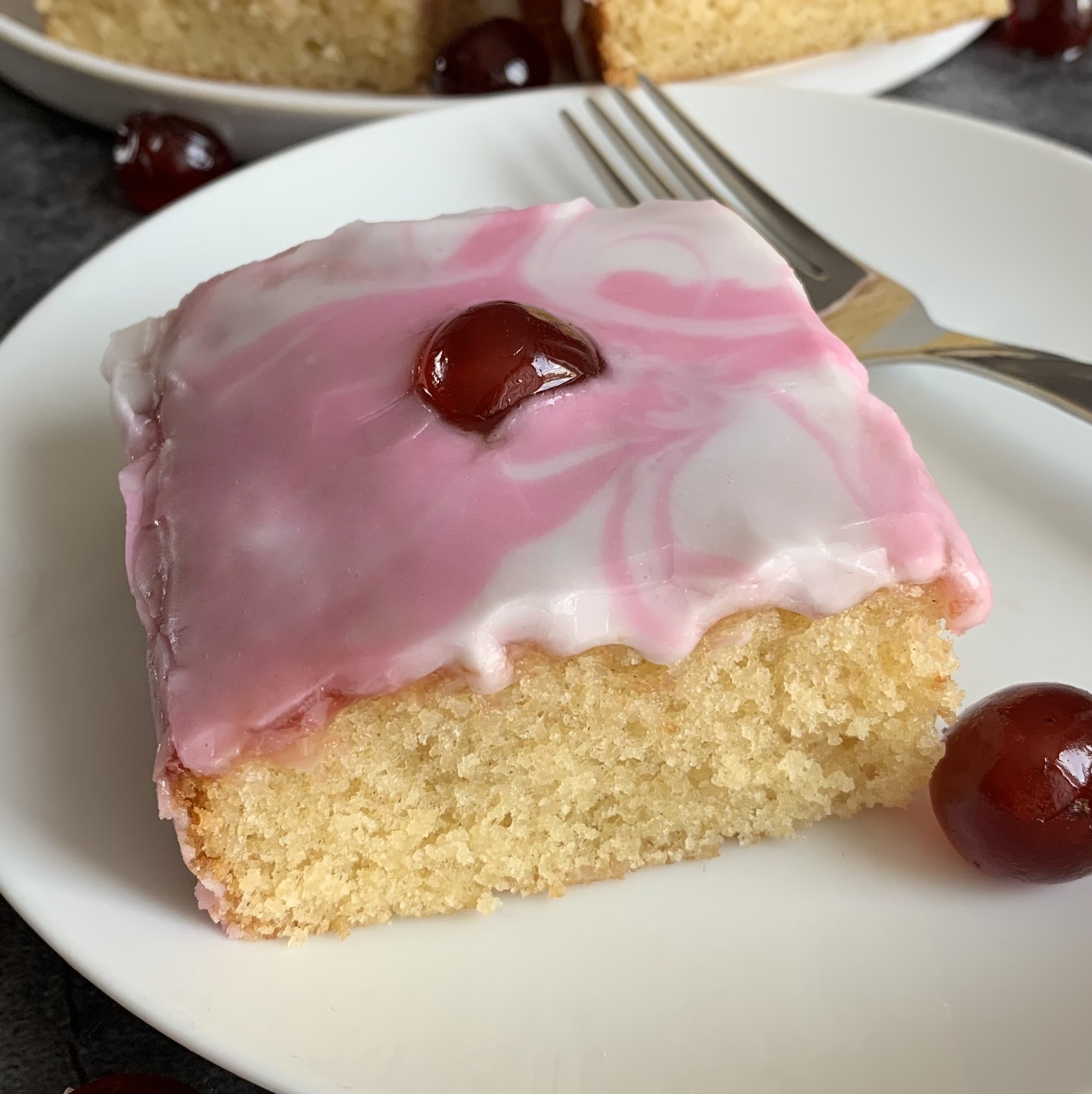 Cherry Bakewell Traybake Cake
Difficulty
Time 2-3 hours (including cooling)
Servings 20 (or 12 BIG slices, which is what I did!)
Ingredients

For the Cake
325g Unsalted Butter - room temperature
325g Caster Sugar
5 Large Eggs
225g Self Raising Flour
100g Ground Almonds
1.5 teaspoons Baking Powder
100ml Milk (I used semi-skimmed)
2 teaspoons Almond Extract (Optional)
For the Icing and Decoration
200g Jam (I used seedless raspberry jam)
500g Icing Sugar
100ml Water - add a little at a time
Pink Food Colouring (Optional - I used ProGel)
Glacé Cherries

Method

Preheat your oven to 160°C (320°F) standard / 140°C (280°F) fan. Line a 9"x13" tin with baking paper.
Add the room temperature butter and caster sugar to a large bowl and cream together (use an electric hand mixer, or stand mixer if you have one!) until smooth, light, and fluffy.
Add the eggs one at a time, mix well after adding each egg.
Mix in sieved self raising flour, groung almonds, and baking powder in a little at a time - this will help the mixture is stay smooth.
Add in the milk and almond extract (if using) and mix well.
Pour your mixture in to your prepared 9"x13" tin, smooth out until flat. Bake for 35-40 minutes, or until the surface of the cake has started to brown, and a skewer (or knife) comes out clean when inserted in to the centre of the cake. Leave the cake to cool in the tin for 15+ minutes, and then turning out onto a cooling rack and leave to cool completely.

For the Icing and Decoration

When the cake has fully cooled down, we can decorate: Add the jam to a bowl and stir to loosen it up. Spread the jam on to the cake, covering the entire surface in a thin even layer of jam.
Sieve the icing sugar in to a large bowl, and then add the water a little at a time until the desired thickness has been reached and the icing is smooth (I tend to prefer a thicker icing so go for 80-100ml, but you can add more water if you prefer it thinner!).
Pour the icing in to the centre of the cake and then carefully spread out with a spatula (or palette knife / butter knife). Some of the icing will fall off the sides of the cake, this is okay! :) Top with the glacé cherries and then leave for at least 15 minutes at room temperature to allow the icing to firm up - slice and enjoy!

Notes

- This cherry bakewell traybake cake will keep 2-3 days stored in an air-tight container at room temperature, however it's best enjoyed fresh!
- This cake can be made smaller in an 9"x9" tin using the following quantities (note you will also need to reduce the baking time):
For the Cake
200g Unsalted Butter - Room Temperature
200g Caster Sugar
3 Large Eggs
125g Self Raising Flour
75g Ground Almonds
1/2 teaspoon Baking Powder
60ml Milk (I used Semi-Skimmed)
1 teaspoon Almond Extract (optional)
For the Icing and Decoration
125g Jam (I used seedless raspberry)
300g Icing Sugar
60ml Water - add a little at a time
30g Multicoloured Sprinkles (I used Dr Oetker Unicorn Sprinkles!)
Pink Food Colouring - I used ProGel! (Optional)
Glacé Cherries

Recommended Equipment and Ingredients*

*I earn a small amount of money if you buy the products after clicking the links. You will not be charged extra for this. Thank you for your support!