Cinnamon Swirl Banana Bread
Easy, cinnamon swirl banana bread. The perfect way to use up ripe bananas for cinnamon lovers!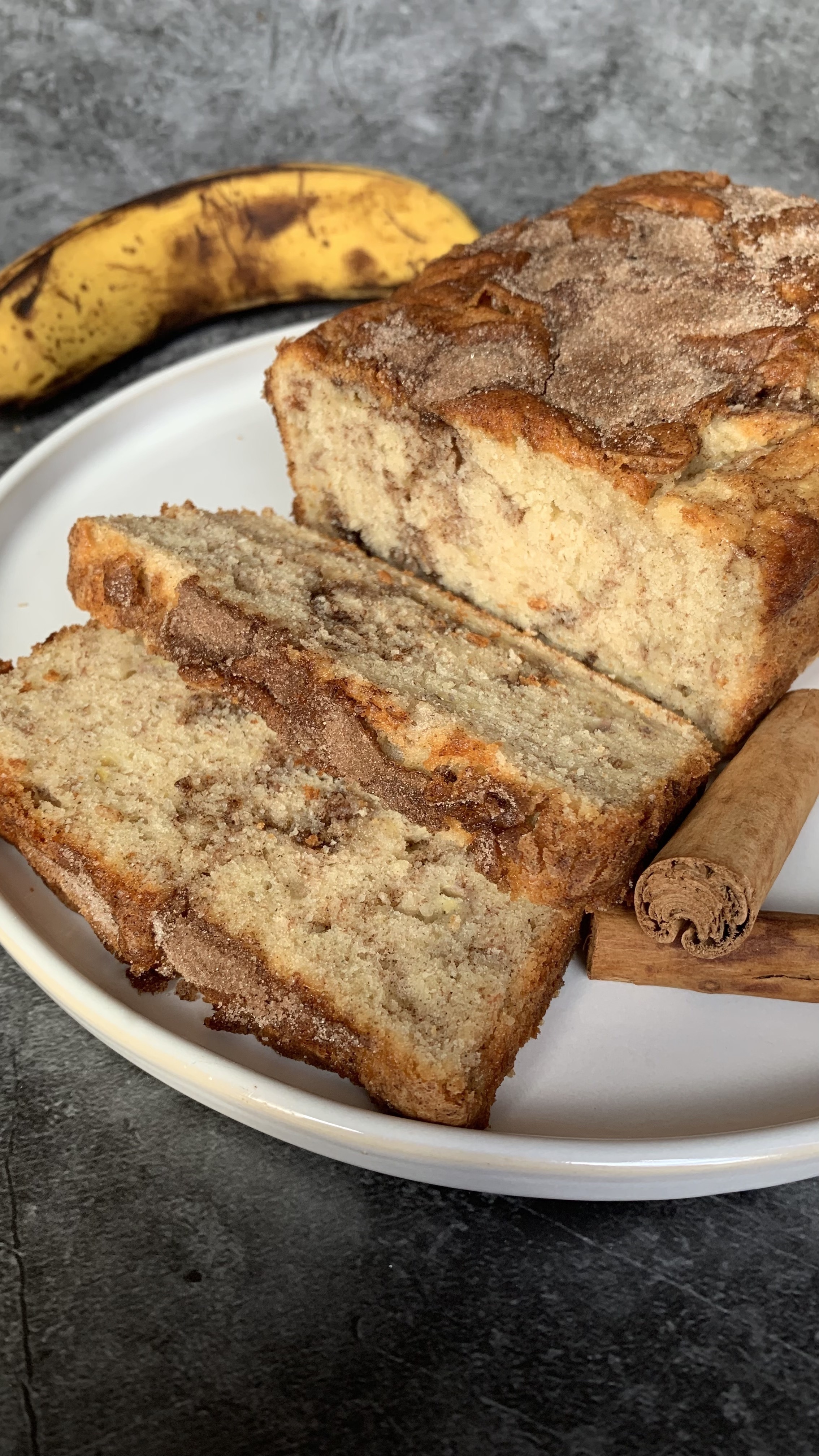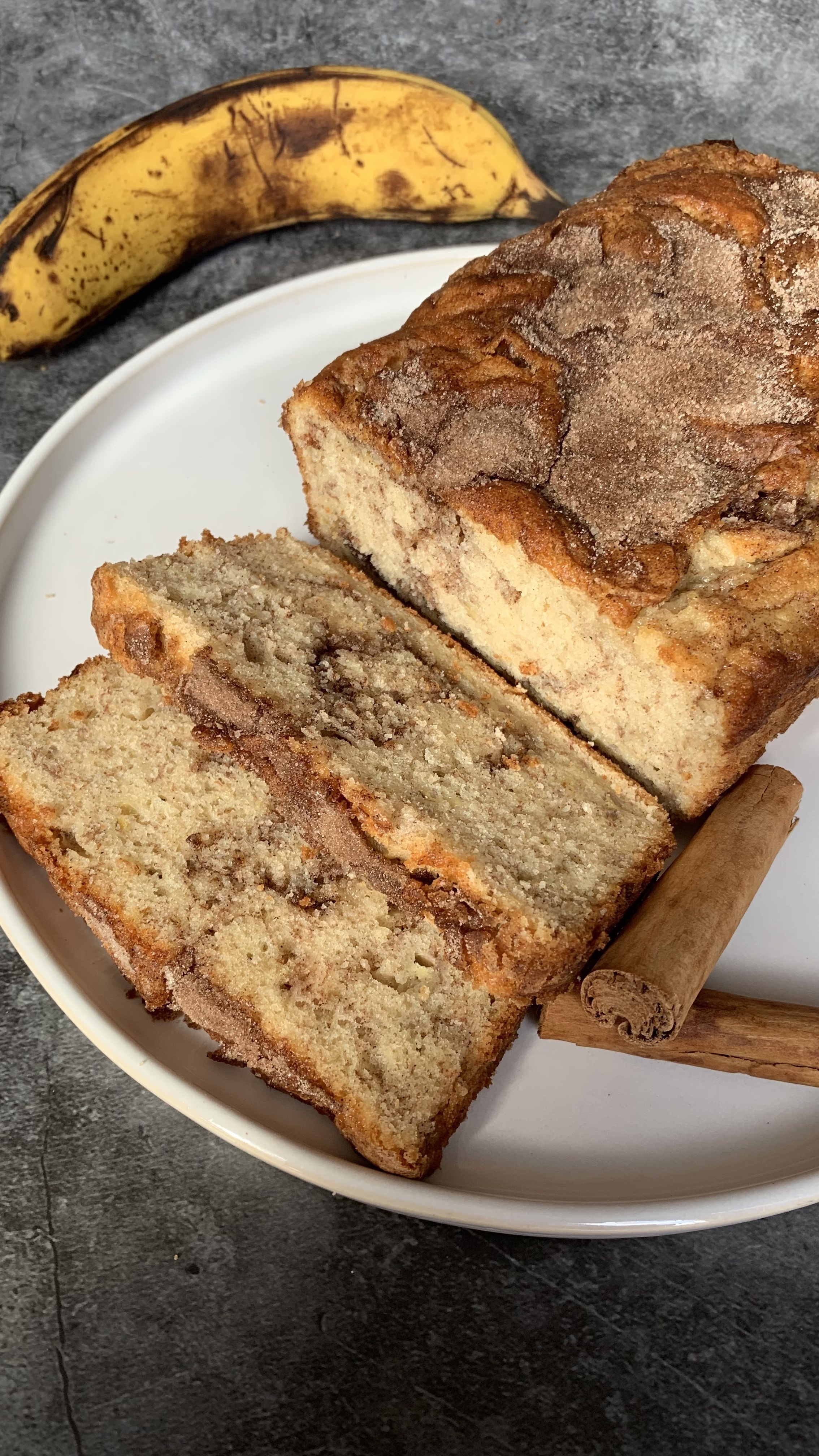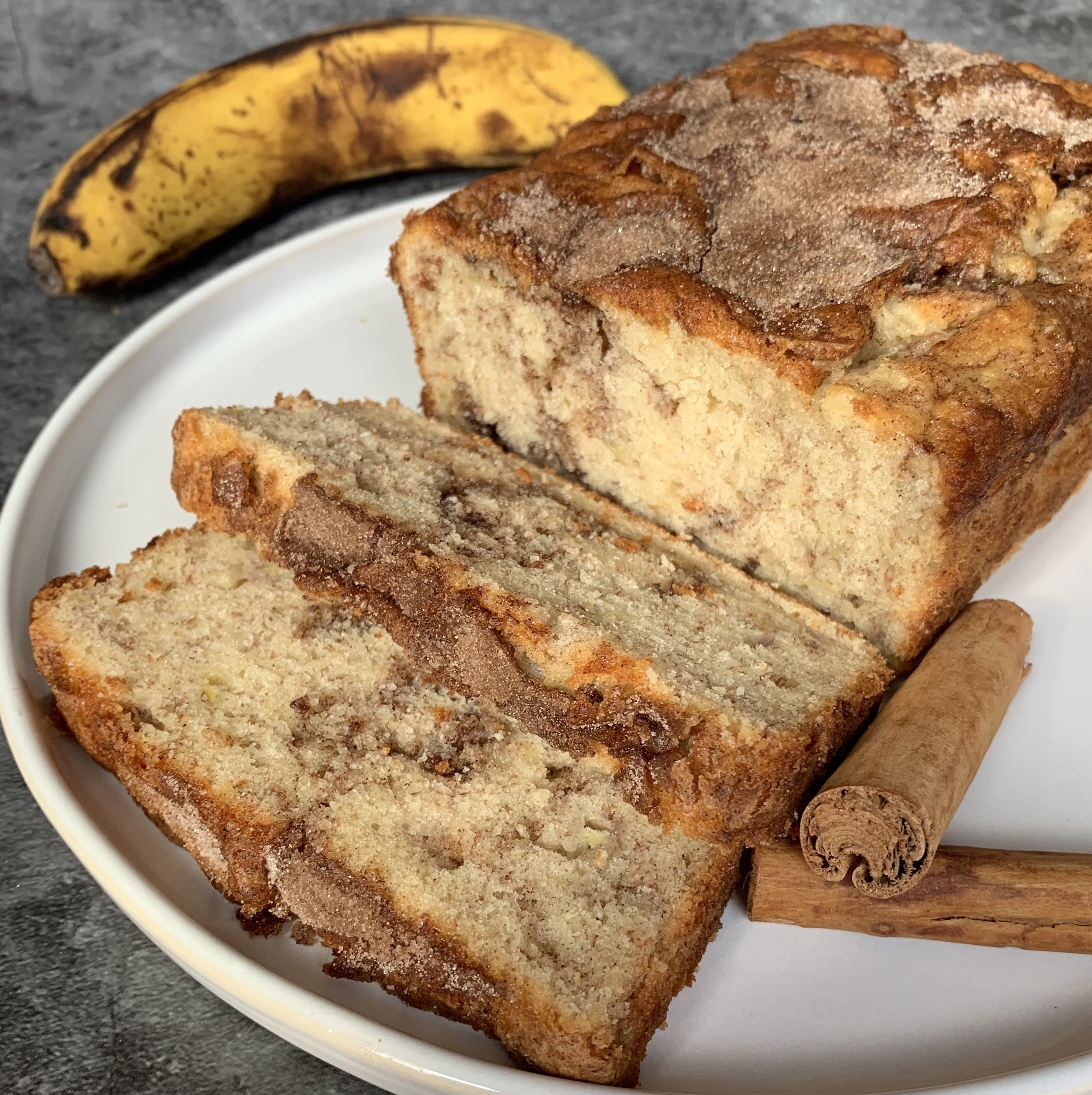 Cinnamon Swirl Banana Bread
Difficulty
Time 45 minutes
Servings 16
Ingredients

For the Banana Bread
100g Unsalted Butter or Baking Spread (e.g. Stork)
150g Caster Sugar
2 Large Eggs
225g Self Raising Flour
1/4 teaspoon Salt
2 or 3 Large Very Ripe Bananas
50ml Milk (any milk works, I use semi-skimmed)
1/4 teaspoon Ground Cinnamon
1 teaspoon Vanilla Extract (Optional)
For the Cinnamon Swirl
100g Caster Sugar
2 teaspoons Ground Cinnamon

Method

Heat oven to 180°C (350°F) standard oven / 160°C (320°F) fan oven. Grease and line a 2lb loaf tin. Make the flour mix - whisk the 225g self raising flour, 1/4 teaspoon salt, and 1/4 teaspoon of cinnamon together in a bowl, and then set aside. Mash the bananas with a fork in to a smooth paste, and then set aside. Make the cinnamon swirl sugar mix - add the 100g of caster sugar and 2 teaspoons of cinnamon to a small bowl and stir until evenly distributed, and then set aside.
Mix the room temperature butter and sugar together until pale and fluffy (I use an electric hand mixer for this, but you can also do this by hand!).
Whisk in the 2 large eggs with a small amount of the flour mix.
Stir in the remaining flour mix along with the mashed bananas, milk, and vanilla extract (if using). Mix just enough to combine the ingredients evenly. (If you didn't mash the bananas enough to form a smooth paste your mixture may be a little lumpy. This is okay!)
Pour a third of the banana bread mixture in to your lined 2lb loaf tin. Top with a third of the cinnamon swirl sugar mix, and swirl in with a knife or skewer. Repeat this two more times until no mixture remains.
Bake for 50 minutes - 1 hour, until an inserted skewer/knife comes out clean. (Check the banana bread from 40 minutes. If the top is browning too much then quickly cover loosely with foil. Note that the banana bread will cook slower when covered, but it will prevent the top from browning further.)

Notes

- Store your cinnamon swirl banana bread in an airtight container at room temperature, where it will last for 3+ days!
- I always enjoy banana bread on day 2, when the flavours have had a chance to develop, and it's nice and moist from sitting in the airtight container!
- Eat enough of this banana bread and you'll get 1 of your '5 a day' ;)

Recommended Equipment and Ingredients*

*I earn a small amount of money if you buy the products after clicking the links. You will not be charged extra for this. Thank you for your support!