Gluten-Free Vegan Oreo Brownies
Easy and fudgy vegan gluten-free brownies packed with free from 'Oreos'.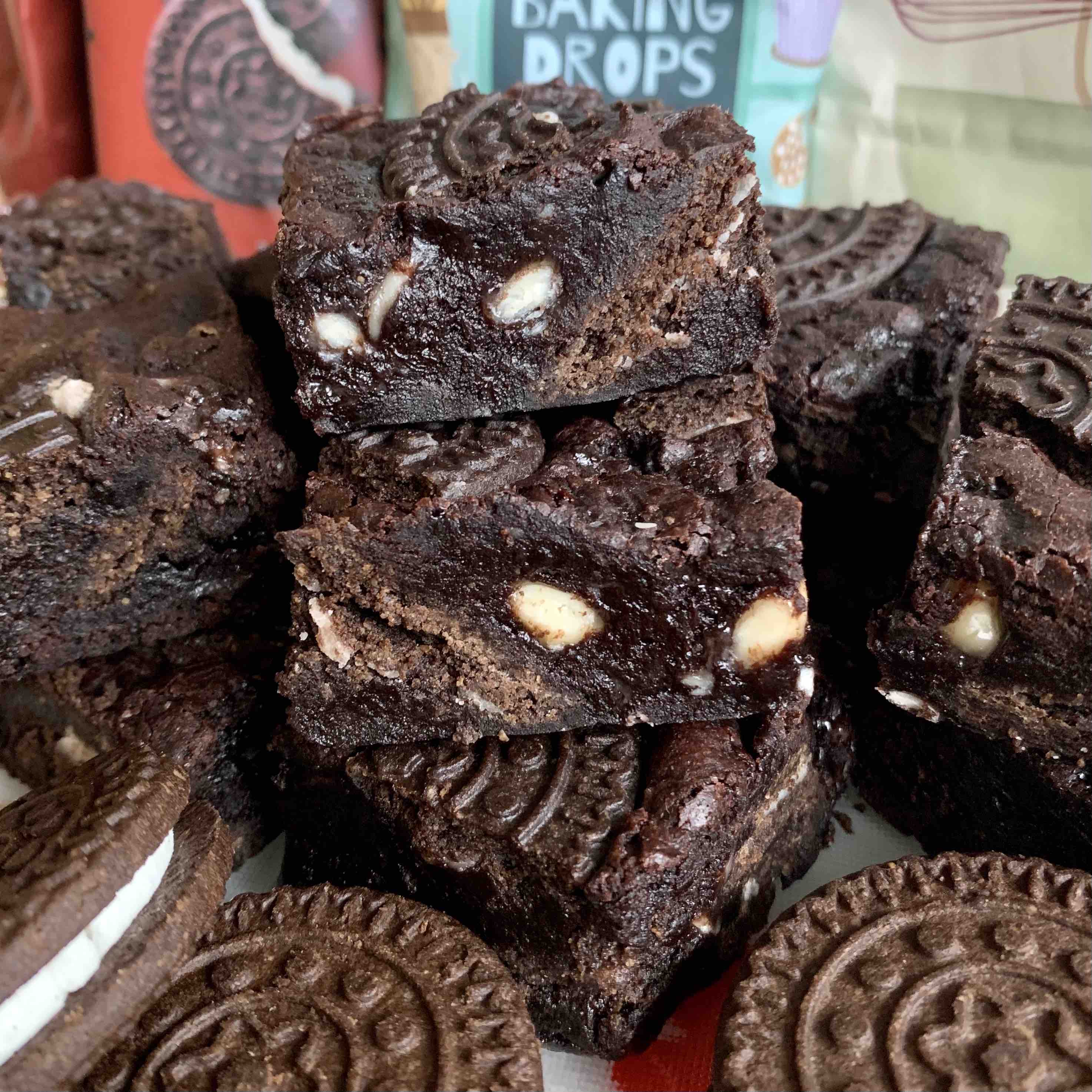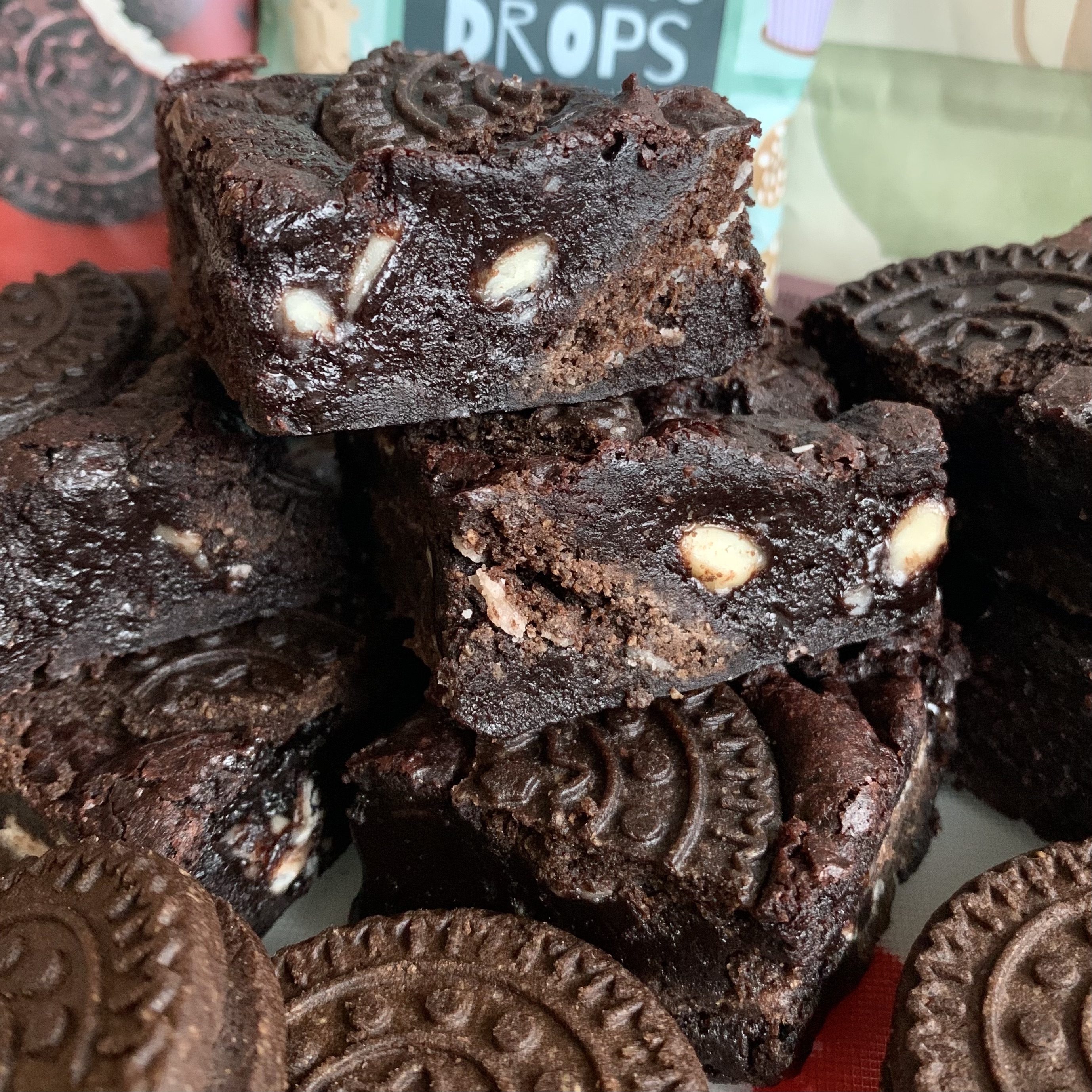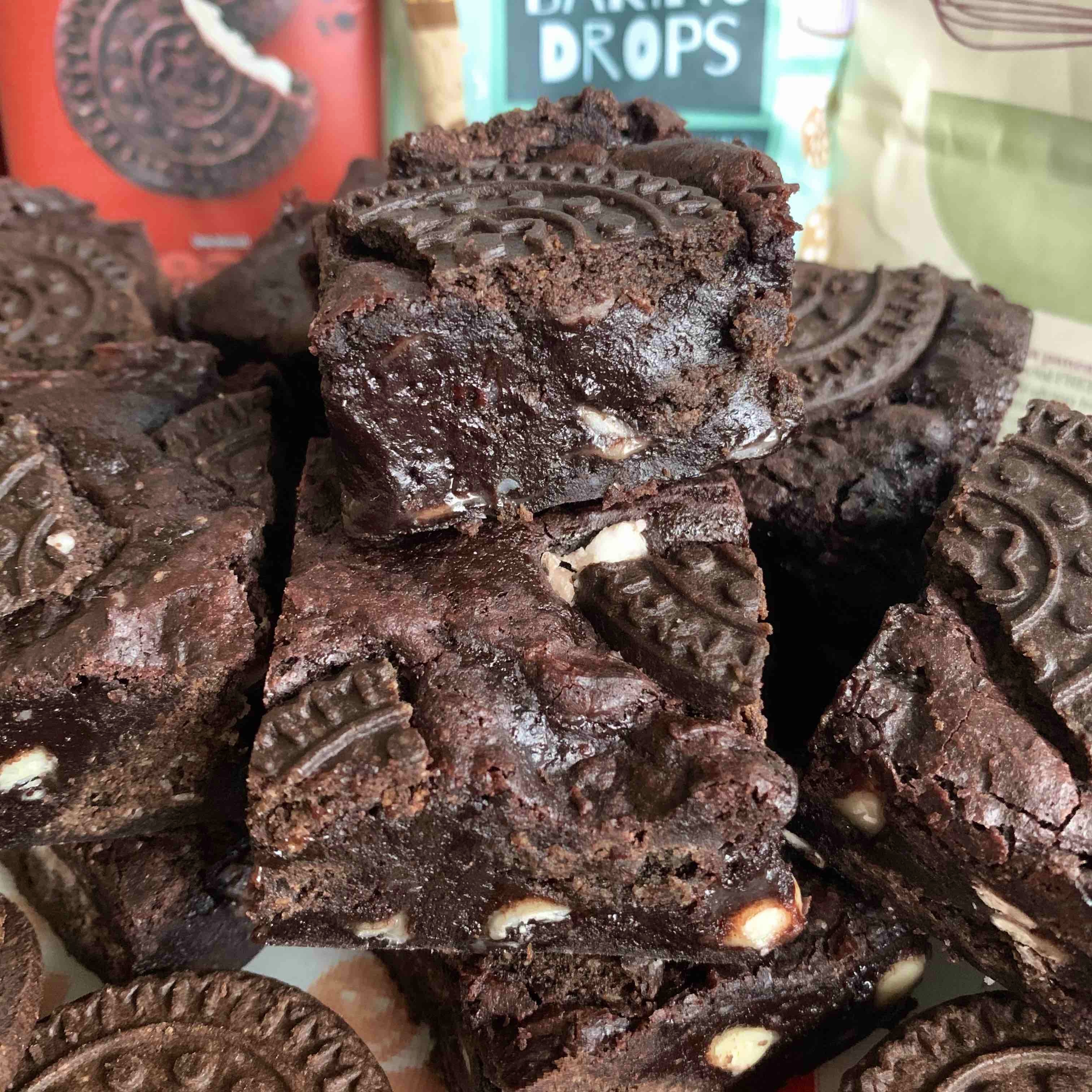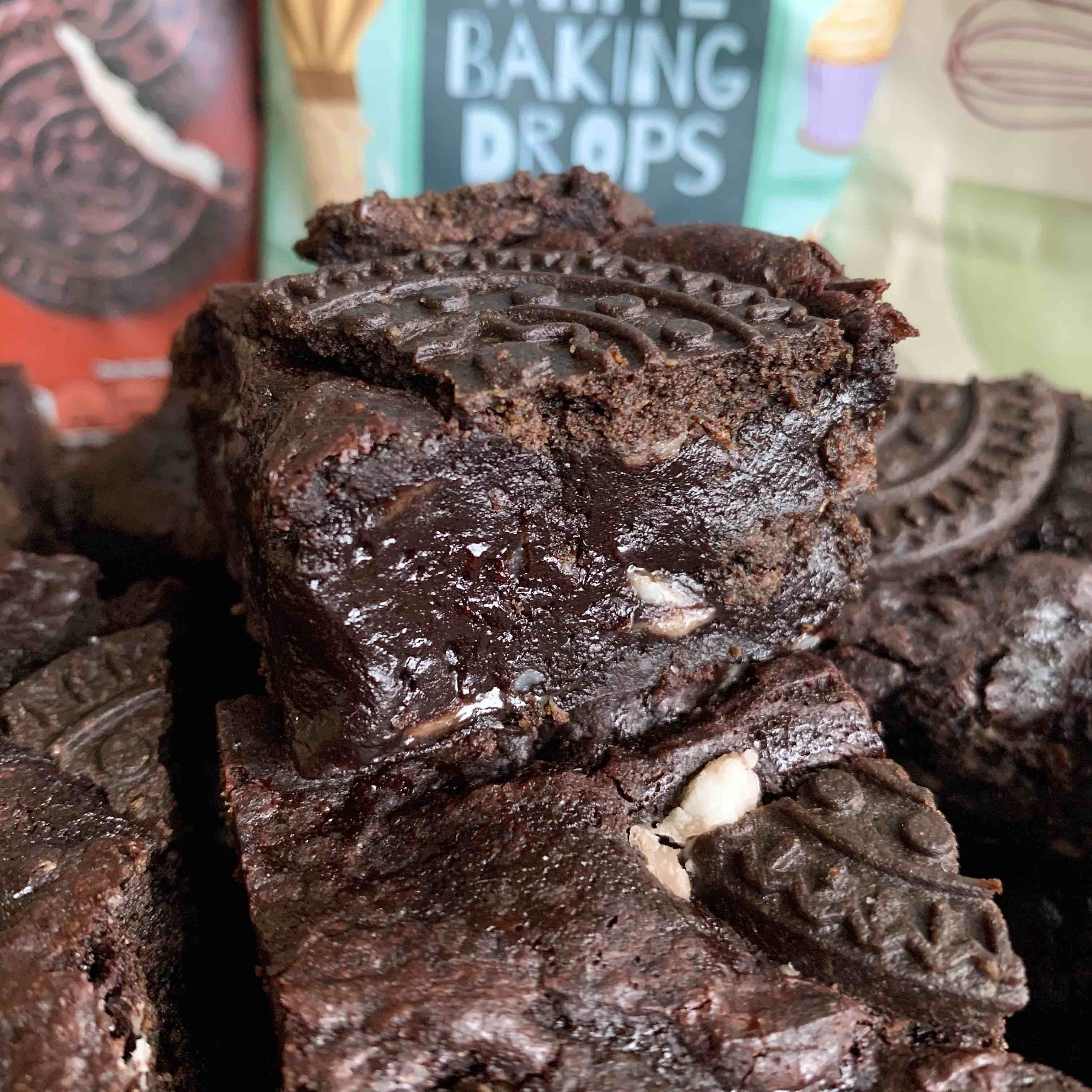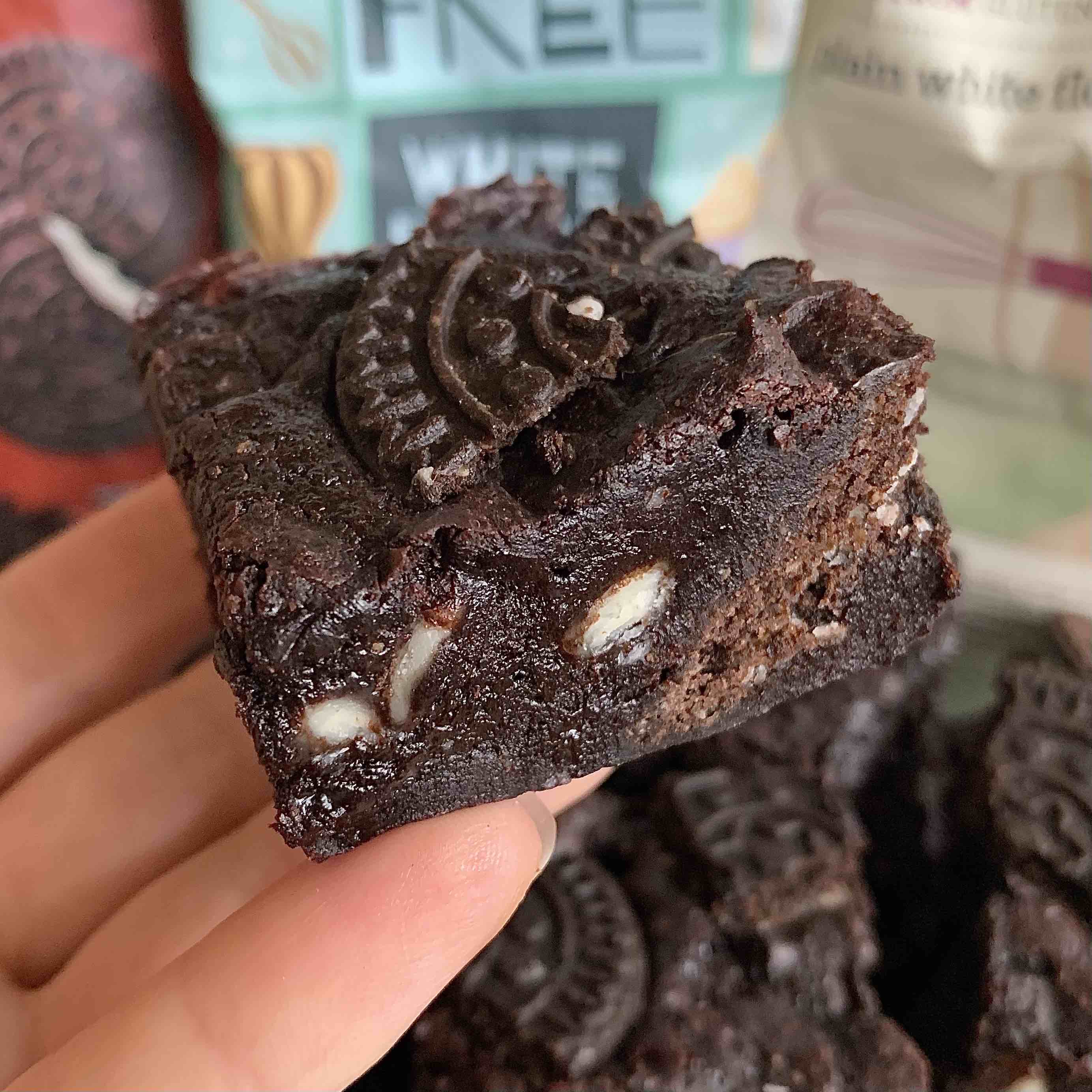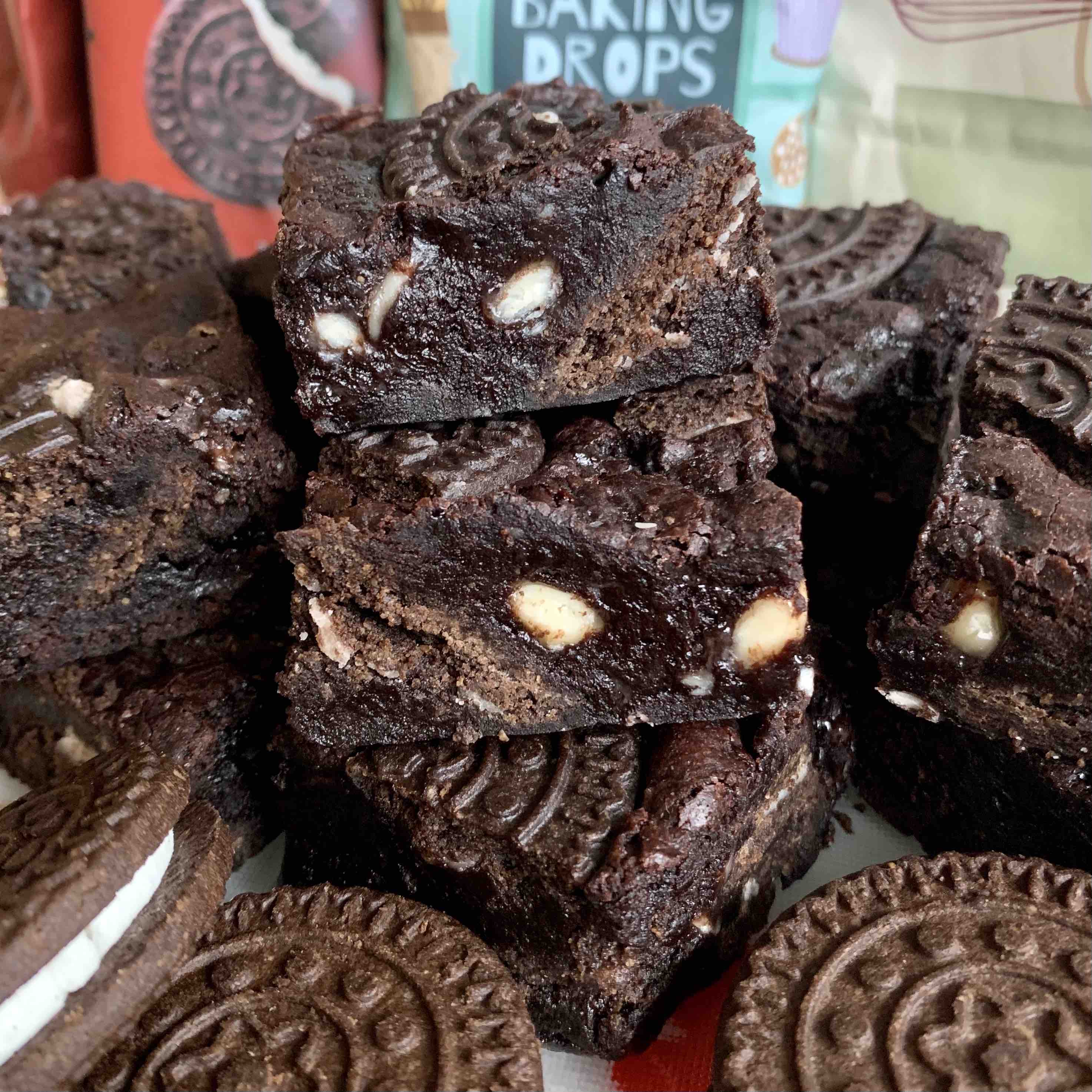 Gluten-Free Vegan Oreo Brownies
Difficulty
Time 1 hour (plus cooling)
Servings 16
Ingredients

125g Dairy-Free Butter (I used Stork Original Baking Block)
250g Caster Sugar
150ml Vegan Milk (I used Almond)
2 teaspoons Vanilla Extract
125g Gluten Free Self-Raising Flour (I used Dove's Farm)
1/4 teaspoon Xantham Gum (I used Dove's Farm)
30g Cornflour
80g Cocoa Powder (ensure dairy free)
1/4 teaspoon Salt
100g Dairy Free White Chocolate Chips (I used Moo Free)
1 Pack Gluten-Free 'Oreos' (I used Tesco ones which don't contain dairy)

Method

Line an 8"x8" baking tin. Heat your oven to 180°C (350°F) standard / 160°C (320°F) fan. Cut the 'Oreos' in to chunks.
Gently melt the dairy .
Melt the butter in a microwave in 20 seconds bursts until fully melted. Whisk (I use a hand whisk!) the butter and sugar together for 1 minute.
Whisk in the vanilla and milk for 1-2 minutes. You should have a pale smooth mixture. (The milk may cool the butter and cause it to harden a little, that's fine. Just keep whisking and it'll smooth)
Gently fold in sieved flour, xanthan gum, cornflour, cocoa powder, and salt. Fold in the white chocolate chipps and most of the 'Oreos'
Pour the mixture in to the lined tin and scatter the remaining 'Oreos' on top as decoration. Cook for 25–35 (I did about 32) minutes until the top of the brownies has set, but the middle still has a wobble. A toothpick/skewer inserted in to the center of the brownies should come out with wet crumbs. Don't overbake or it'll lose it's fudgeyness and become cakey!
Once baked, leave your brownies to cool in the tin completely (I like to leave the brownies to cool in the fridge ideally overnight, but for at least 4 or 4 hours, which makes for a super fudgy brownie!). Cut in to portions, then enjoy!

Notes

- Once cooled, store the brownies in an airtight container at room temperature where they'll keep for up to 1 week (try storing them in the fridge if you want them to be super fudgy!).

Recommended Equipment and Ingredients*

*I earn a small amount of money if you buy the products after clicking the links. You will not be charged extra for this. Thank you for your support!