Peanut Butter Pretzel Bars
This easy no-bake is perfect for anyone who loves salty-sweet treats! A crushed pretzel base topped with a layer of chocolate and peanut butter, and the some pretzels for decoration!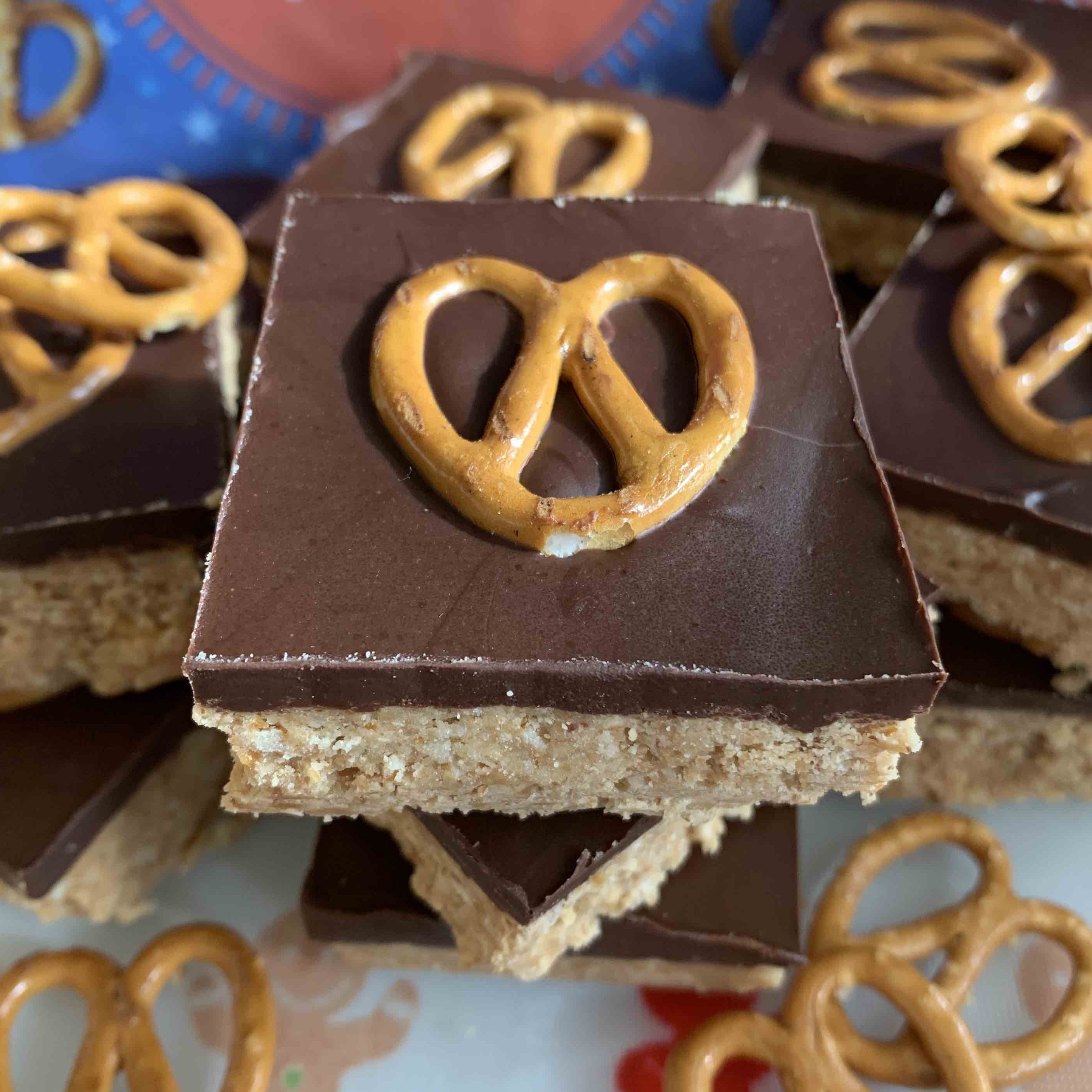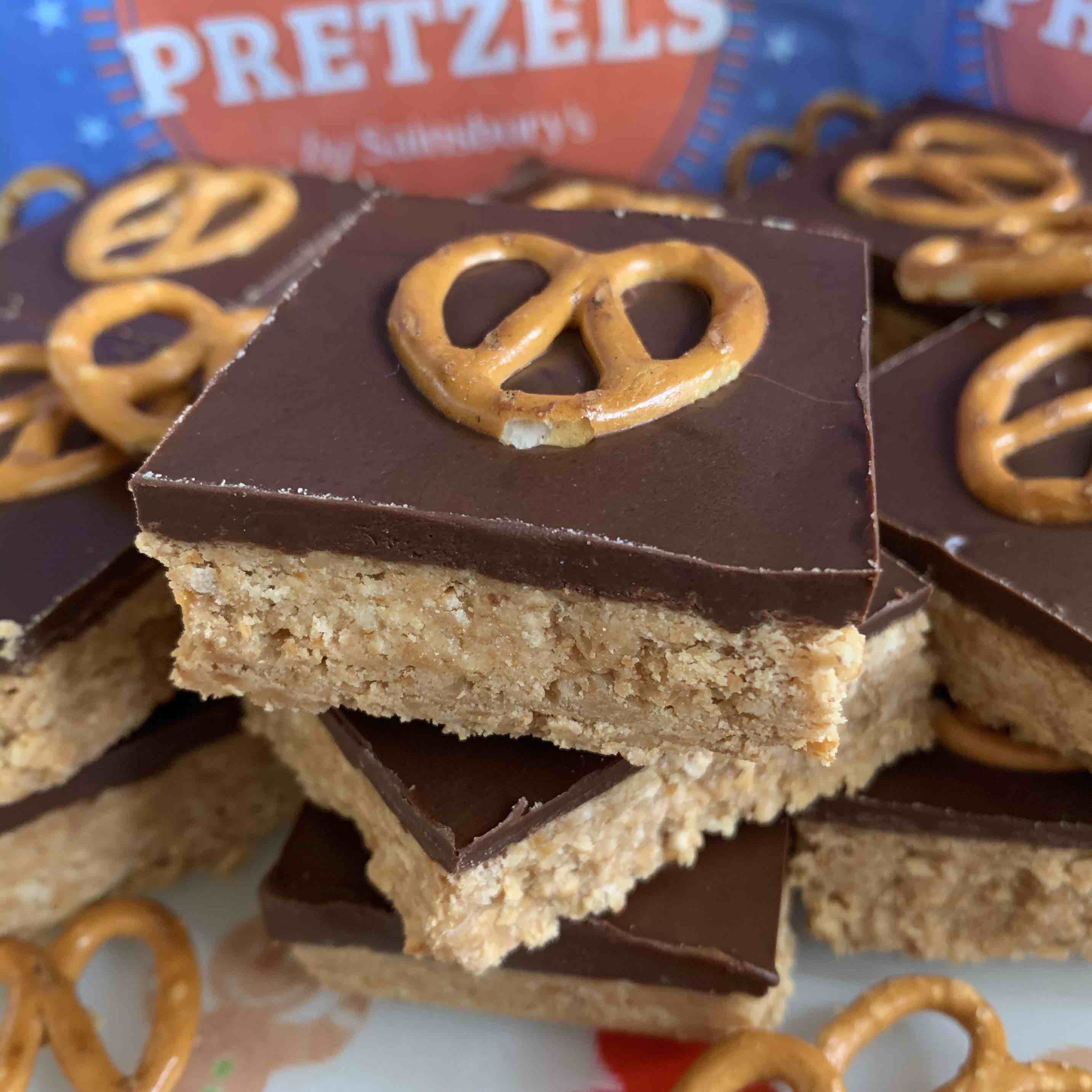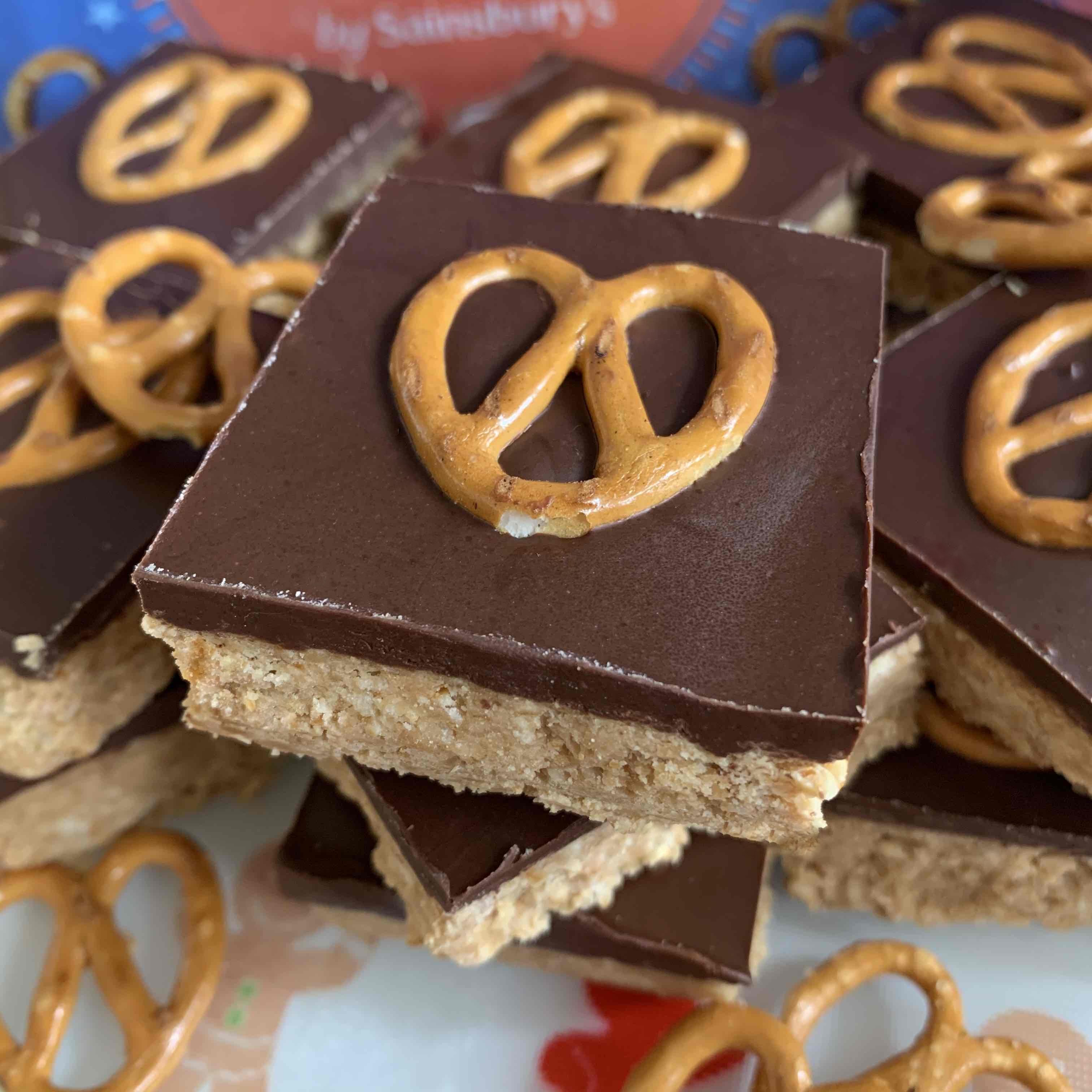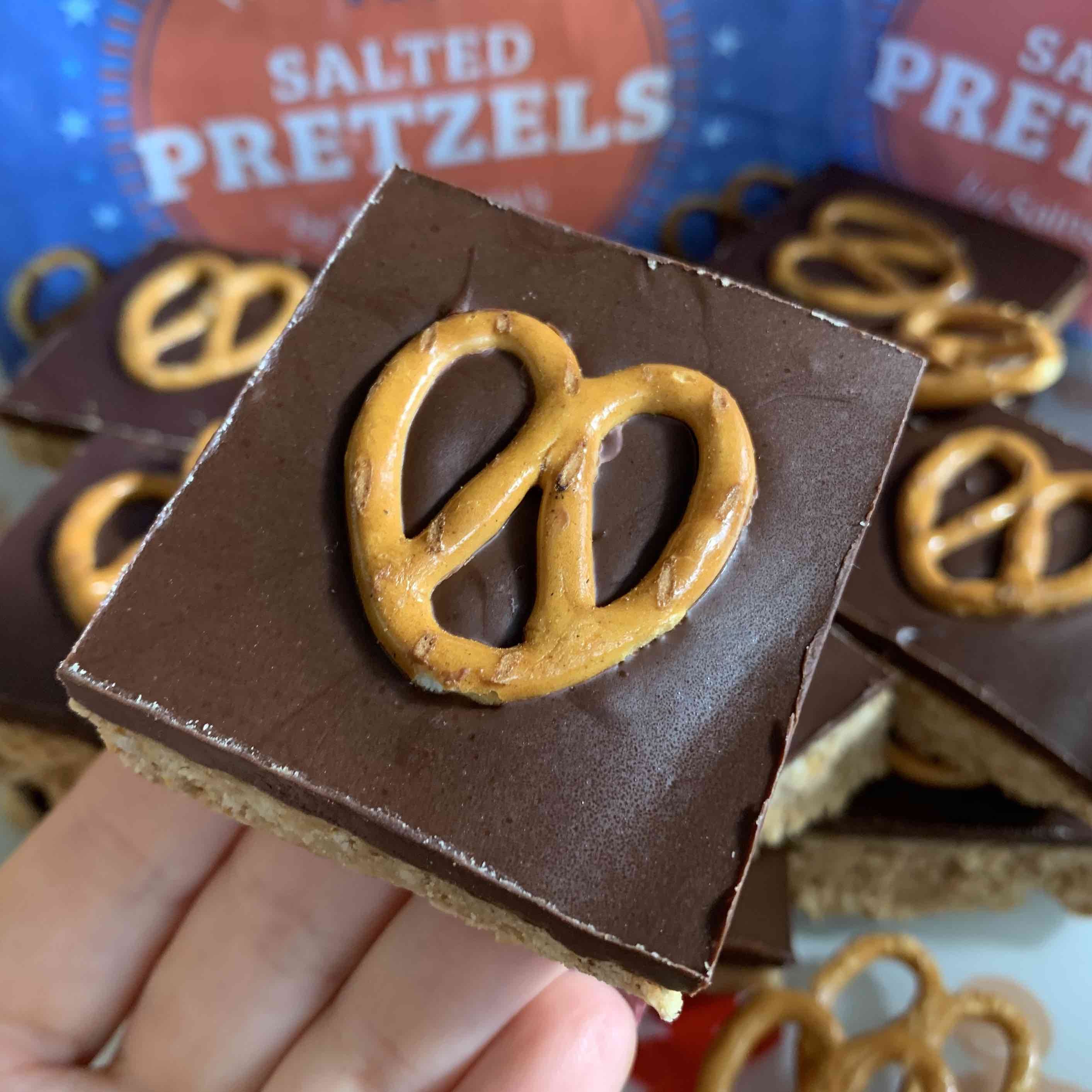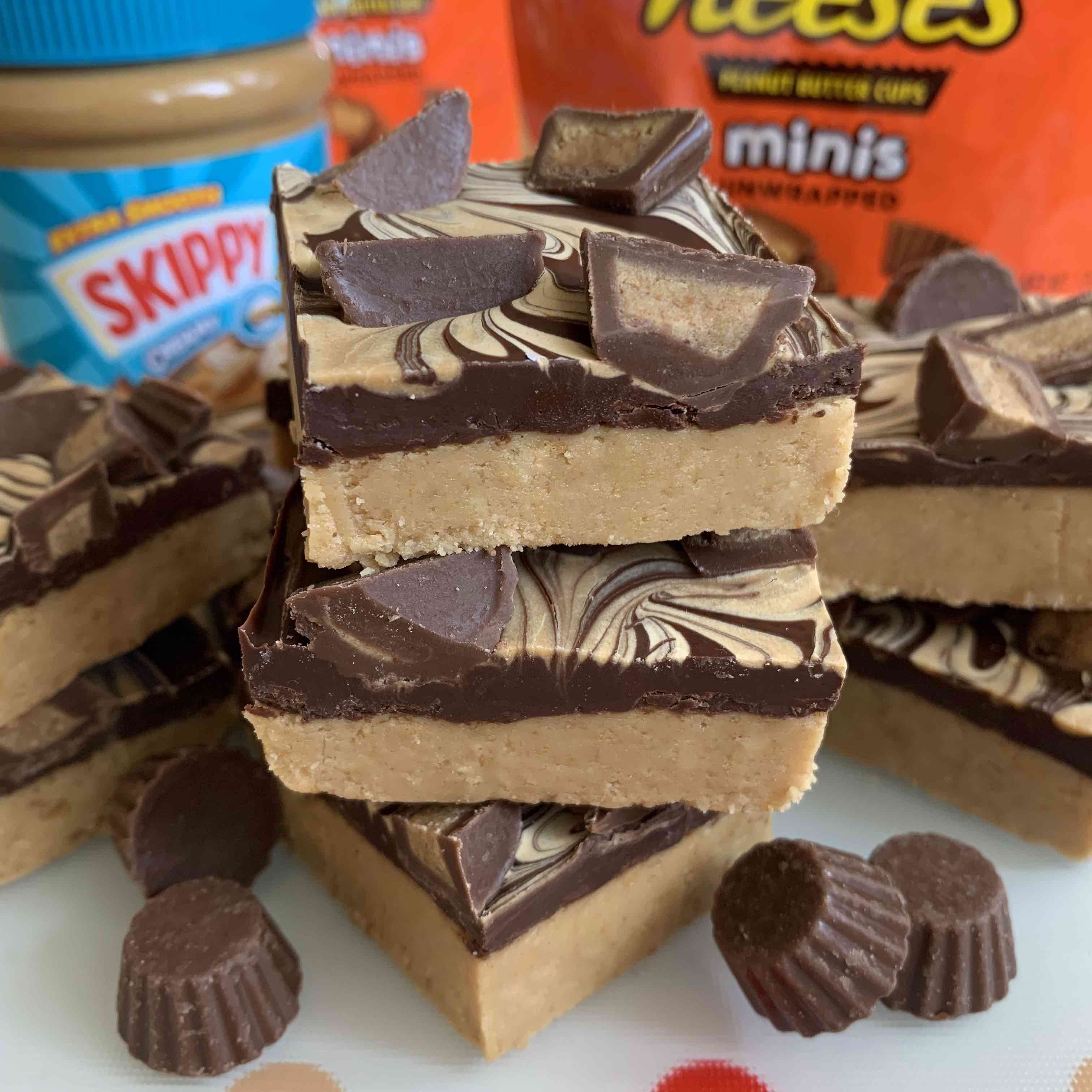 Peanut Butter Pretzel Bars
Difficulty
Time 30 minutes (plus 1-2 hours cooling time)
Servings 16
Equipment

9"x9" Tin
Parchment Paper
Sandwich/freezer bag and rolling pin / something for crushing the pretzels, or a food processor
Large Bowl
Spoon or Spatula
Microwaveable Bowl / Jug
Cake Skewer / Butter Knife

Ingredients

For the Peanut Butter Layer
250g Pretzels
175g Unsalted Butter
250g Smooth Peanut Butter
250g Icing Sugar
For the Topping and Decoration
200g Chocolate (I used 150g dark and 50g milk)
30g Smooth Peanut Butter
16 Pretzels (for decoration - optional!)

Method

For the Peanut Butter Pretzel Layer

Grease and line a 9"x9 baking tin.
Crush the pretzels in a sandwich/freezer bag using a rolling pin, or use a food processor if you have one! Once the pretzels have formed a fine crumb add them to a large bowl along with the icing sugar and stir to disperse the ingredients. Set aside.
Microwave the butter and peanut butter in 10 second bursts in a microwave safe bowl/jug until smooth and fully melted. Once melted, pour in to the large bowl along with the pretzels and icing sugar, and stir until fully combined and no large pockets of butter remain.
Press and smooth out the peanut butter pretzel mixture in to lined baking tin. Chill in the fridge for 30 minutes.

For Topping and Decoration

Microwave your chocolate in 10-20 second bursts in a microwave proof bowl/jug until smooth. Stir in 30g of peanut butter and then pour on top of the peanut butter layer. Smooth out to form an even surface (giving the tin a little shake on a flat surface helps!).
Decorate with the pretzels (I spaced them out neatly so each portion gets one pretzel!), gently pressing them down in to the chocolate help them stick.
Chill in the fridge until fully set (this should take 1-2 hours) and then cut in to pieces. Enjoy!

Notes

- Store your Peanut Butter Pretzel Bars in the fridge where they will last for 2+ weeks.
- More or less chocolate can be added to the topping depending on your desired thickness.

Recommended Equipment and Ingredients*

*I earn a small amount of money if you buy the products after clicking the links. You will not be charged extra for this. Thank you for your support!