No-Bake Oreo Spiderweb Tart
Easy 5 ingredient no-bake oreo spiderweb tart - perfect for a speedy Halloween dessert!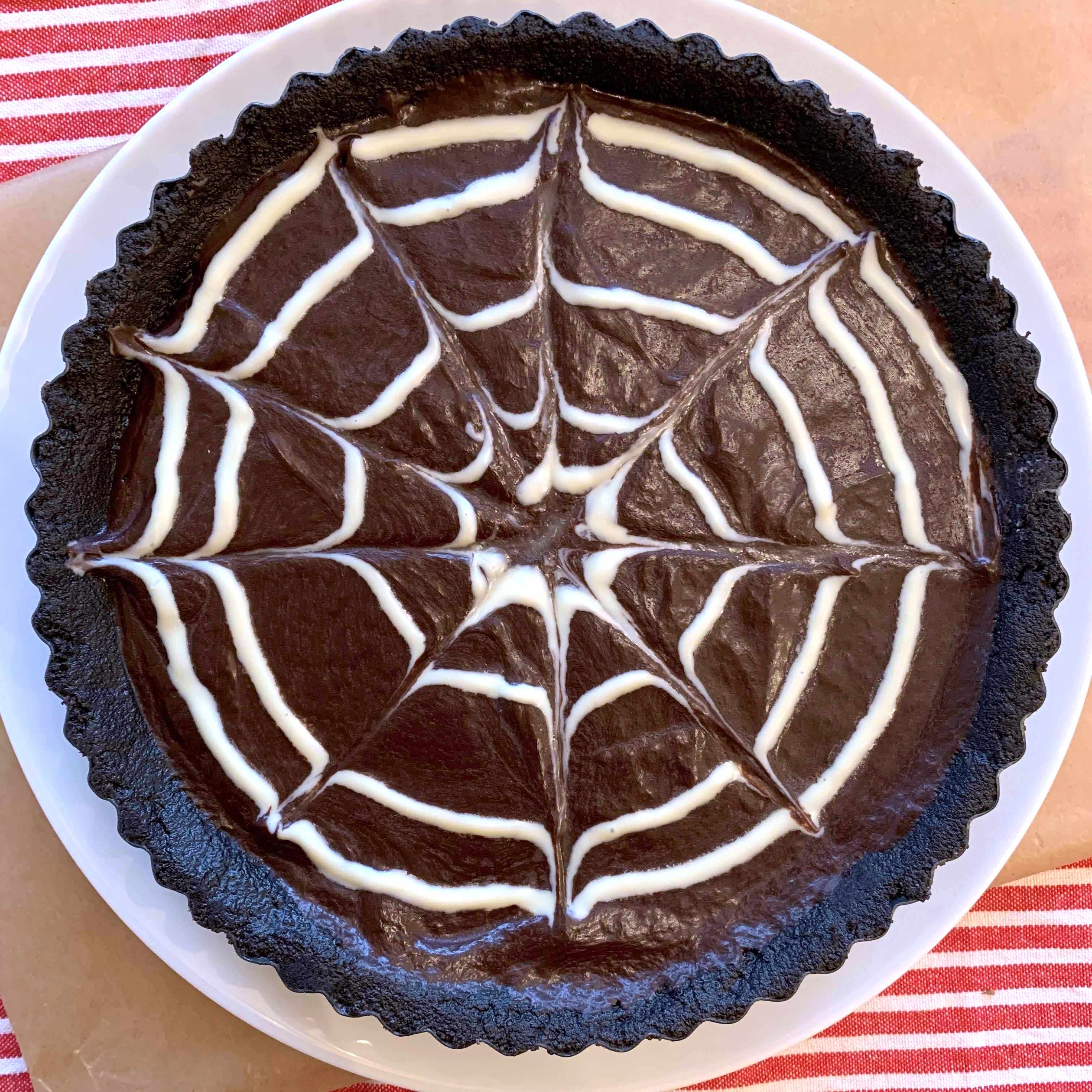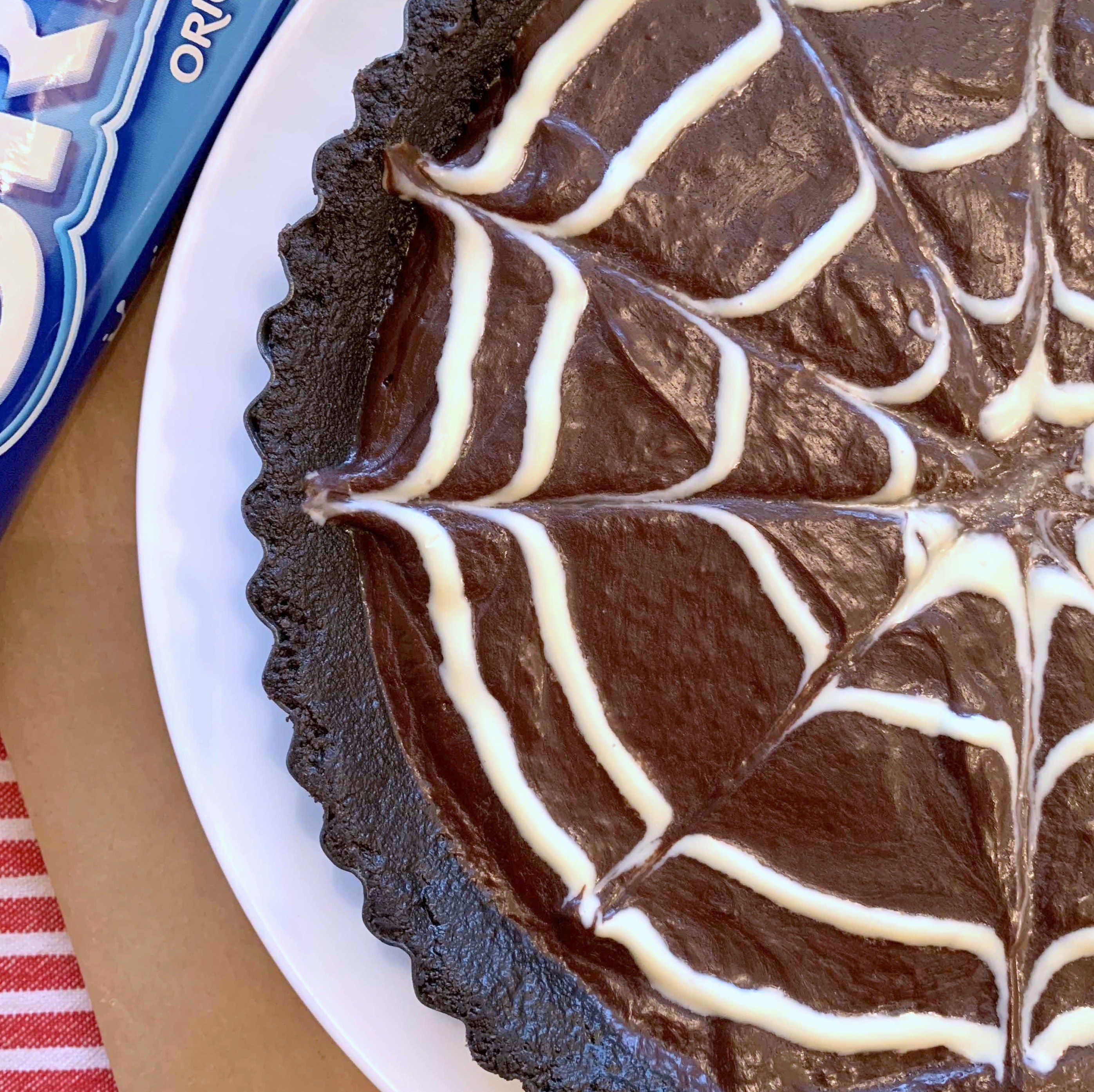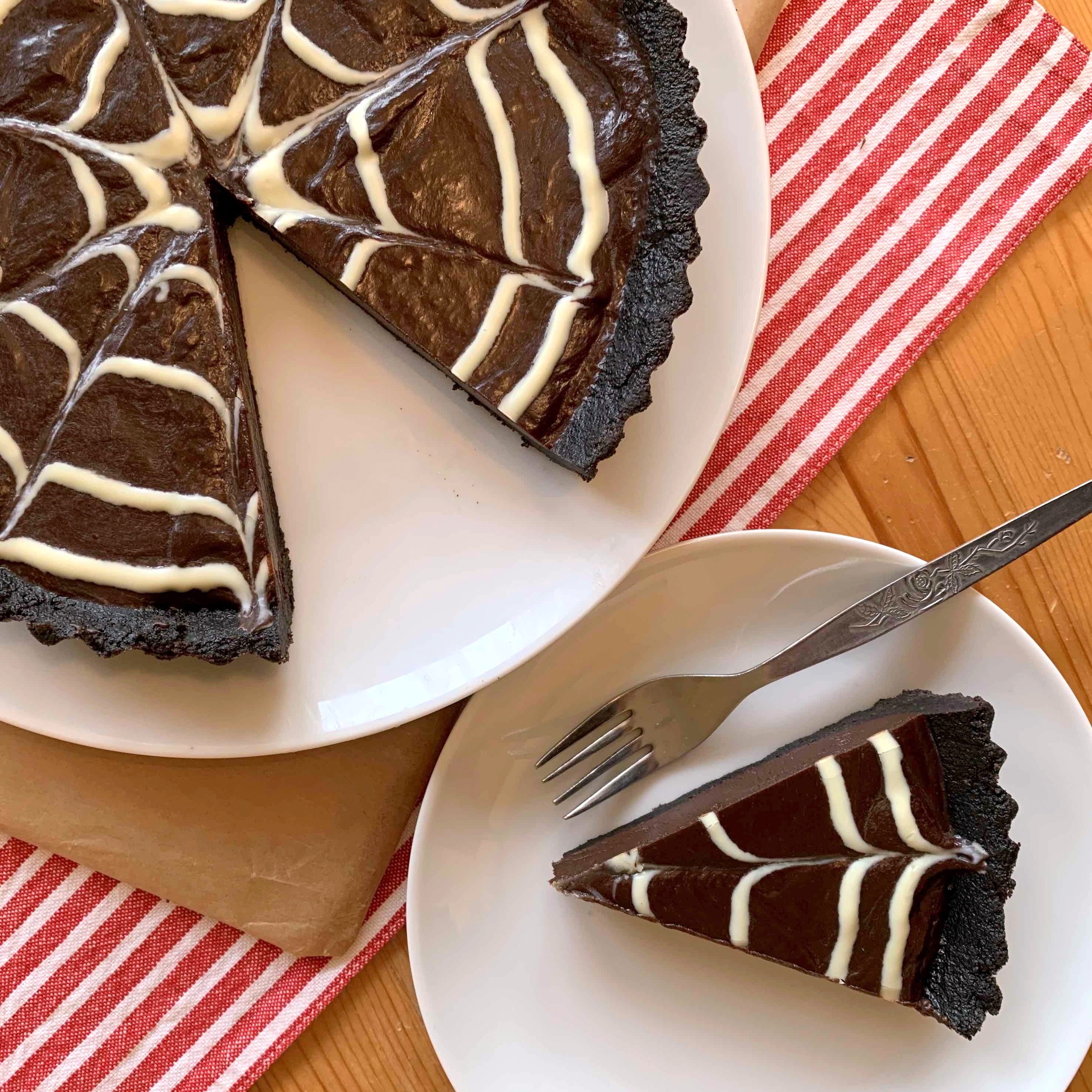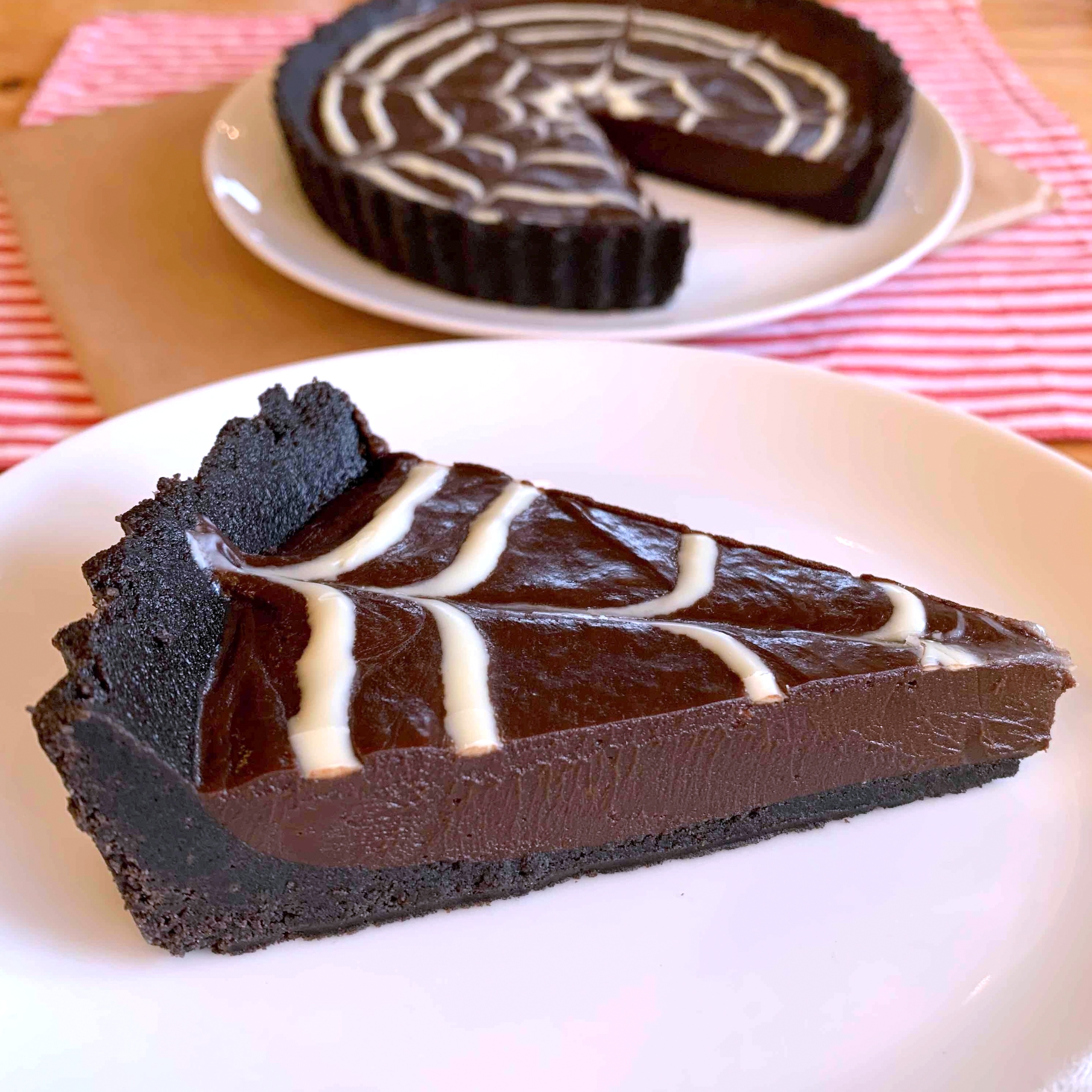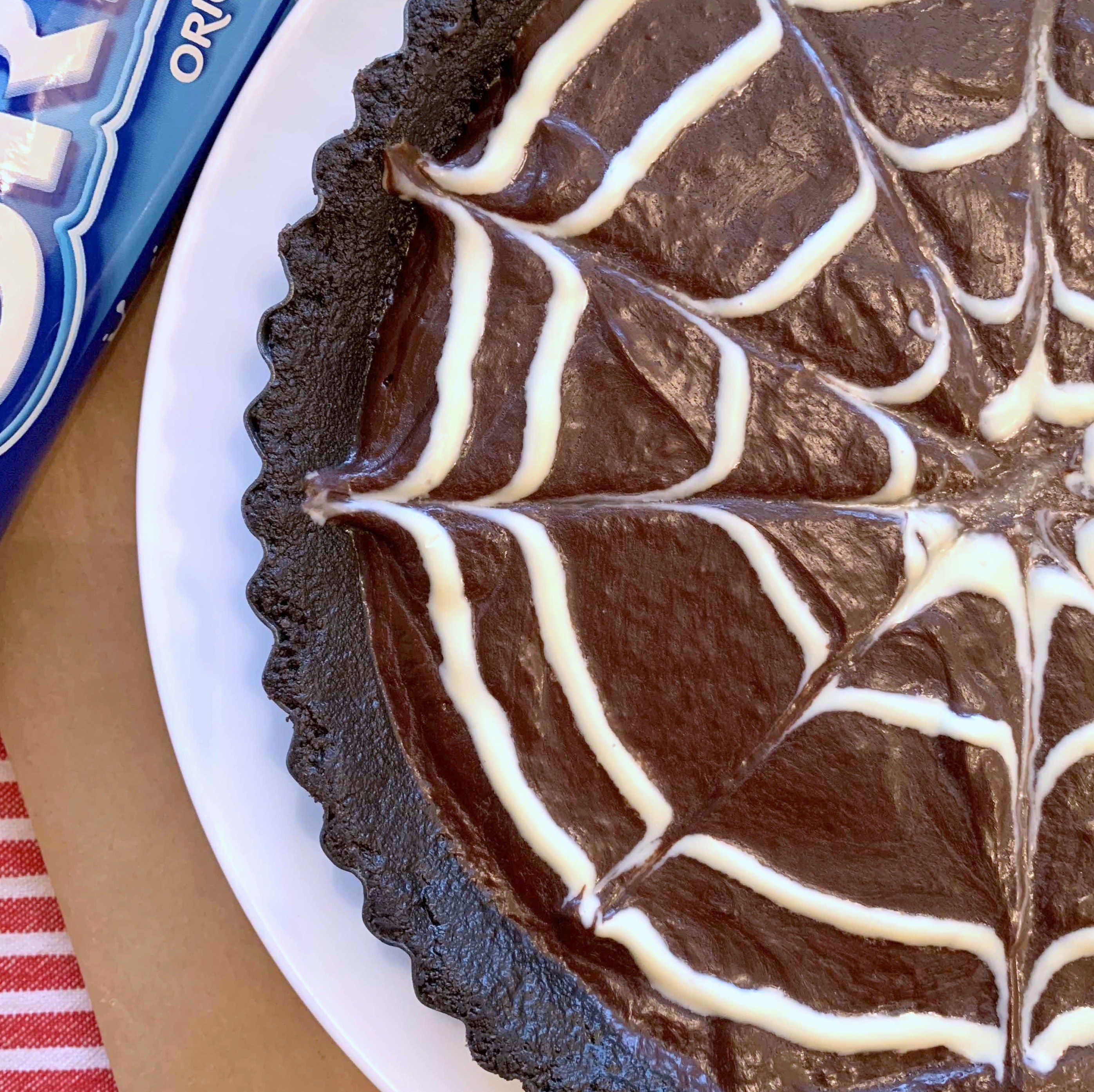 No-Bake Oreo Spiderweb Tart
Difficulty
Time 1.5 - 2 hours (including cooling)
Servings 15 truffles
Equipment

Large Bowl
9" Tart Tin (a loose bottom / springform is ideal here!)
Microwaveable Bowl / Jug and Microwave
Saucepan
Food Processor or Sandwich Bag (something to smash the Oreo with!)
Piping Bag or Sandwich Bag
Sharp Knife (for cutting the chocolate)
Butter Knife or Palette Knife
Butter Knife or Cake Skewer (for the spiderweb)

Ingredients

For the Base
150g Unsalted Butter
300g Oreo (I used two 154g UK standard size packs)
For the Ganache Filling
300ml Double Cream
50g Unsalted Butter
250g Dark Chocolate (or you could use 125g of Milk and 125g of Dark)
50g White Chocolate

Method

Grease your 9" loose bottom tart tin (I used butter) - this will help the tart pop out later.
In a food processor or using a sandwich bag and rolling pin (or something else that can help you bash!) crush the Oreos up until they're a very fine crumb.
Melt the butter in the microwave until fully melted, then add the melted butter to the crushed oreos and mix until fully combined. Your mixture should be the consistency of wet sand.
Press your mixture in to the tart tin, packing it tightly and ensuring that the sides are thick enough to hold their shape!

Add the butter and dark chocolate cut in to small chunks in to a heatproof bowl and set aside.
Heat the cream in a saucepan on a medium heat. When it's approaching boiling point (no need for a thermometer here, just do it by eye) take the cream off the heat and then pour it in to the bowl with the butter and dark chocolate. Set aside for 5 minutes to allow the cream to melt the chocolate and butter.
While you're waiting for the ganache to melt, microwave the white chocolate in 10 second bursts until smooth, then add to a small piping bag.
Stir the ganache vigorously until smooth and silky and no lumps remain (if there's still some choc chunks this means the cream wasn't hot enough and/or the choc chunks were too big! That's no problem, just microwave in 10 second bursts and stir until smooth).
Take the tart base out of the fridge and then pour the ganache on top of the base and smooth out with a palette knife or regular knife. Then pipe a spiral on to the ganache using the white chocolate, starting from the centre and moving out. Use a knife or cake skewer to feather out the spiral starting from centre and moving out, to form a spiderweb pattern! Chill the tart in the fridge for 2-3 hours until set, then slice and enjoy!

Notes

- This tart will keep for up to 1 week stored in the fridge.
- For a less rich filling a ganche with 50/50 milk and dark chocolate can be made: Use 125g milk chocolate and 125g dark chocolate. Keep the butter at 50g and the cream at 300ml.
- This tart would go nicely served with fresh berries, or sea salt.

Recommended Equipment and Ingredients*

*I earn a small amount of money if you buy the products after clicking the links. You will not be charged extra for this. Thank you for your support!