Mini Egg Millionaire Shortbread
Millionaire shortbread with an adorable and delicious Easter twist!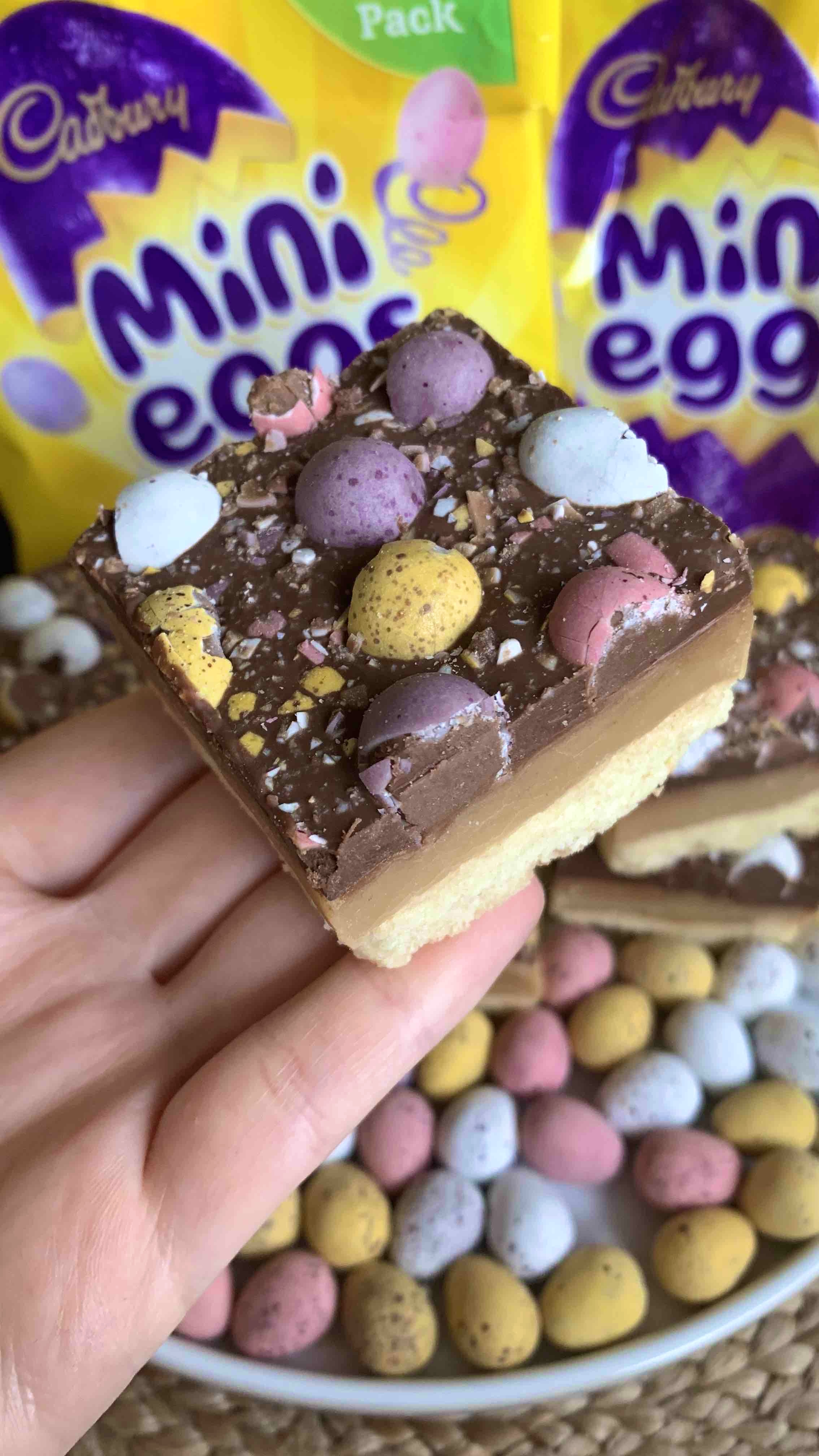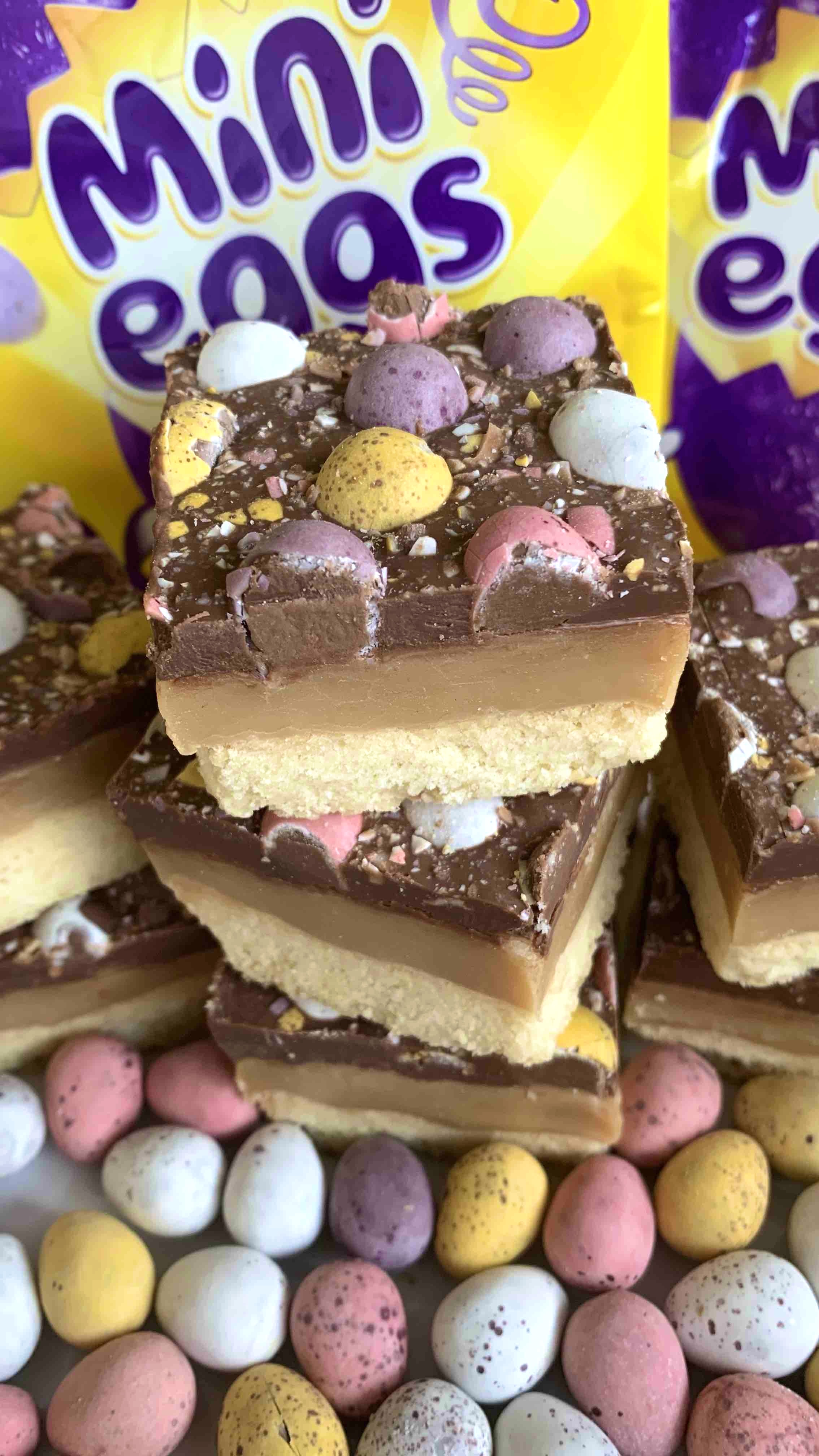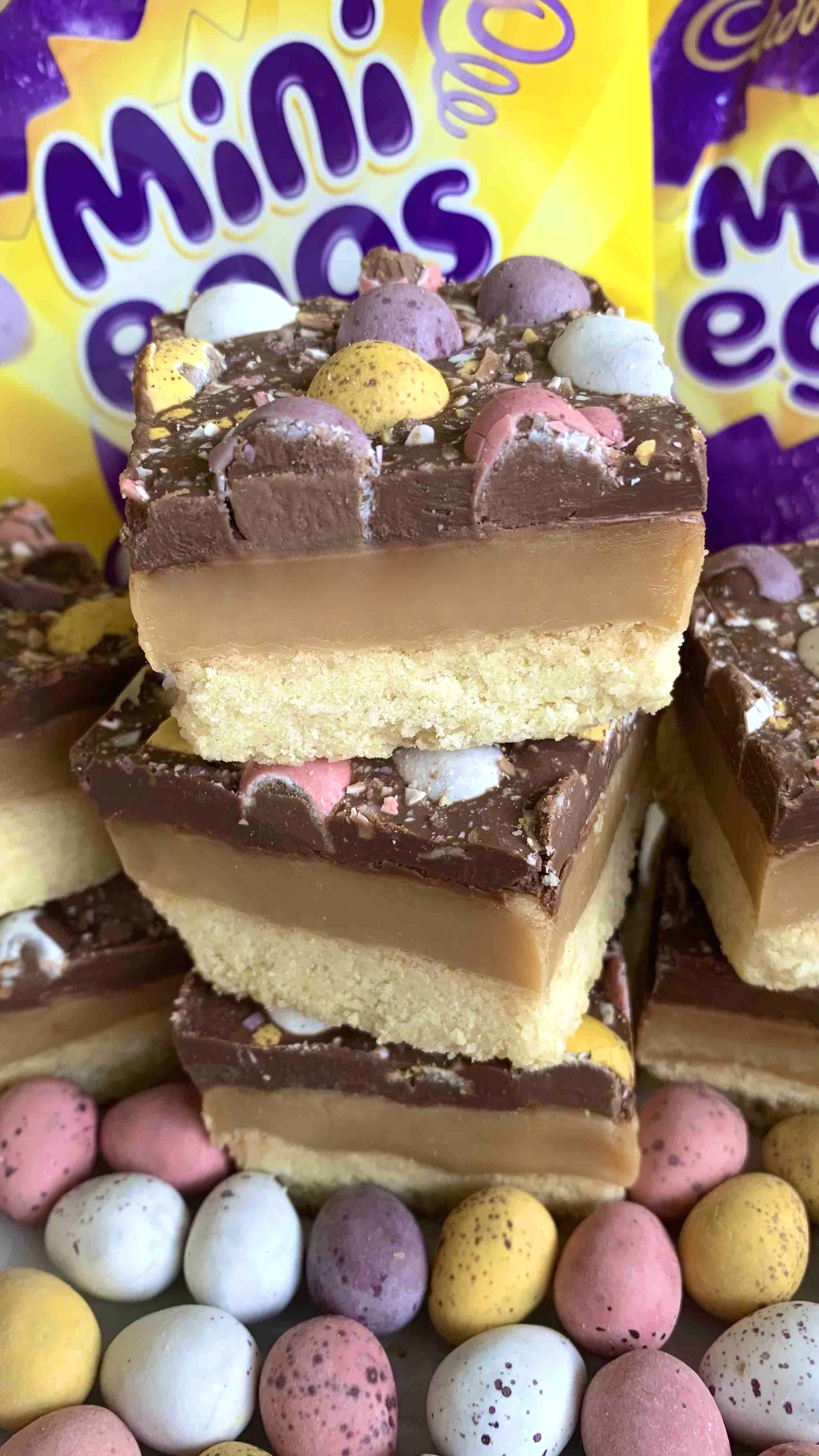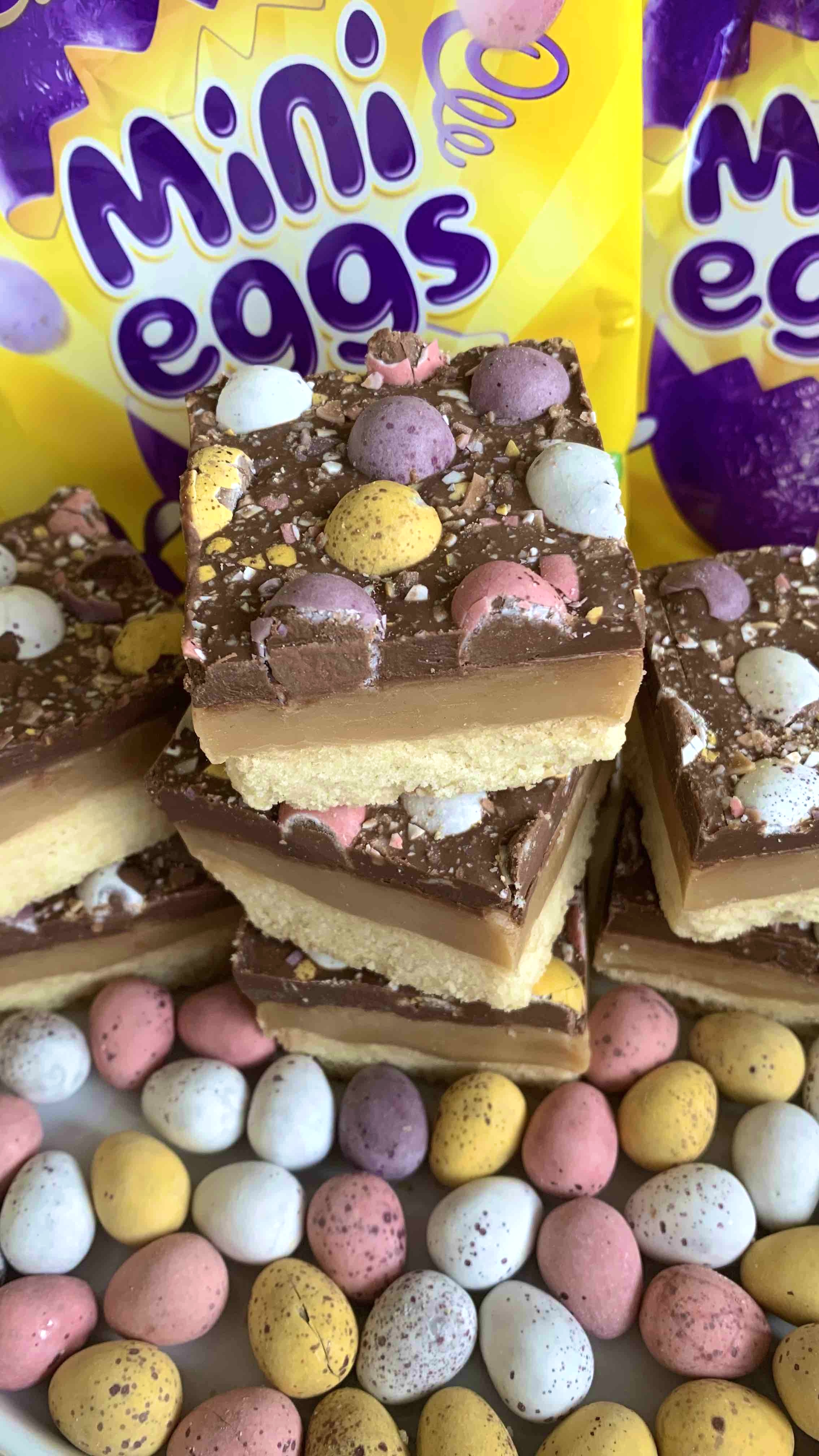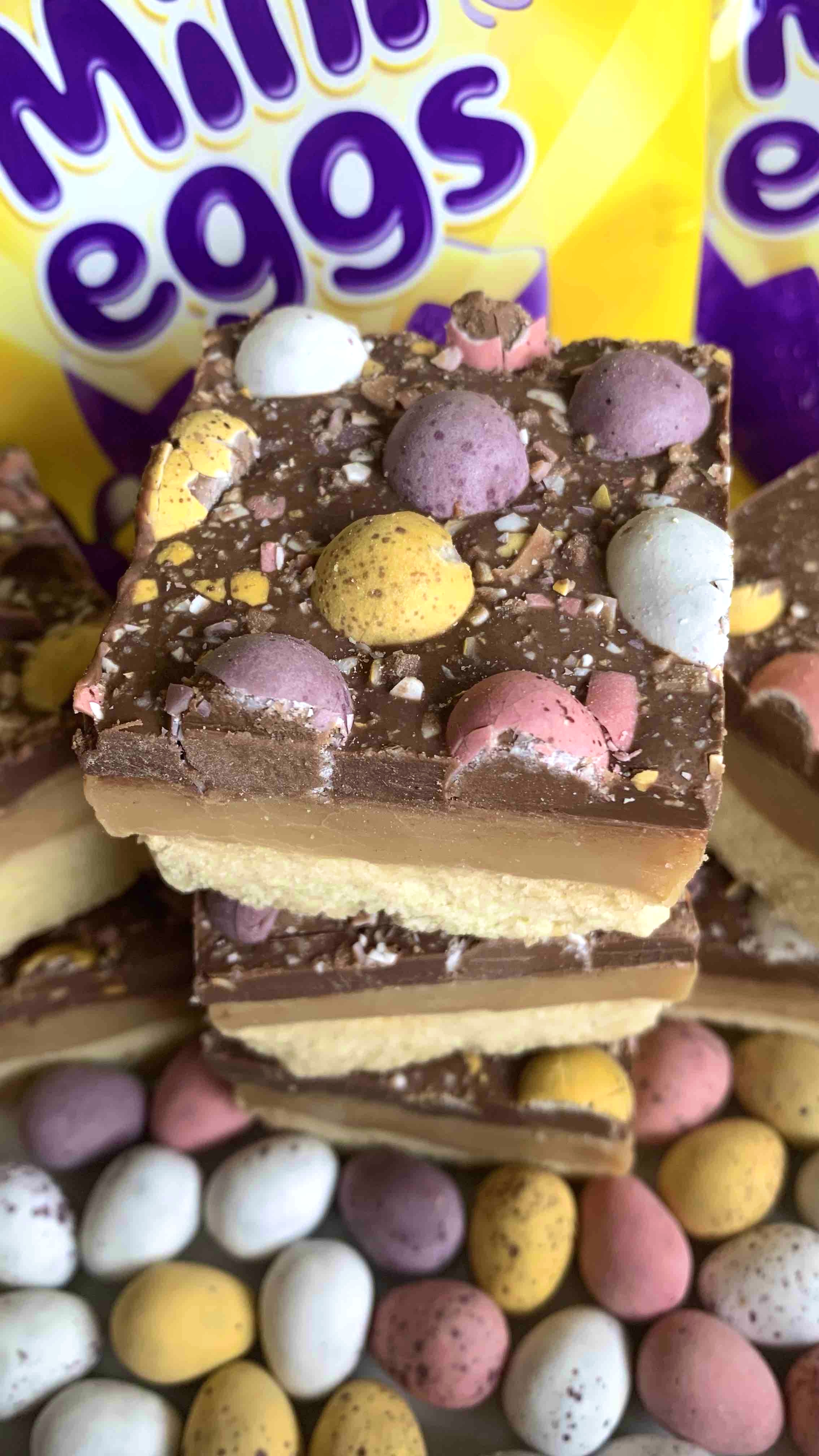 Mini Egg Millionaire Shortbread
Difficulty
Time 4 hours (inc cooling)
Servings 16
Ingredients

For the Shortbread Layer
Plain Flour (165g)
Caster Sugar (50g)
Butter (100g)
Mini Eggs (50g - crushed)
For the Caramel Layer
Butter (150g)
Condensed Milk (397g - one tin)
Soft Light Brown Sugar (150g)
Vanilla Extract (1/2 teaspoon)
For the Chocolate Mini Egg Layer
Milk Chocolate (250g)
Mini Eggs (150g)

Method

Preheat oven to 160°C (gas mark 3). Crush the mini eggs (I use a pestle and mortar).
Grease and line a 9"x9" baking tin.
Mix the flour and sugar in a bowl, and then rub in butter.
Once the mixture has formed a breadcrumb consistency, add the crushed mini eggs press down in to the baking tin.
Cook in the middle of the oven for 15-20 minutes or until lightly golden.
Leave to cool (partly, if you're impatient) before proceeding to the caramel layer.

Gently heat the sugar and butter in a non-stick frying pan, stirring until melted together.
Add the condensed milk and bring to a rapid boil, stir continuously and do not take off the heat. Add the vanilla extract after 4 minutes, then continue for 1 additional minute.
Take off the heat and pour the mixture over the shortbread layer. On a flat surface, shake the tin a little to get the caramel to evenly distribute.
Chill in the fridge until set.

For the Chocolate Mini Egg Layer

Break the chocolate up in to small chunks and melt in a bowl over hot water until smooth.
Allow the chocolate to cool very slightly for a minute, and then pour on top of the caramel. Decorate with mini eggs - I crushed mine a little with a pestle and mortar.
Chill in the fridge until fully set before cutting in to pieces.

Notes

- The mini eggs in the shortbread layer are fun but completely optional!
- The shortbread layer can be made by crushing 250g of shop bought shortbread biscuits and combining with 55g of melted butter.
- If you'd prefer a softer caramel layer, reduce the boil time of caramel mixture to 1-2 minutes.
- Mini egg millionaire shortbread can be kept at room temperature or refrigerated depending on your prefered firmness for the caramel layer!

Recommended Equipment and Ingredients*

*I earn a small amount of money if you buy the products after clicking the links. You will not be charged extra for this. Thank you for your support!