Unicorn Fudge
Easy peasy white chocolate unicorn fudge. It's magical ;)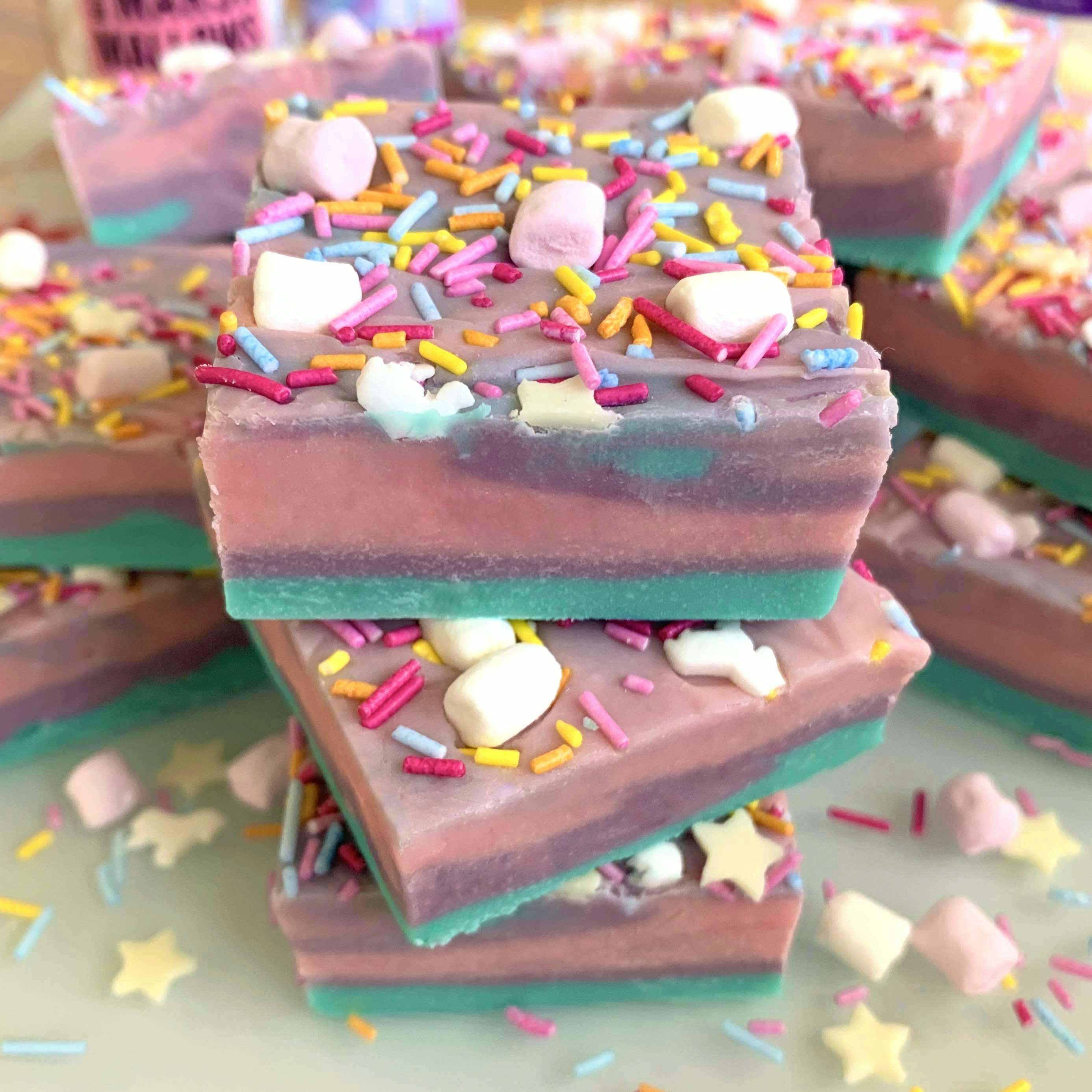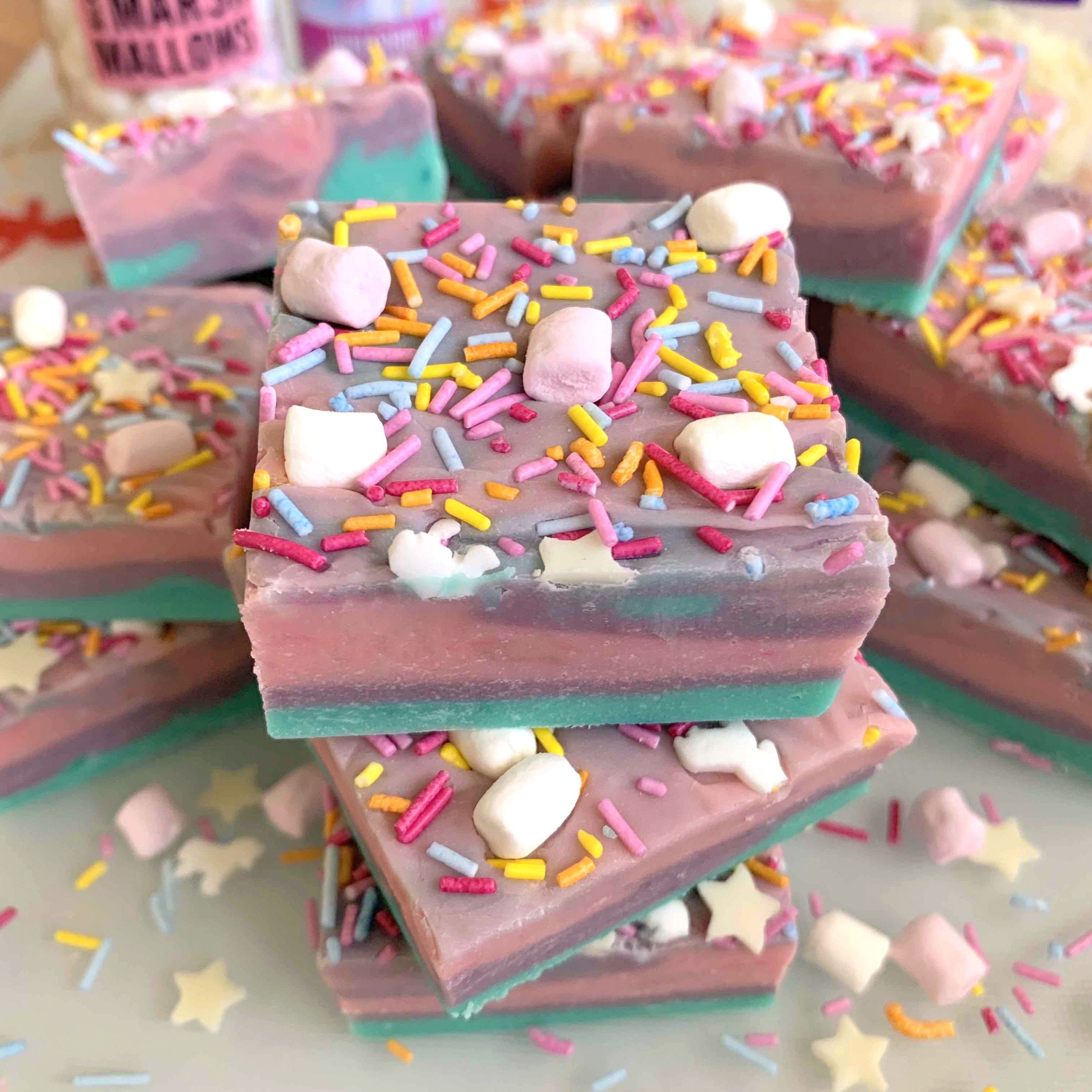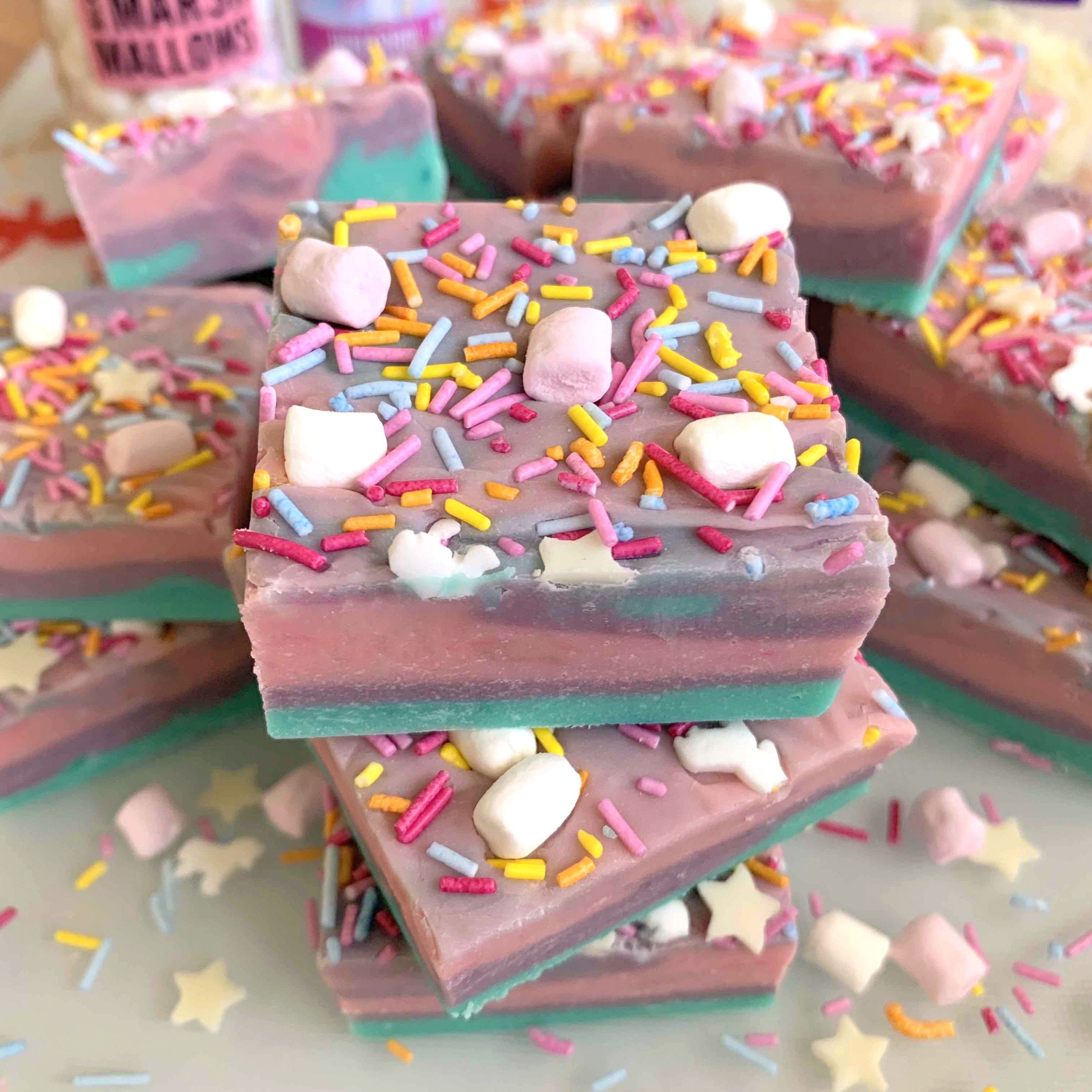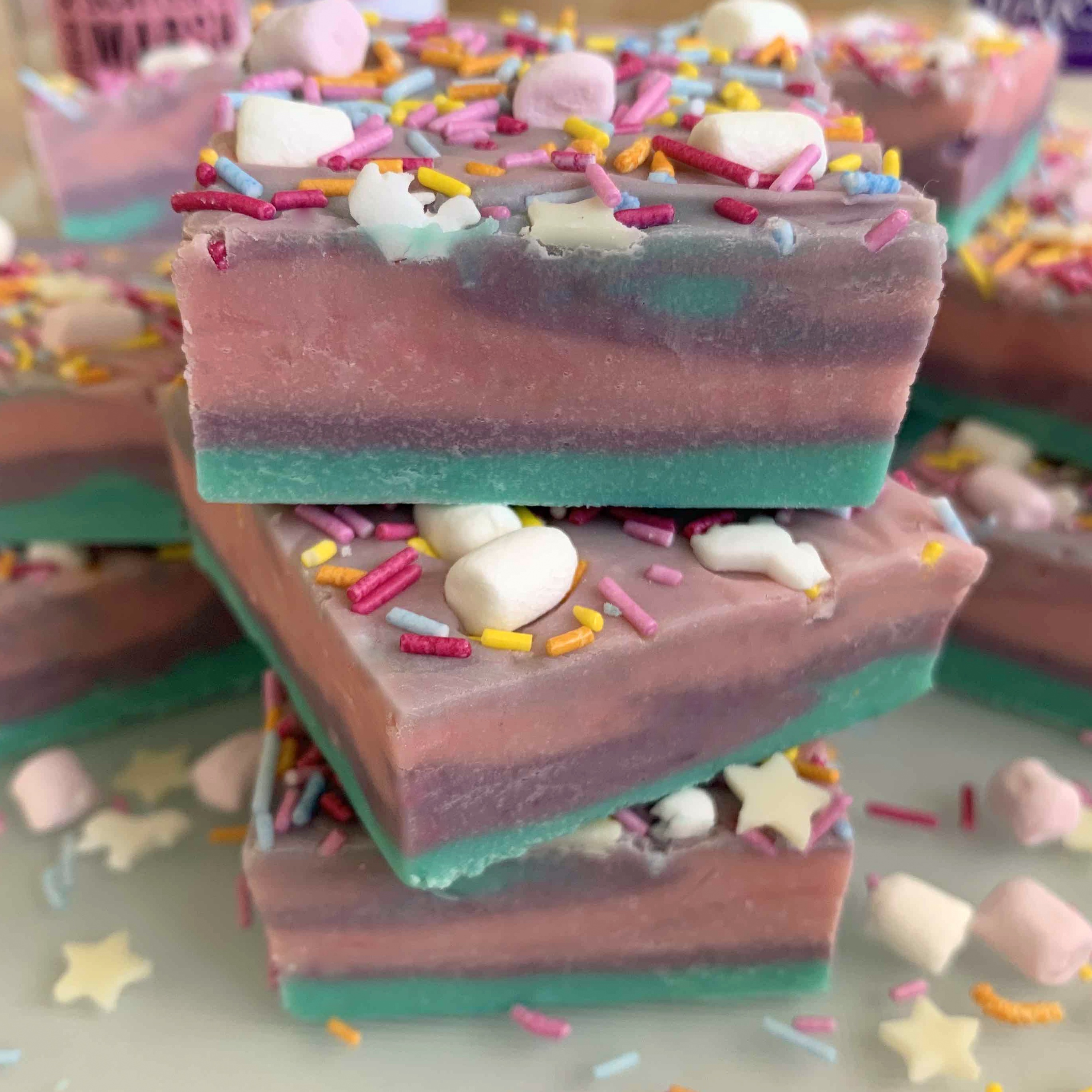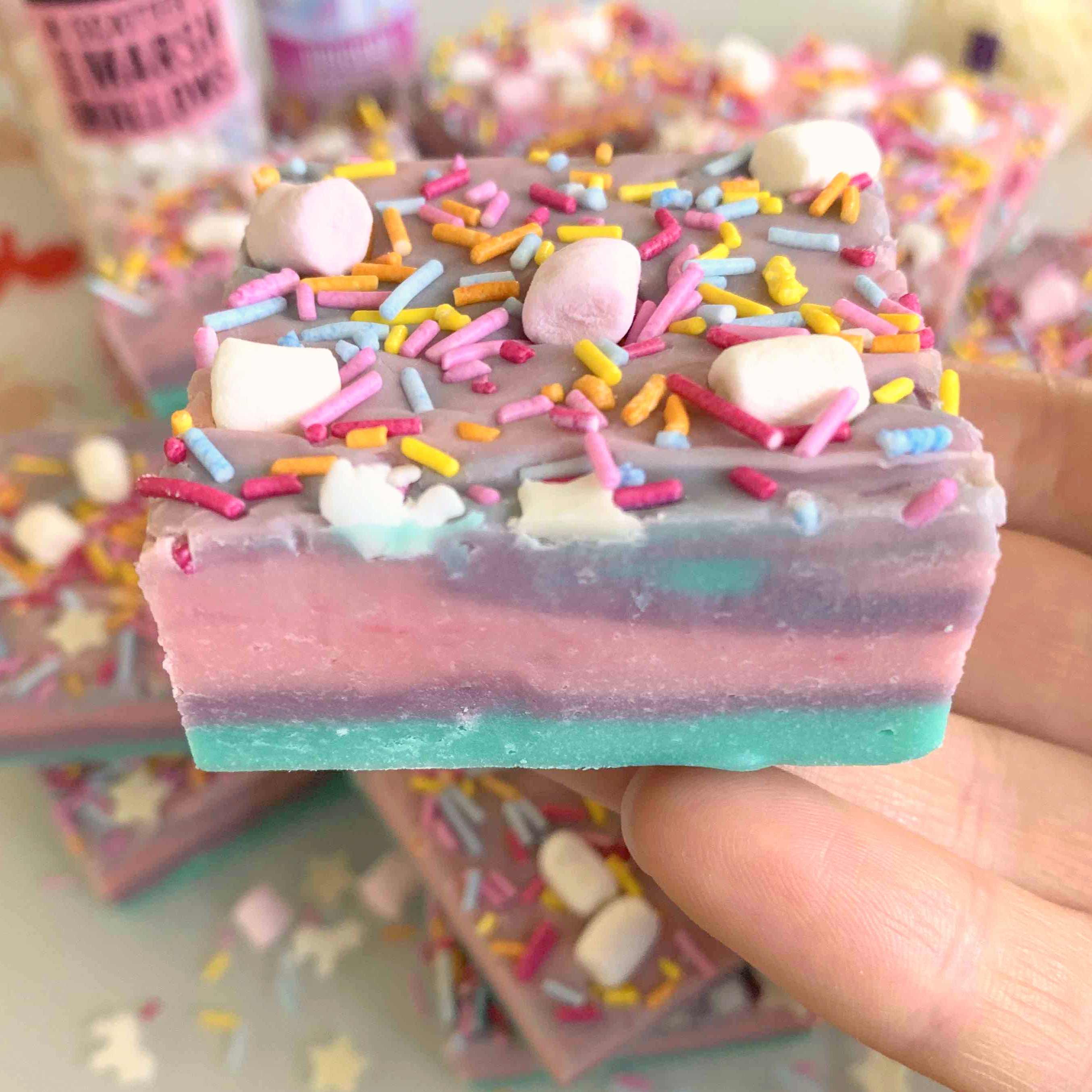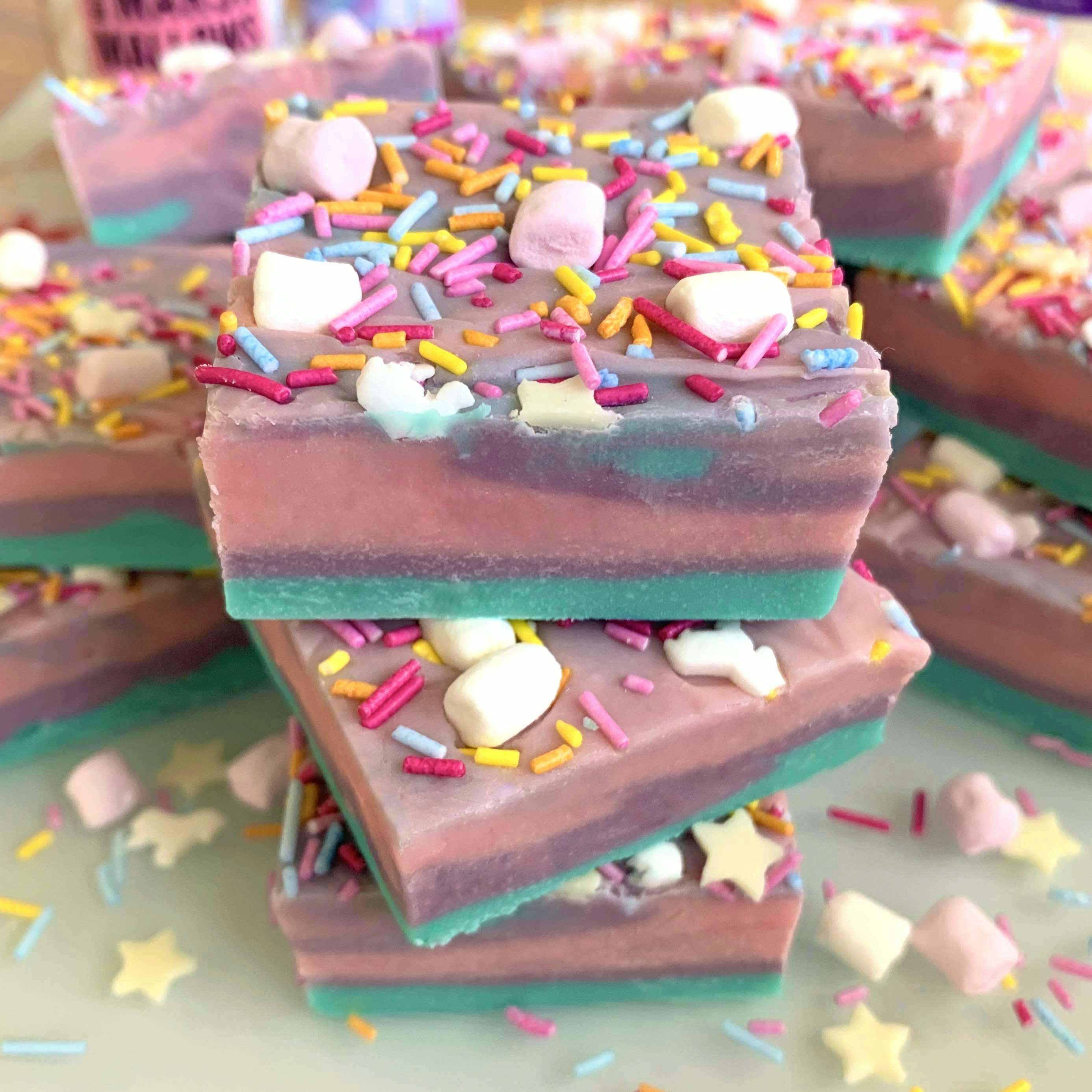 Unicorn Fudge
Difficulty
Time 15 minutes (plus 3 hours setting time)
Servings 16 giant pieces, or 64 more sensibly sized
Ingredients

White Chocolate (600g)
Condensed Milk (397g - one tin)
Icing Sugar (50g)
Food Colouring (I used Turquoise, Purple, and Pink by ProGel)
The most unicorn looking sprinkles you can get your hands on!

Method

Line a 8"x8" baking tin. Sieve the icing sugar in to a bowl and set aside.
Gently melt the white chocolate and condensed milk in a saucepan on a low-medium heat. Keep mixing until fully encorporated, thickened, and the fudge is starting to come away at the edge - this takes a couple of minutes. (Alternatively this can be done in the microwave. See recipe notes).
Add the icing sugar and mix until smooth and no icing sugar pockets remain - work quickly; I find this part a bit of a workout!
Take off the heat and roughly divide the mixture in to three bowls. Add the turquoise, purple, and pink food colouring seperately to each bowl and mix.
Pour the fudge in to the lined tin - I did a layer of turqoise, followed by purple, and finally pink. Smooth the fudge down between each layer with the back of a spoon/spatula. Once all the fudge has been added to the tin, use a spatula/cake skewer/knife to pull some of the fudge from the bottom to the top and swirl the layers together a little.
Scatter your unicorn sprinkles on top of your fudge and press down lightly to help them stick!
Leave in the fridge or counter until fully set - this takes approx 3 hours in my kitchen!

Notes

- If using the microwave method: microwave the chocolate in 20 second burst in microwave suitable bowl, being careful to not overheat the chocolate. Once smooth add the condensed milk and mix in.
- Store your unicorn fudge in the fridge, where it will last for 2 weeks!
- The icing sugar is optional but helps the fudge set firmer. Without it you'll just have a softer fudge!
- The fudge can be made without food colouring, or with a different selection of colours! It would also look fabulous with some unicorn spinkles mixed in! :)

Recommended Equipment and Ingredients*

*I earn a small amount of money if you buy the products after clicking the links. You will not be charged extra for this. Thank you for your support!